Gamer Block by Nerd Block is a monthly video game subscription box for true gamers! Every month, Gamer Block delivers $60+ worth of video game merchandise, including an exclusive gamer t-shirt, for $19.99. Gamer Block is available in 2 video game options – M for Mature or E for Everyone. With today's Gamer Block review, we're unboxing the May 2017 Gamer E for Everyone Block.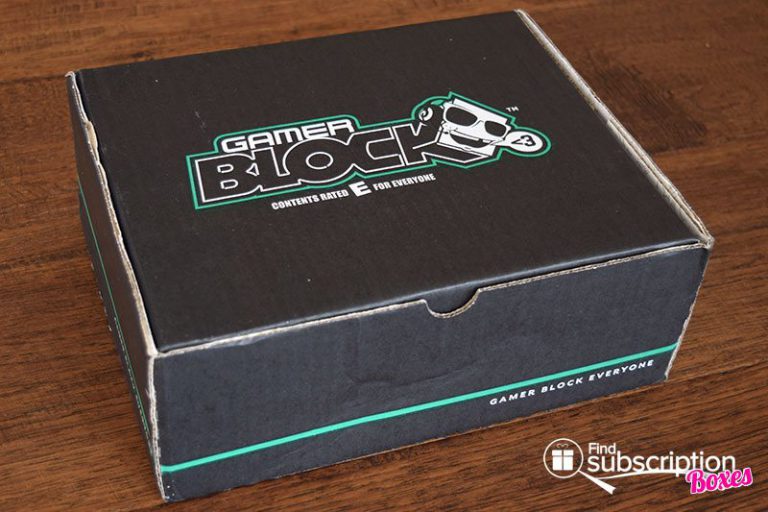 Gamer Block includes a monthly Nerd Block Magazine with fun articles and descriptions for each of the items in the box. The May 2017 Gamer Block Edtion also had an exclusive Q&A with the creators of Toki Tori 2+ and a ranking of the best and worst Sonic games.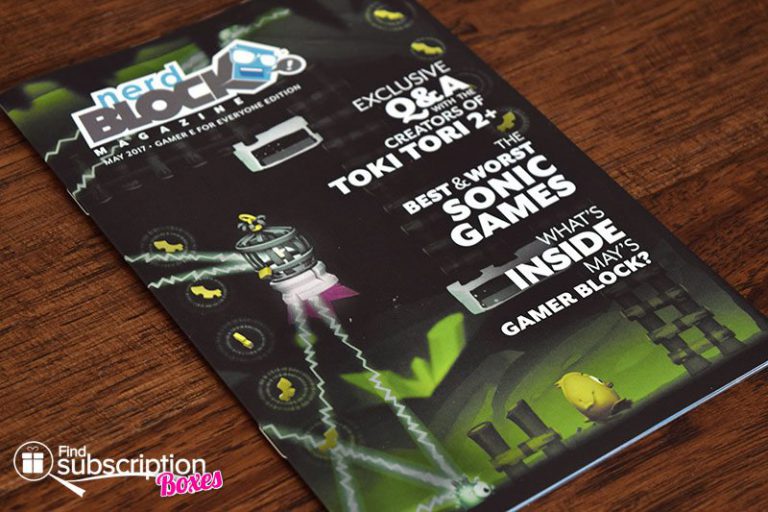 Here's a first look inside our May Gamer E Block video game subscription box.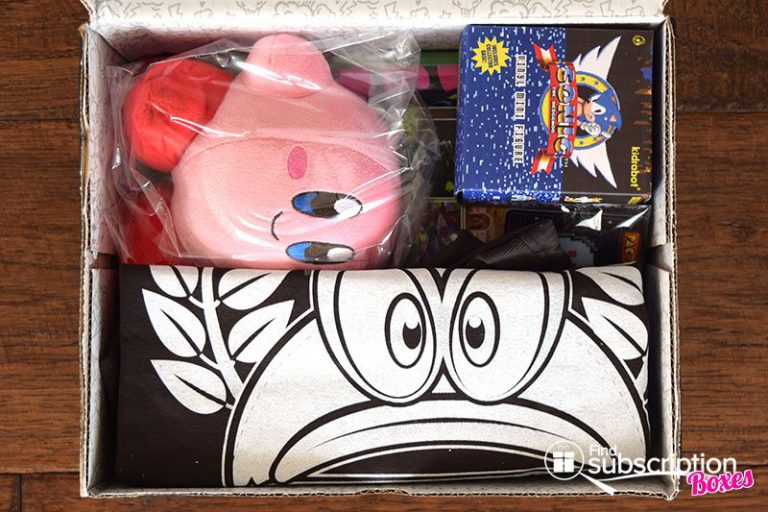 Inside the May 2017 Gamer E for Everyone Block
There were 6 video game collectibles in our May Gamer E for Everyone Block monthly box for gamers.

EXCLUSIVE Mario Run T-Shirt
Wear this Mario Run t-shirt whether you're running in the real or the virtual world.
Splatoon 2 Poster
Celebrate the upcoming release of Splatoon 2 with this colorful and fun poster.
Sonic Mini Vinyl
These Sonic 3″ blind box mini vinyls from Kidrobot have bright colors and a gold ring stand.
Kirby Plush
The perfect addition to any gamer's collection, this adorable Kirby is small, pink, spherical and full of personality.
Toki Tori 2+ (Exclusive Box)
"Toki Tori 2+ may look cute, but it's a challenging puzzle adventure game. Whistle and stomp are the only moves you need to solve increasingly complex puzzles, as you go anywhere, anytime on a lush forest island."
EXCLUSIVE Pac-Man Pin
This lenticular pin makes the Pac-Man ghost appears as though it is blinking or flashing.
May 2017 Gamer E for Everyone Block Review Wrap-Up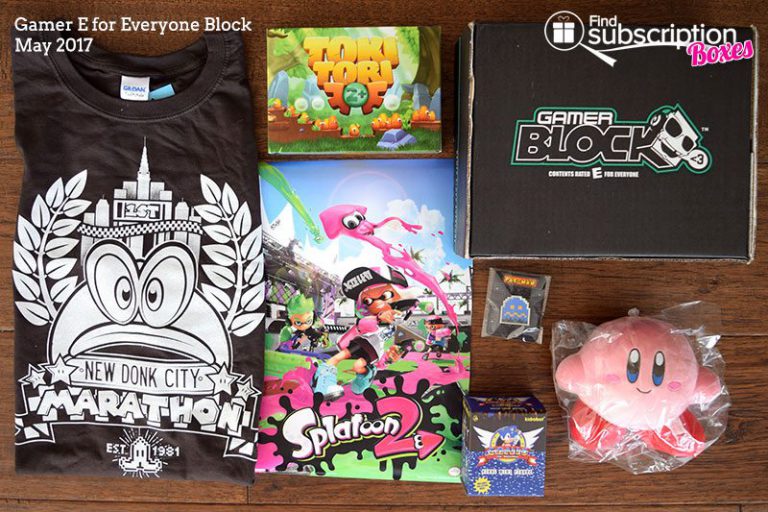 The May Gamer E Block had family-friendly video game collectibles the entire family will love. This month's exclusive gamer Mario Run t-shirt features a race-inspired design. Also in the "racing" spirit is the Sonic the Hedgehog Mini Vinyl figure. This blind box has 1 of 14 Sonic figures.
The Kirby plush is super cute. He measures about 5.5″ across and is the perfect stuffed animal to introduce kids to classic video games.
Splatoon 2 is set to be released on July 21, 2017. In this intense first person and multi-player game, players become "Inklings"who must spray their ink to defeat waves of incoming attacks. This month's poster captures all the incoming Platoon 2 action.
We haven't played Toki Tori 2+ yet but it looks like a lot of fun! We love the bright colors and the design of the characters. The game environment looks simple, yet engaging. Here's the official trailer for Toki Tori 2+:
Finally, the Pac-Man pin is a unique piece of video game "flare." The ghost really does seem to "blink" as you move the pin from side to side.
What was your favorite May Gamer E for Everyone Block video game collectible?
Gamer Block Promo Code
For a limited time, new subscribers can save 15% off the 1st month of any Gamer Block subscription when you use Gamer Block promo code FINDBOXES at checkout.