It's time for our May 2017 Loot Crate review! Loot Crate is monthly subscription box for geeks and gamers that delivers $45+ worth of geek and gamer collectibles, like exclusive t-shirts and vinyl figures. Each Loot Crate subscription box has a new geek theme. With today's Loot Crate review, we're unboxing the May 2017 Loot Crate. The May Loot Crate theme was GUARDIANS.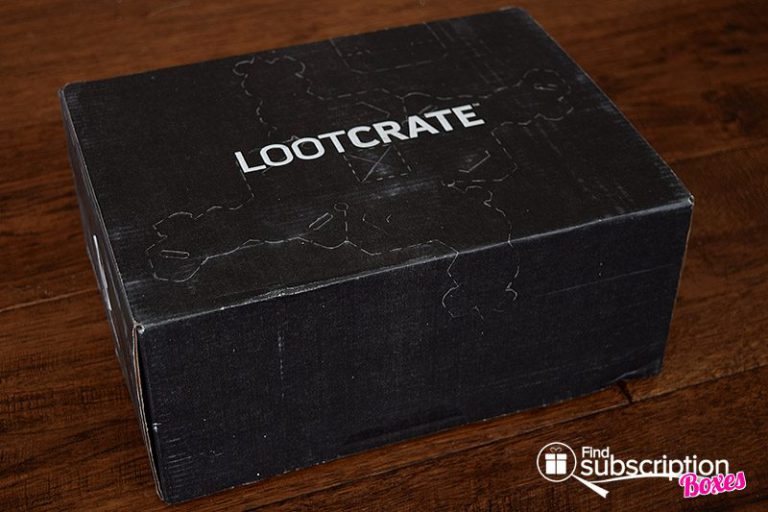 Each Loot Crate box has a colorful brochure that describes that month's themes and collectibles. Loot Crate also provided clues for this month's Secret Order of Keys, which is available through 9PM PST, June 5th. Subscribers use the clues and that month's loot to solve the puzzles for free bonus loot in their next crate.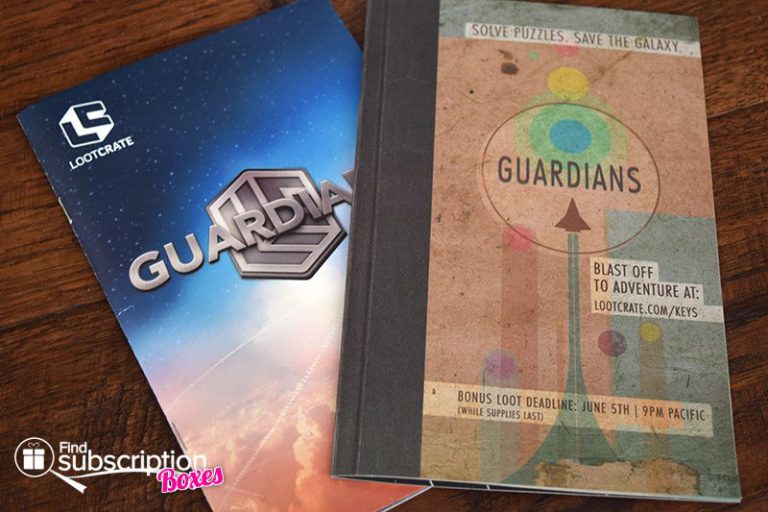 Here's a first look inside our Guardians Loot Crate.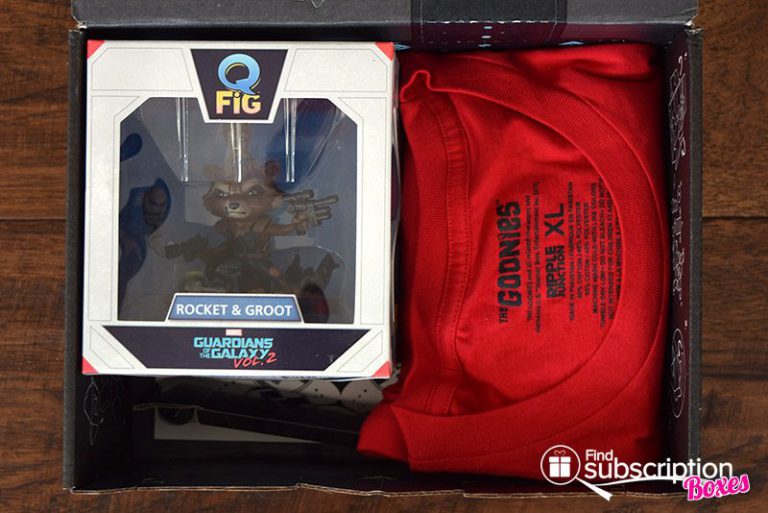 Inside the May 2017 Loot Crate Guardians Crate
There were 5 geek and gamer collectibles in the May Guardians Loot Crate.

EXCLUSIVE The Goonies T-Shirt
Sport this The Goonies shirt on your next treasure hunt or to conquer everyday challenges. It features The Goonies trademark motto "Never Say Die."
Loot Crate Edition Star Wars Adult Coloring Book with Exclusive Variant Cover and Colored Pencils
De-stress and stimulate the brain with this Loot Crate Edition Star Wars coloring book and colored pencil set.
EXCLUSIVE Destiny Patches
Rep your class with one of these 3 official, embroidered Destiny patches.
Timed Exclusive Marvel's Guardians of the Galaxy Vol. 2 Rocket & Groot Q-Fig Q-Fig
Rocket and Groot are ready for battle with this detailed Guardians of the Galaxy Q-Fig.
EXCLUSIVE May 2017 Avatar Pin
You won't find this glow-in-the-dark Aang pin anywhere else. Use it to channel your inner Avatar!.
BONUS: Loot Crate has partnered with Comixology to give subscribers a FREE digital comic every month. This month, Looters receive free digital copies of Rocket Racoon #1 & Groot #1!
May 2017 Loot Crate Review Wrap-Up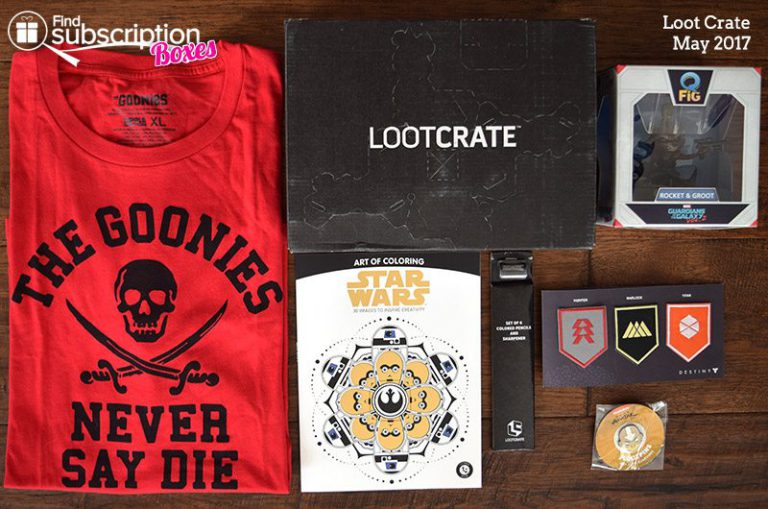 This month's Guardians vinyl figured featured two of our favorite Guardians of the Galaxy – Rocket and Groot. Looters are the first to get this new Guardians of the Galaxy Vol. 2 vinyl figure. It shows a snarling Rocket with his guns smoking. Baby Groot is on his head, clearly excited to be in battle.
Next is the May exclusive The Goonies t-shirt. This bold red shirt is for the true Goonies fans who "Never Say Die." It is also decorated One-Eyed Willy's infamous skull and crossbones.
The Star Wars Adult Coloring Book is perfect for sparking your geeky creative side. This exclusive edition has 30 Star Wars images for you to color-in using the included set of 6 colored pencils. The images depict some of our favorite Star Wars characters and unique designs featuring Star Wars space ships.
You can easily add a touch of geek style to your favorite jacket or bag with the Destiny patches. Each patch represents a different Destiny character class – Hunter, Titan, or Warlock. You can sew or iron them on.
Finally, how cool is the Avatar pin?! In the light, you see Aang. In the dark, it shows him in Avatar state with his arrow and eyes glowing.
Which was your favorite May Loot Crate Guardians crate collectible?
Make sure you check out the Loot Crate June 2017 box spoilers for a sneak peek into next month's geek and gamer box!
Loot Crate Coupon Code
Don't miss another box! Save $3 off new Loot Crate subscriptions when you use coupon code LOOTR3. Code SAVE10 will save 10% off any subscription. Sign-up for 12 months of Loot Crate geek boxes and you'll get a free Loot Crate t-shirt!