If you love discovering food from around the world, you'll want to check out the Pantry by Try The World monthly subscription box. Every month, Pantry by Try The World delivers a customized food box filled with pantry essentials from different countries across the globe. With today's Pantry by Try The World review, we're unboxing our May 2017 Pantry by Try The World box.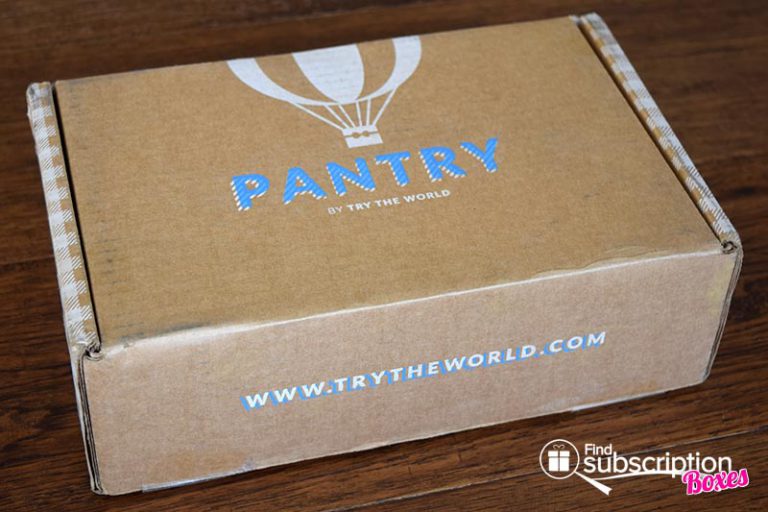 Each Pantry by Try The World box includes a product card that describes each of the gourmet pantry essentials in that month's food box.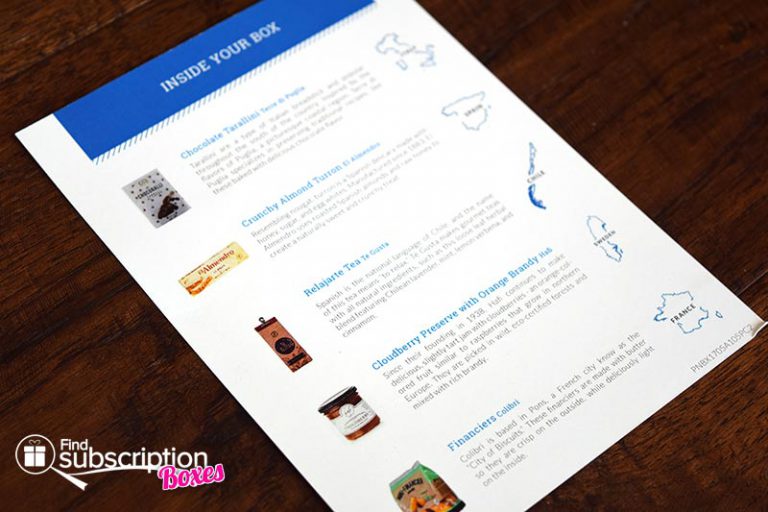 Here's a first look inside our May 2017 Pantry by Try The World gourmet food monthly subscription box.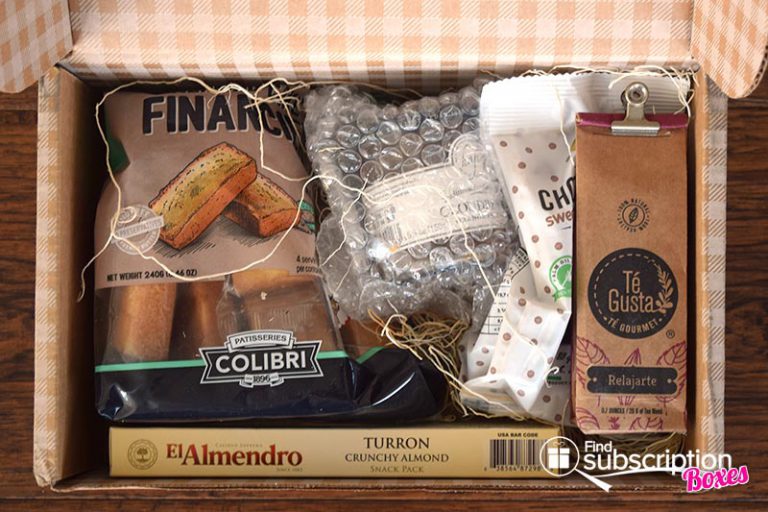 Inside the May 2017 Pantry by Try The World Box
Here are the 5 pantry essentials in our customized Pantry by Try The World box.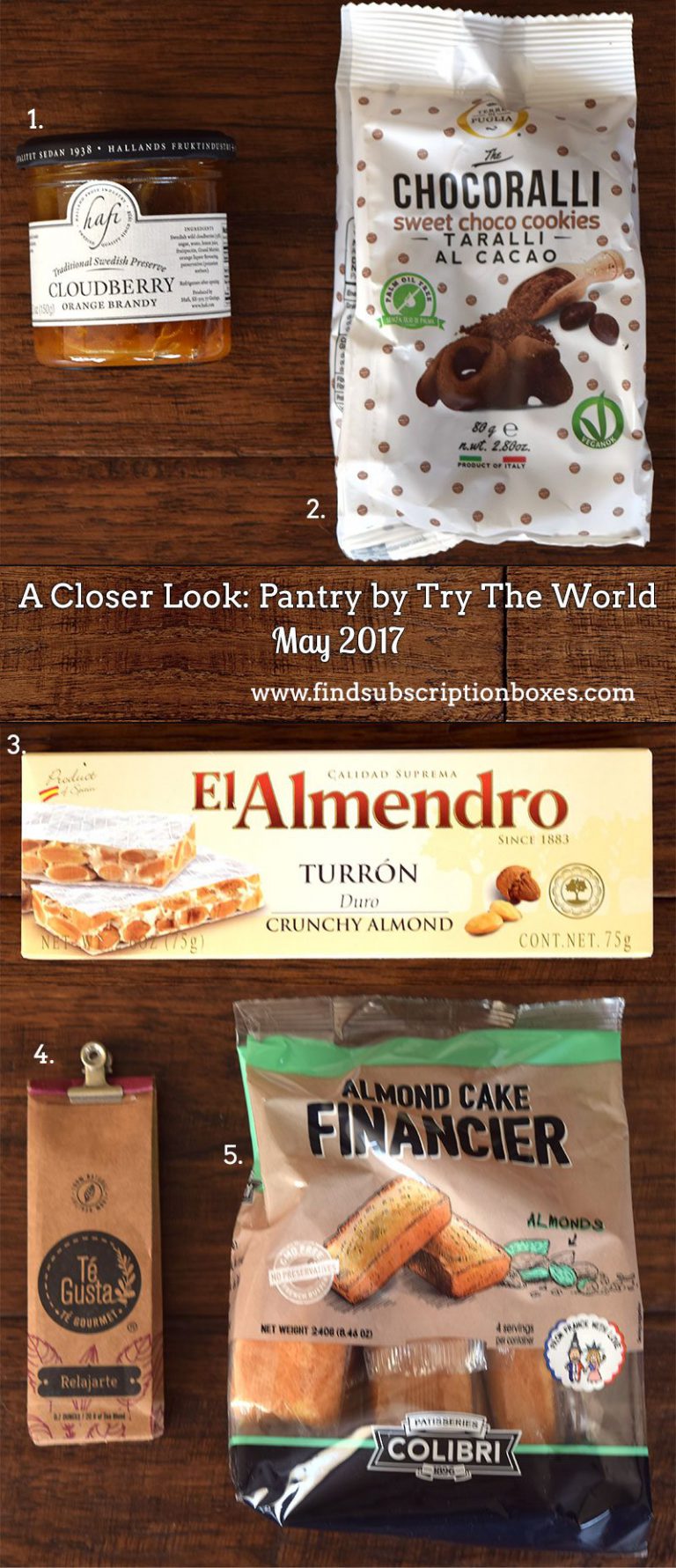 Hafi Cloudberry Preserve with Orange Brandy from Sweden
This delicious, slightly tart jam is made with cloudberries – an orange-colored fruit similar to raspberries.
Terre di Puglia Chocolate Tarallini from Italy
These Tarallini are a type of Italian breadstick baked with delicious chocolate flavor.
El Almendro Crunchy Almond Turron from Spain
This nougat-like treat has roasted Spanish almonds and raw honey to create a naturally sweet and crunchy sweet.
Te Gusta Relajarte Tea from Chile
This loose leaf herbal blend features Chilean lavender, mint, lemon verbena, and cinnamon.
Colibri Financiers from France
These financiers are made with butter so they are crisp on the outside, while deliciously light on the inside..
May 2017 Pantry by Try The World Box Review Wrap-Up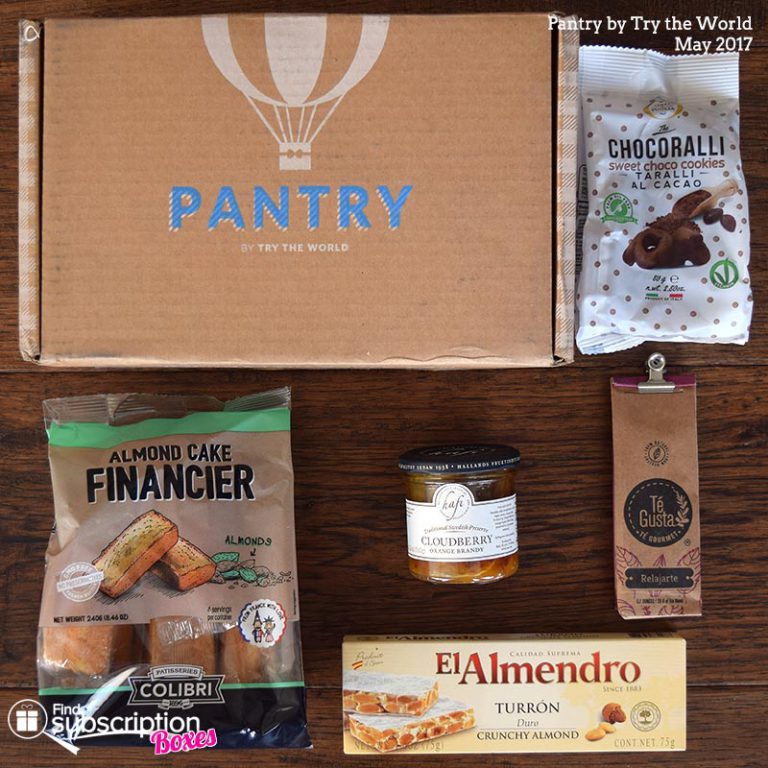 We're kicking of our May Pantry box with three sweet treats. We were so excited  to get a cake treat in our Pantry box again. This month, we got to enjoy Almond Cake Financiers from France. Thees almond cakes are individually wrapped to keep them soft and tasting freshly baked. You can really taste the almond flavor with each bite! Almonds were also featured in the crunchy Turron candy bar from Spain. Next are the chocolate Tarallini cookies from Italy. These cookies are crisp and light, with a touch of chocolate flavor that isn't too sweet.
Our May Pantry by Try the World box include a relaxing tea from Chile. "Relajarte" literally means "to relax" and the soothing herbal blends of this tea was perfect for sipping on.
Finally, we had a unique fruit jam in our May Pantry box – Cloudberry! It was so interesting getting to discover this new fruit, which reminds us of a strawberry, raspberry, with a hint of orange combined into one delicious jam. It's perfect for crepes, toast, and even ice cream.
What did you get in your May Pantry by Try The World box?
Pantry by Try The World Coupon Code
For a limited time, new Pantry subscribers can save $10 off your 1st Pantry by Try The World Box! Just click here to join Pantry today and use coupon code PANTRY10 at save. After savings, your first Pantry by Try The World box is $19.95 + FREE shipping.