Powered Geek Box delivers a monthly geek subscription box to your door every month. Powered Geek Box offers two subscription plans – a premium geek box that sends 6-9 geek items plus a monthly t-shirt and a Deluxe box which includes 4-6 items plus a monthly shirt. Each geek box is filled with officially licensed and branded collectibles for geeks, gamers and nerds. With today's Powered Geek Box review, we're unboxing the May 2017 Powered Geek Box.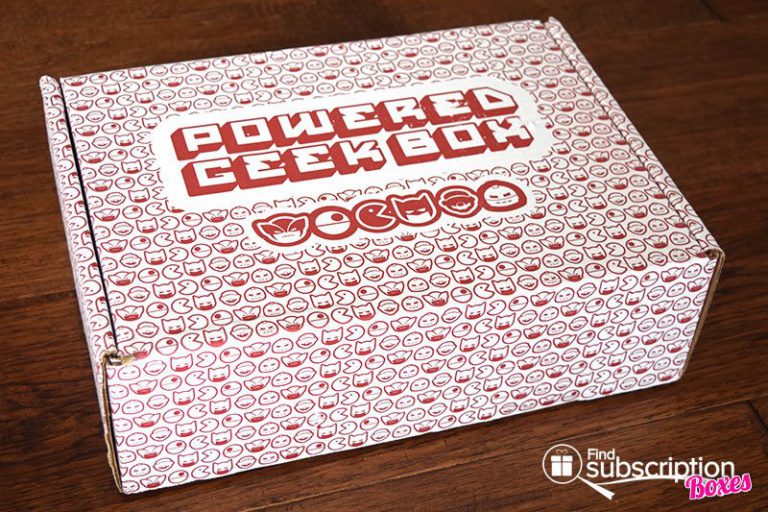 Every month Powered Geek Boxes features geek t-shirts, vinyl figures and other geek, gamer, and pop culture collectibles. Here's a first look inside our Powered Geek Box May box.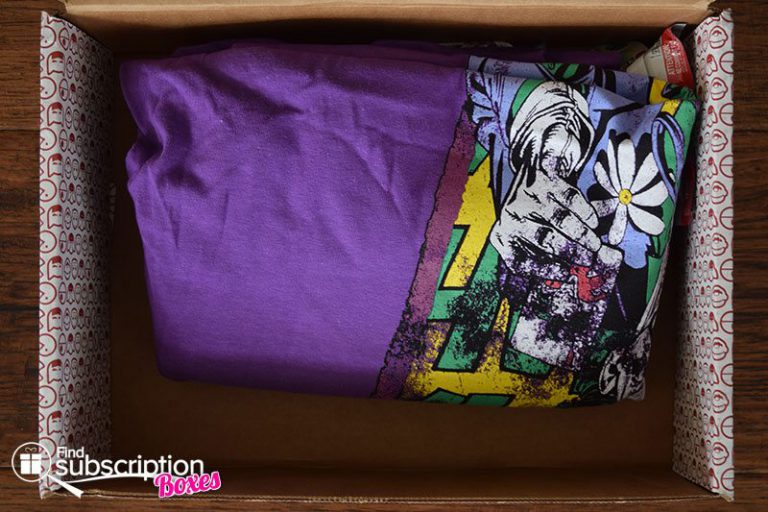 Inside the May 2017 Powered Geek Box
There were 9 geek and nerd items in our May 2017 Powered Geek Box.

The Joker T-Shirt
The Legend of Zelda Backpack Buddies
Power Rangers Samurai Mash'ems
DC Comics Batman Playing Cards
Marvel's The Avengers Notebook
Takara Tomy Pokemon Blaziken Moncolle Figure
MarioKart Wii Luigi K'Nex
Powered Geek Box May 2017 Box Review Wrap-Up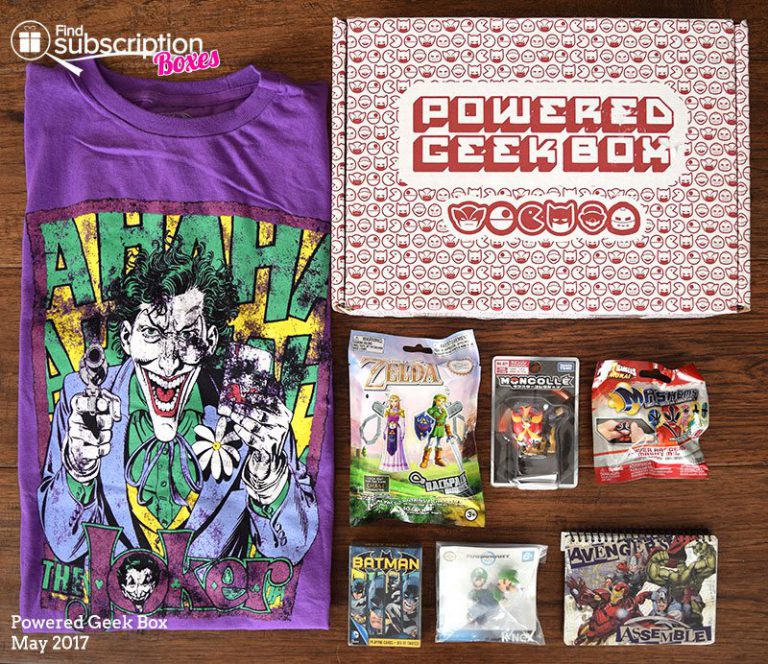 From DC Comics to Nintendo Wii, the May 2017 Powered Geek Box had epic geek collectibles and figures to add to your collection. Coming from DC Comics, we have the bright purple The Joker t-shirt which features the grinning villain with his gun raised. To counter The Joker, Powered Geek Box included a deck of Batman Playing cards. Each of the 52 cards has a different piece of DC Comics original artwork.
There were three figures in May's Powered Geek Box. The Zelda Backpack Buddies is a blind bag hanger for your keychain or bag. The bag has a 2-D hanger of 1 of 9 Zelda characters from Link to Princess Zelda to Ganondorf. Next is the Pokemon Blaziken Moncolle Figure, an adorable version of Blaziken that is an adorable addition to your RL Pokemon collection. The third figure is a small Luigie K'Nex figure. This detailed Luigi has limbs that move and is ready to cheer you on in your next race.
The Power Rangers Samurai Mash'ems is a fun squishy toy you can squeeze, twist and even launch. The blind bag contains 1 of 6 Power Rangers Samurai characters.
Finally, the Marvel's The Avengers notebook is a geek chic way to jot down important notes. Each page of this spiral-bound notebook has an illustration of Iron Man, Captain America and Falcon.
What was your favorite May Powered Geek Box collectible?