Scent Trunk is a monthly cologne and fragrance subscription box that delivers a customized fragrance to your door. Through their unique discovery process, Scent Trunk uses your ranking of 6 core scents to create an original fragrance and send it to you every month. Today, we're unboxing our May 2017 Scent Trunk custom fragrance box.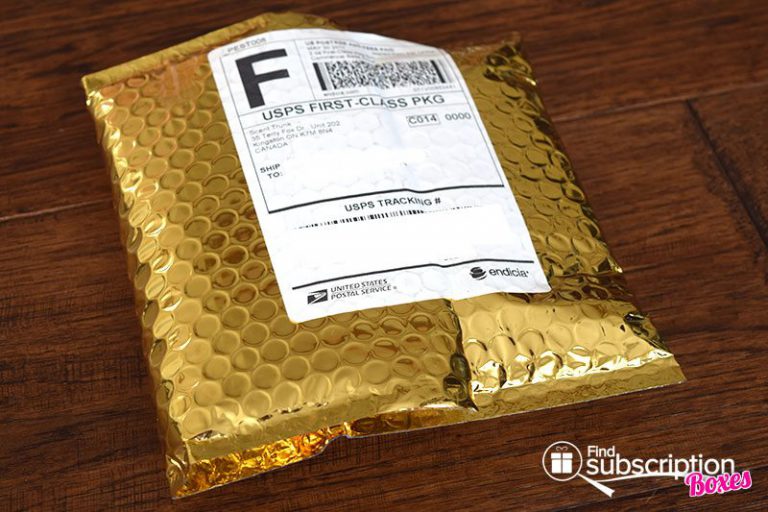 As soon as you sign-up for Scent Trunk, you'll receive a bubble mailer that contains a scent sampler inside. The sampler has 6 different scents – ranging from fresh and citrusy to warm and spicy. Each scent comes in an individual roller that you can use to sample each scent on your skin.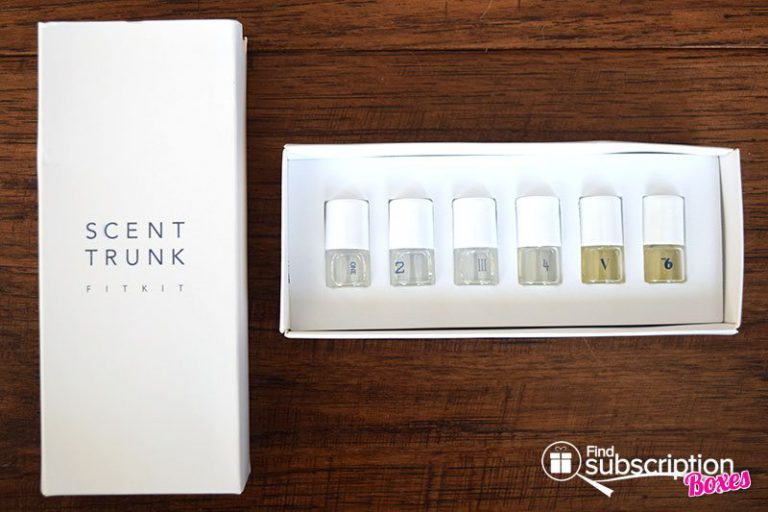 After sampling, subscribers just log-in to test.scenttrunk.com to rate how much they like each of the scent samples. Scent Trunk will then send you an original fragrance, created to match your scent preferences.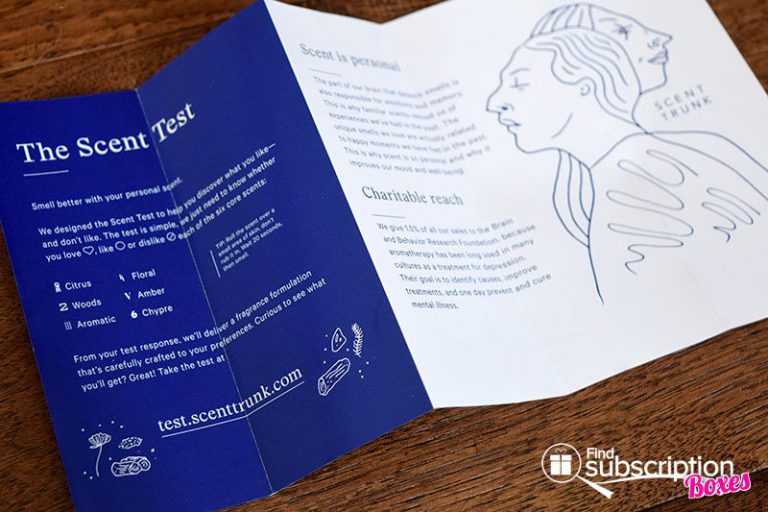 Inside the May 2017 Scent Trunk Box
Your first original fragrance arrives shortly after taking your Scent Test, also in a golden bubble mailer. Our May 2017 Scent Trunk fragrance is Citrus Floral 1 by Sarah McCartney, UK. Scent Trunk includes a 30-day supply of your custom fragrance in each delivery. You can log-in to your account or contact Scent Trunk if you want to try a new custom scent for your next box.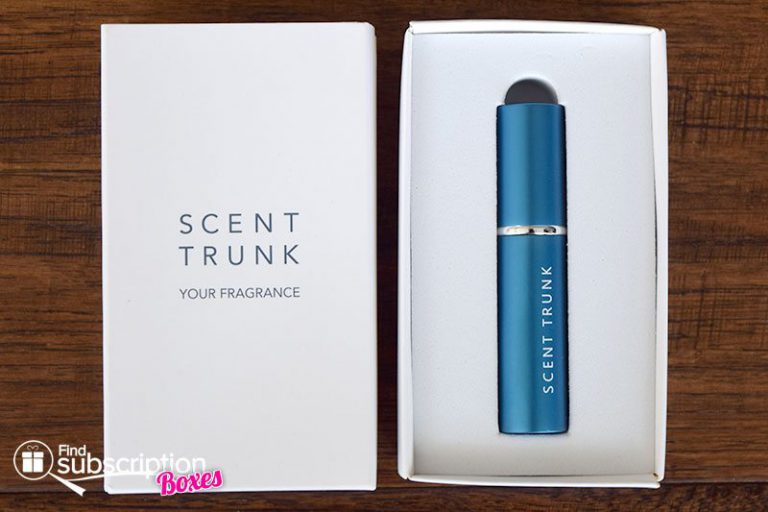 Scent Trunk includes a card with Scent Notes about your monthly cologne or perfume.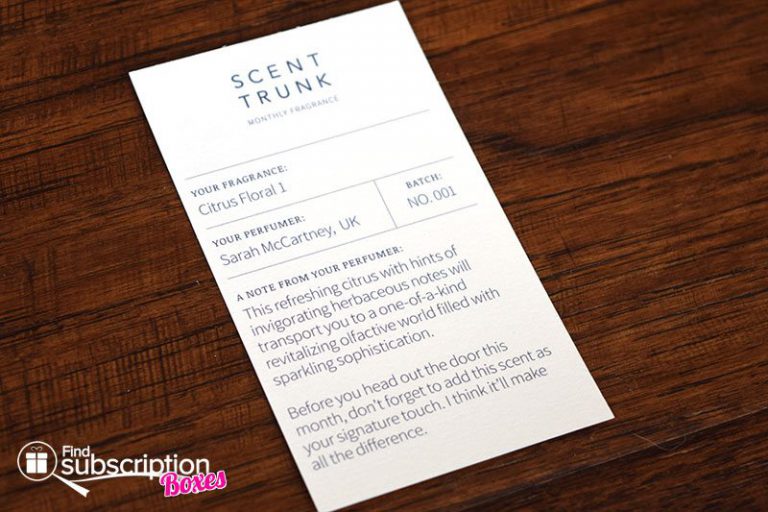 May 2017 Scent Trunk Box Review Wrap-Up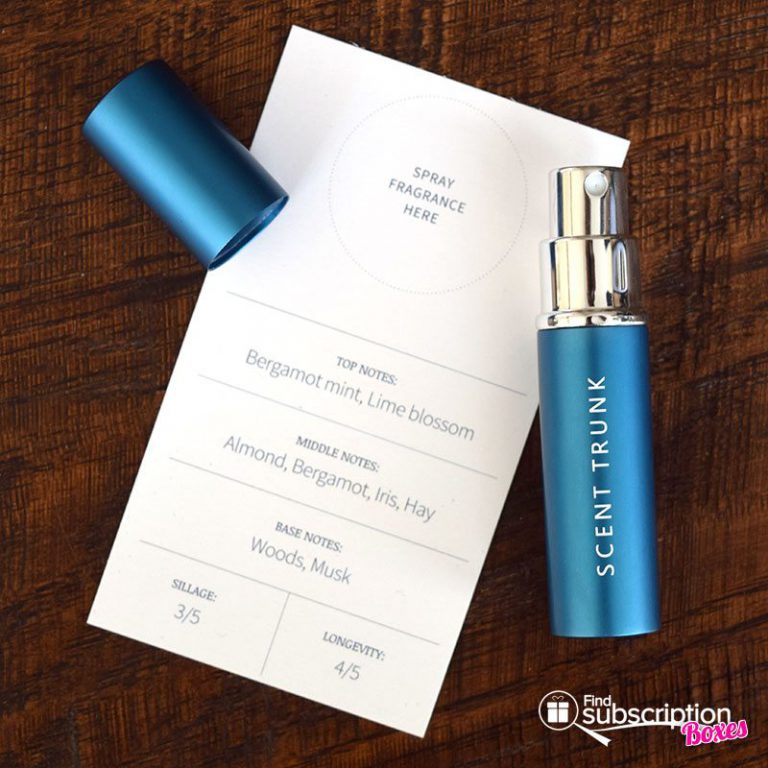 After taking our Scent Trunk Scent Test, we discovered that we liked Citrus and Floral notes. The Sarah McCartney, UK Citrus Floral 1 fragrance was received perfectly captured these preferences. The fragrance is sweet and flowery. The notes of Woods and Hay give the fragrance a hint of earthiness. We thought our original Citrus Floral 1 fragrance by Sarah McCartney UK was light, fresh, and perfect for the Summer.
The blue fragrance atomizer your fragrance arrives in is very convenient. The small size makes it ideal for keeping in your purse or car so you can easily do a fragrance refresh when needed.
This was our first month receiving an original fragrance from Scent Trunk and we loved the experience. Scent Trunk truly gives you the opportunity to discover your own unique scent and stock-up at an affordable price (just $11.99/month.)
Subscribe today to get your Scent Trunk Scent Test and start creating your customized perfume or cologne subscription box!