Try The World is a food subscription box that delivers authentic gourmet food from a different country every 2 months. Each Try The World food box highlights a new country and is curated by a celebrity chef. With today's Try The World Review, we're unboxing the May and June 2016 Try The World box.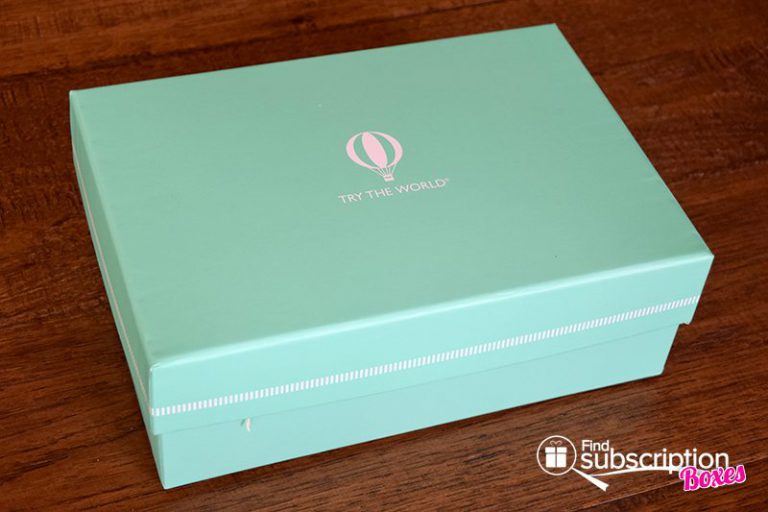 Try The World includes a Culture Guide in each month's food box. The card not only shares that month's food selections, but also has recipes using those products and background information about the country and chef curator. The May/June 2016 Try The World box was the Sweden Box. This month's box was curated by Chef Emma Bengtsson, a Michelin 2-star award-winning chef from Sweden.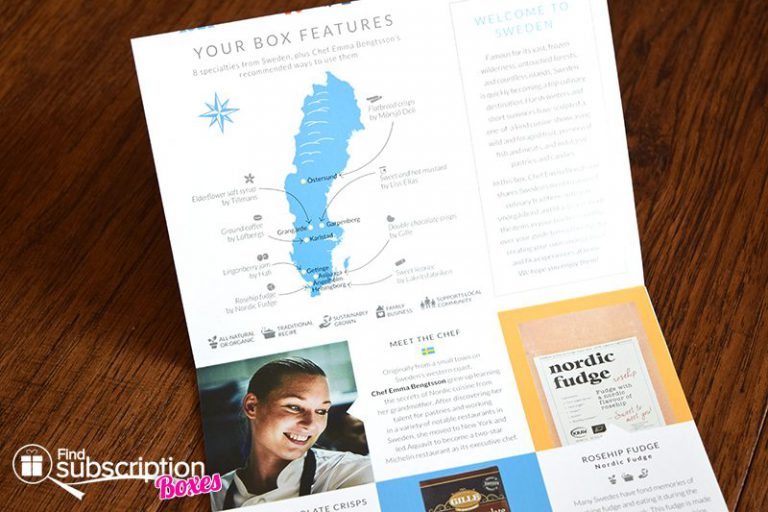 Here's a first look inside our Try The World Sweden Box.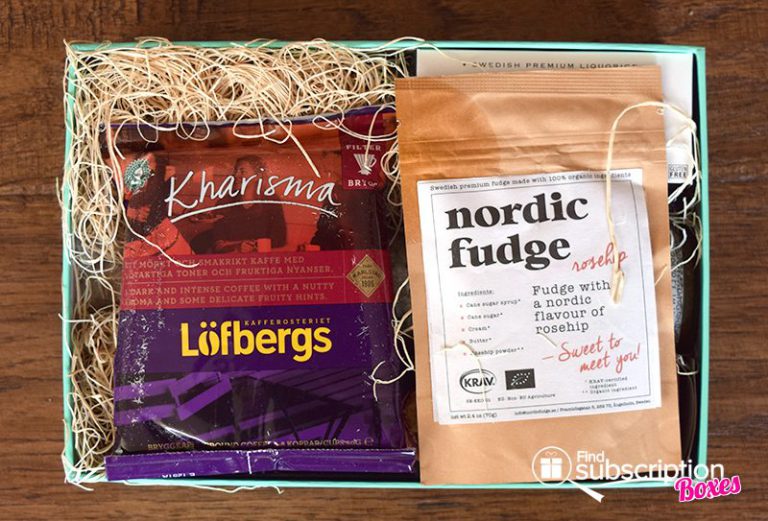 Inside the May / June 2016 Try The World Sweden Box
There were 8 gourmet products in our Sweden Try The World food box.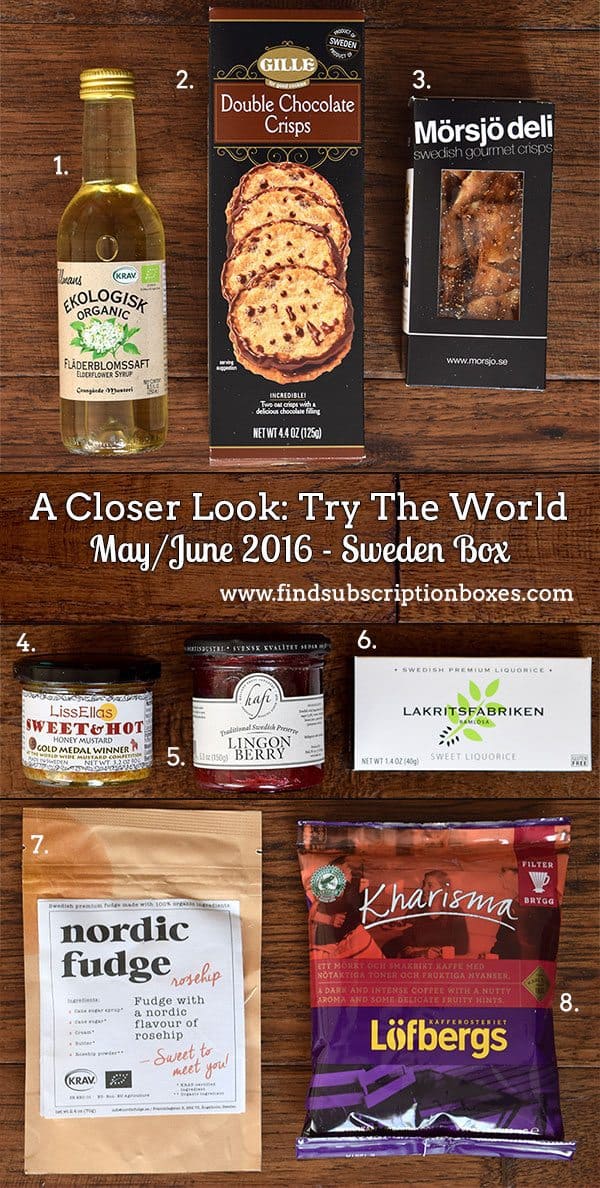 Tillmans Elderflower Saft Syrup
Mix this cordial with sparkling water, water or alcohol for a refreshing, sweet drink. It's made with organic elderflowers.
Gille Double Chocolate Crisps
These popular chocolate cookies are made with local ingredients from southern Sweden.
Mörsjö Deli Flatbread Crisps
Made with barley and brushed with oil, these swedish crisps are a crispy snack that's great with jam!
Liss Ellas Sweet and Hot Mustard
This award-winning mustard is made using domestically grown mustard seeds, local honey, and high quality spices. Use it in dressing or in a marinade for an extra sweet and spice kick.
Hafi Lingonberry Jam
A staple for many Swedish dishes, this lingonberry jam is made with lingonberries picked in wild, eco-certified forests.
Lakritsfabriken Sweet Licorice
Traditionally, children in Sweden are only allowed to eat candy on Saturdays. This sweet licorice is a popular choice.
Nordic Fudge Rosehip Fudge
Rosehips and wildberries from the forests of Sweden add a fruity flavor to this sweet fudge.
Löfbergs Ground Coffee
Take a Swedish fika coffee break with a cup of this bold Swedish coffee. They've been making coffee beans through sustainable methods since 1906.
May / June 2016 Try The World Sweden Box Review Wrap-Up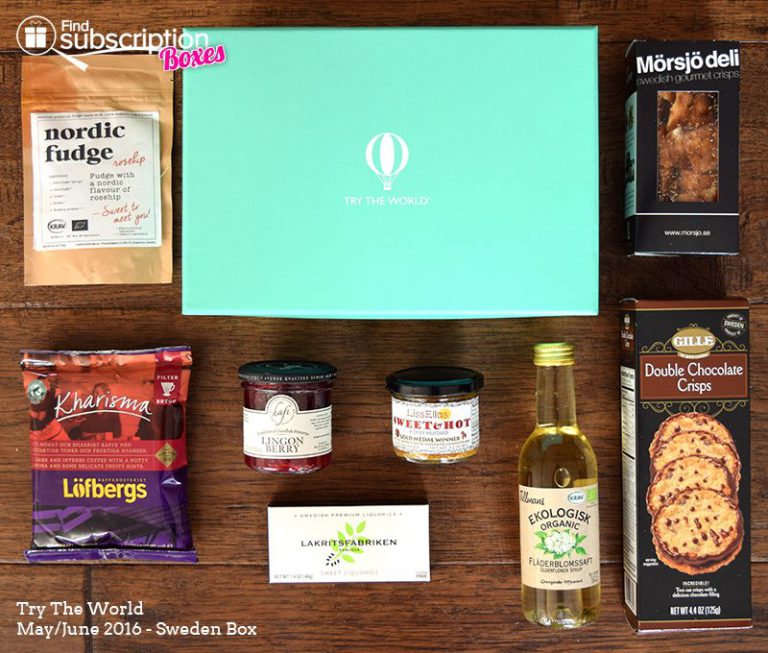 Chef Bengtsson curated a variety of Sweden gourmet ingredients that brought us a taste of Swedish cuisine in the May /June Try The World Sweden Box. We put together our own fika with a few of the Sweden Try The World box ingredients. Traditionally, fika is when Swedes take some time to enjoy some pastries and coffee, whether with friends or in the office. The Löfberg coffee is a strong coffee with a nutty flavor that will certainly give that afternoon coffee boost. The cookies, fudge, and licorice were perfect pairings with the coffee. The cookies have double crisps and a generous coating of chocolate between the two cookies. The Nordic fudge is made with 100% organic ingredients and is flavored with rosehip powdered to make a rich, premium fudge with a unique berry flavor.
After a day out in the sun, a glass of ice water mixed with Elderflower Syrup was an easy drink to make. The syrup adds a light, floral sweetness that can be used to flavor sparkling or flat waters. You can also mix up some great summer drinks with the Elderflower saft. We really enjoyed the savory flatbread crisps. You can top them with the lingonberry jam, crumble them into breading, or eat them plain, like we did.
What was your favorite May/June 2016 Try The World Sweden box item?
Free Try The World Box Coupon
For a limited time, join Try The World today and get a FREE Try The World Thailand box!