Nerd Block sends monthly nerd subscription boxes that feature 4-6 nerd toys and collectibles every month. Each month's Nerd Block has a $60 in exclusive merchandise and collectible nerd gear – from Funko Pop! Vinyls to exclusive nerd t-shirts. With today's Nerd Block review, we're unboxing the September 2015 Nerd Block Classic Block. The September Nerd Block theme was Hyperspace!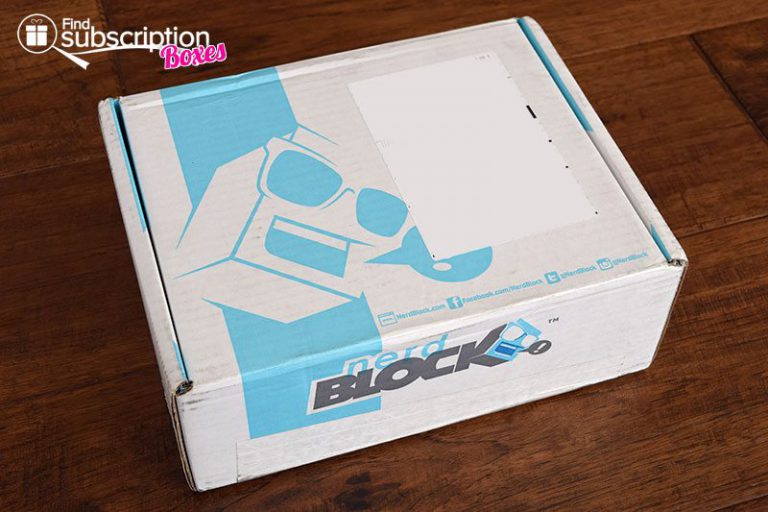 Every month, Nerd Block includes a product card that describes each of the nerd toys and collectibles in that month's box.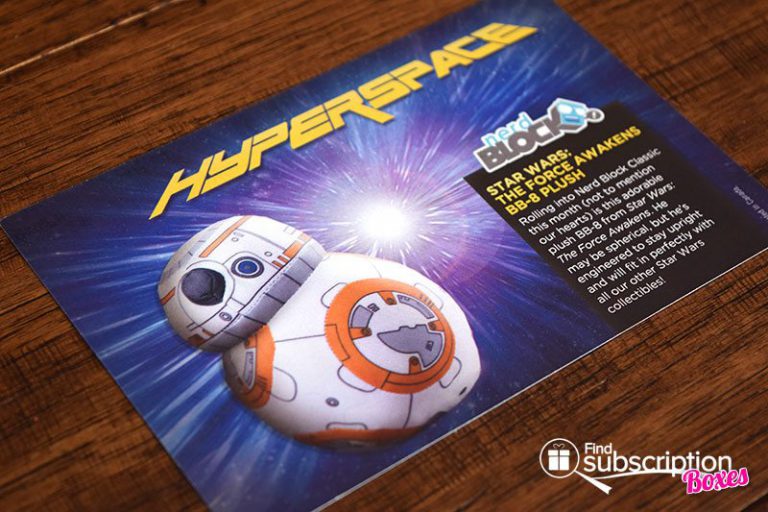 Here's a first look inside our Hyperspace Nerd Block.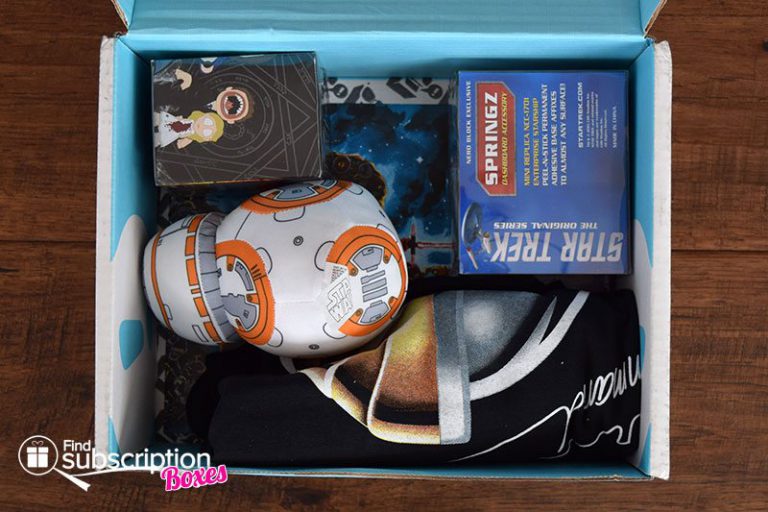 Inside the Nerd Block September 2015 Hyperspace Classic Block
There were 5 nerd items in the September Hyperspace Nerd Block Classic nerd box.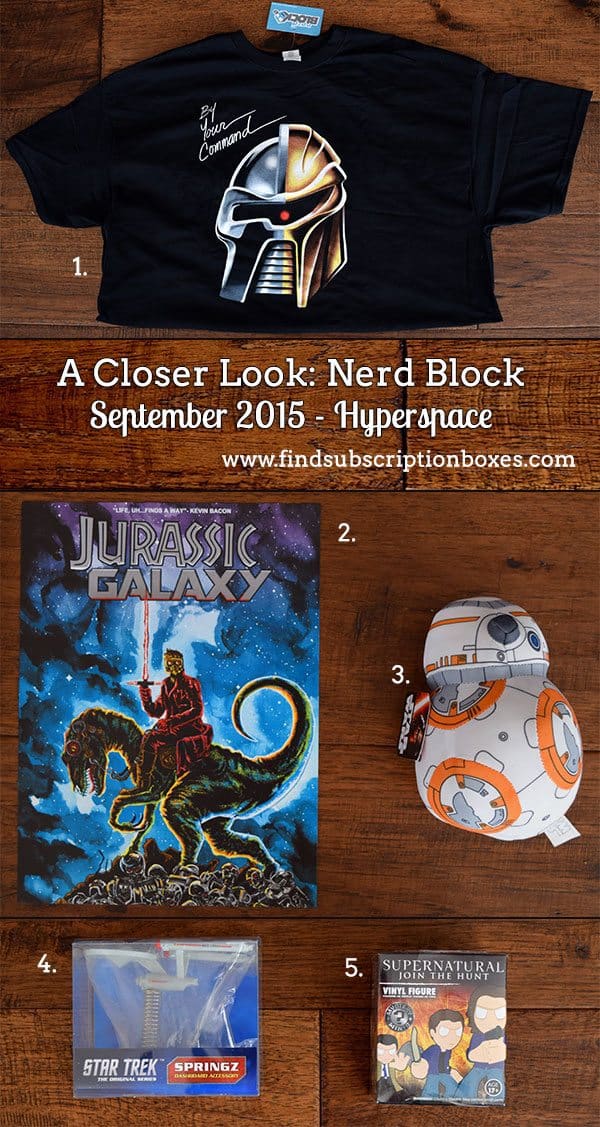 EXCLUSIVE ShirtPunch T-Shirt "By Your Command"

Paying homage to musical Cyclons, this By Your Command t-shirt is great for any Battlestar Galactica fan.

Jurassic Galaxy Print

Now you have your own frameable version of the limited-run Guardians of the Galaxy, Jurassic World, Star Wars, and Terminator mash-up print by poster artist Tim Doyle.

Star Wars: The Force Awakens BB-8 Plush

This Star Wars: The Force Awakens BB-8 plush is specially engineered to not roll of your desk.

EXCLUSIVE Springz U.S.S. Enterprise

This exclusive springy U.S.S. Enterprise is ready to join you on you next galactic journey.

Funko Mystery Mini – Supernatural

Join the with these collectible Funko Supernatural Mystery Minis – which character will you receive?
September 2015 Nerd Block Hyperspace Box Review Wrap-Up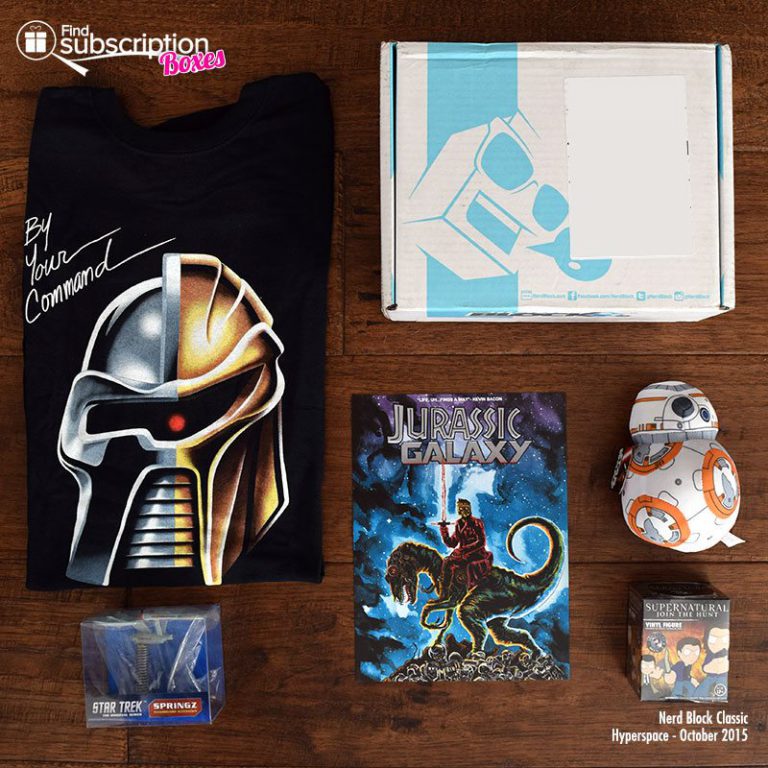 The Hyperspace Nerd Block box was filled with stellar nerd items and collectibles from a variety of popular space franchises. Trekkies will love the exclusive U.S.S. Enterprise for their Earth-bound rides. The Cyclon shirt will take any nerd back to the good 'ole Galactica days. The BB-8 Plush is a great addition to Star Wars collections.
What was your favorite September Nerd Block item?
Check out the October Nerd Block Classic Theme! Don't miss your chance to get a FREE $20 welcome nerd box with new Nerd Block subscriptions. This free box offer expires September 25, 2015!