Today, we're taking a closer look at the Nerd Block Classic February 2015 geek subscription box. The theme of the February Nerd Block was EXCLUSIVES and promised to include many Nerd Block exclusive items.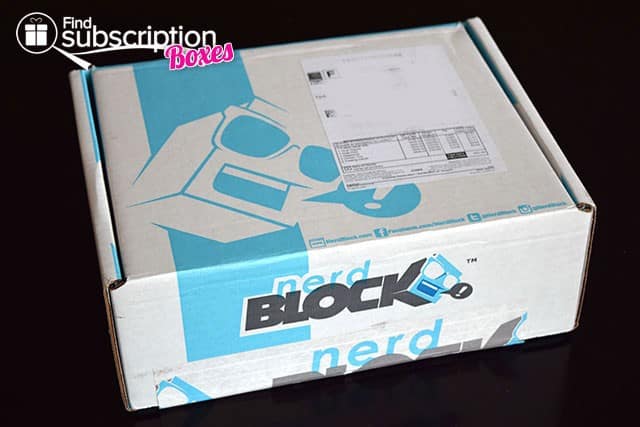 Here's a first look in or February Nerd Block. Each Nerd Block Classic box includes at least one exclusive t-shirt and we were excited to see what would be on this month's shirt.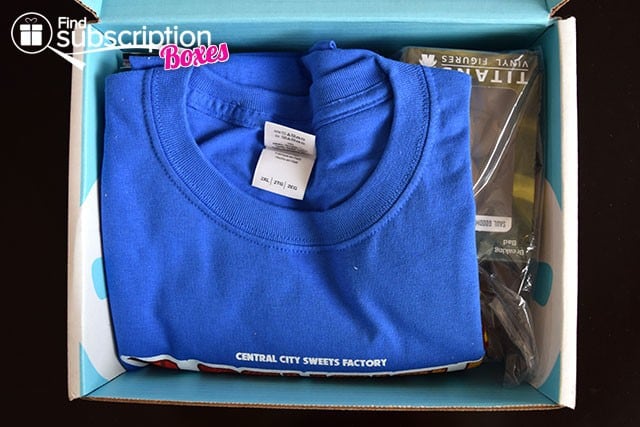 Inside the Nerd Block February 2015 Box
There were 6 products and 8 total nerd items in our February 2015 Nerd Block Classic Block.

1. EXCLUSIVE Flashsicle T-Shirt
This bright blue shirt is an exclusive fashion statement for Nerd Block The Flash fans!
2. EXCLUSIVE Cliccors – 2 Cliccors
Create endless shapes and objects with this bendable, twistable desk toy.
3. EXCLUSIVE Nerd Block/ Fan Expo Star Wars #1 Variant Cover
Star Wars fans will love adding this exclusive variant cover of issue Star Wars #1 to their comic book collection.
4. EXCLUSIVE Breaking Bad Titan Vinyl Figure – Saul Goodman
To help kick off the new Better Call Saul series, Nerd Block subscribers received one of 3 exclusive 4.5″ Breaking Bad Titan vinyl figures in this month's block – either Walter, Jesse, or Saul.
5. Drum Up Some Ideas Notepad
Drum up a few good beats or a few good ideas with this drum-set shaped notepad and drumstick pencils.
6. EXCLUSIVE Nerd Block Nerd Play Trading Cards Series – 2 decks
Cosplay fans will love collecting the new Nerd Play trading card series, which includes 144 collectible cards that feature some of the world's best cosplayers.
Nerd Block February 2015 Box Review Wrap-Up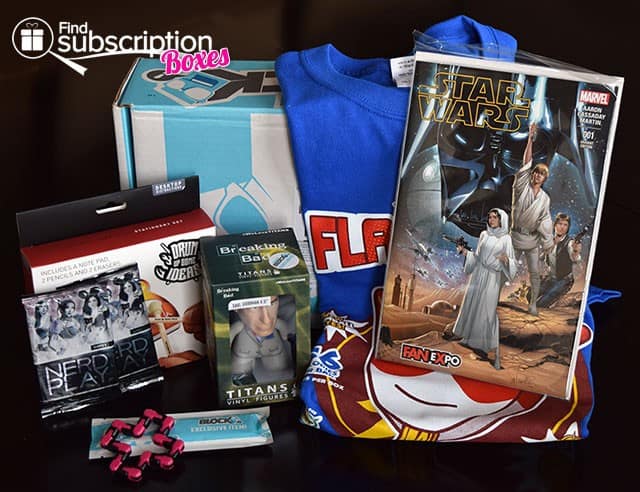 The EXCLUSIVE-themed Nerd Block February 2015 Classic box was packed with items that gave us first access to new nerd products and gadgets. 5 of the 6 items in this month's block were exclusive for Nerd Block subscribers! The new Cliccors toys are perfect for mental breaks at the office and the drum kit notepad set is a fun way to take notes. We are comic book fans and enjoyed receive another comic in this month's Nerd Block.
What was your favorite item from the February Nerd Block?
Nerd Block Classic Coupon Code
Use Nerd Block coupon code DALEK to save 10% off the 1st month of new monthly Nerd Block subscriptions.