The Nerd Block June 2015 Classic Block theme is British Invasion and is being curated by Mr. Bean! The June Monster Block matches this British theme! Every month, one Nerd Block Classic Block subscriber is randomly selected to win that month's monster block.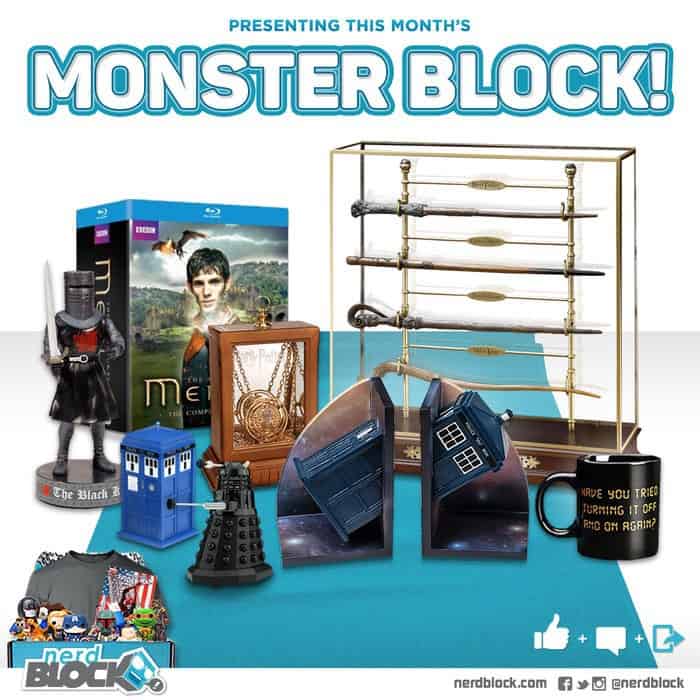 The June 2015 Monster Block includes:
The Complete 5 Seasons of Merlin on Blu-Ray
A Monty Python and the Holy Grail Black Knight Figure
Hermione Granger's Time Turner from Harry Potter
All 4 Triwizard Champions' Wands from Harry Potter
A Dalek and T.A.R.D.I.S. bluetooth speaker set from Doctor Who
A T.A.R.D.I.S. Bookend from Doctor Who
An IT Crowd "Have you tried turning it off and on again" Mug!
You have to be a Nerd Block Classic Block subscriber to be eligible to win the June Monster Block. Subscribe by June 15, 2015 to reserve your June Nerd Block!
Save 15% Off Monthly Nerd Block Subscriptions
For a limited time, use Nerd Block promo code SAVE15 to save 15% off monthly Nerd Block subscriptions. Your first Nerd Block Classic Block is just $24.79 shipped after savings. Lock in savings of up to 25% with multi-month and multi-block subscriptions!