Nerd Block delivers a surprise collection of nerd toys and collectibles in a themed nerd box every month. With today's Nerd Block review, we're unboxing the November 2015 Nerd Block Classic nerd box. The November 2015 Nerd Block theme was 'tis the Season.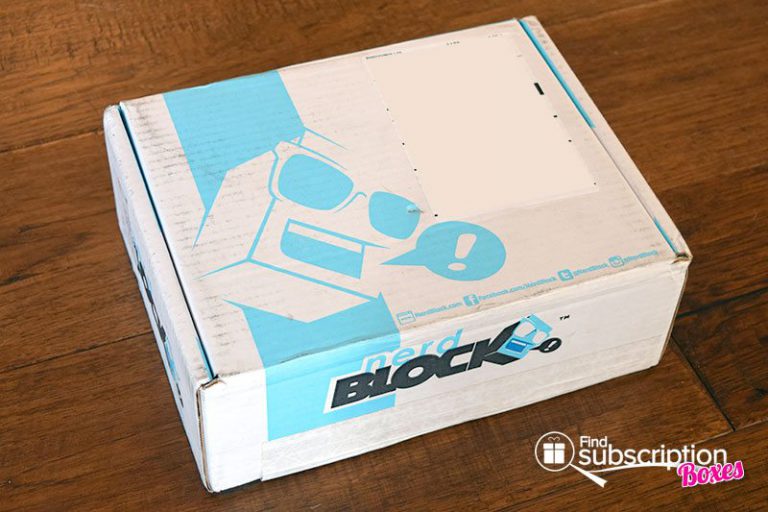 Nerd Block includes a product card in each month's box. The card describes each of the items in that month's box.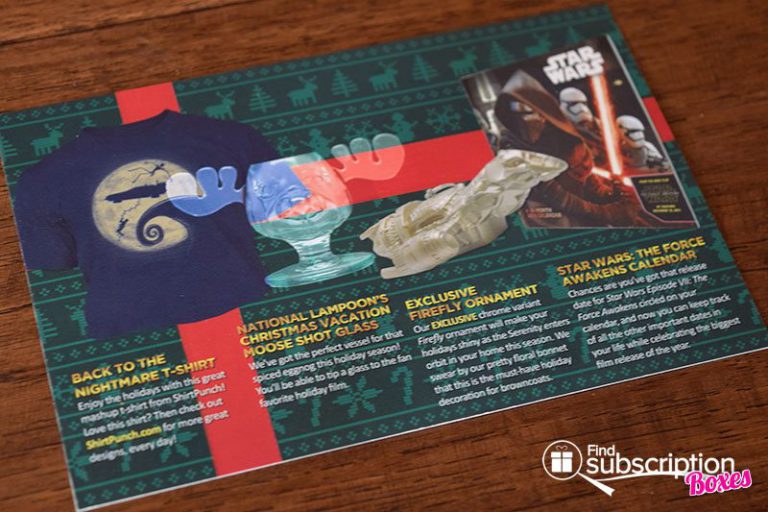 Here's a first look inside our November 'tis the Season Nerd Block.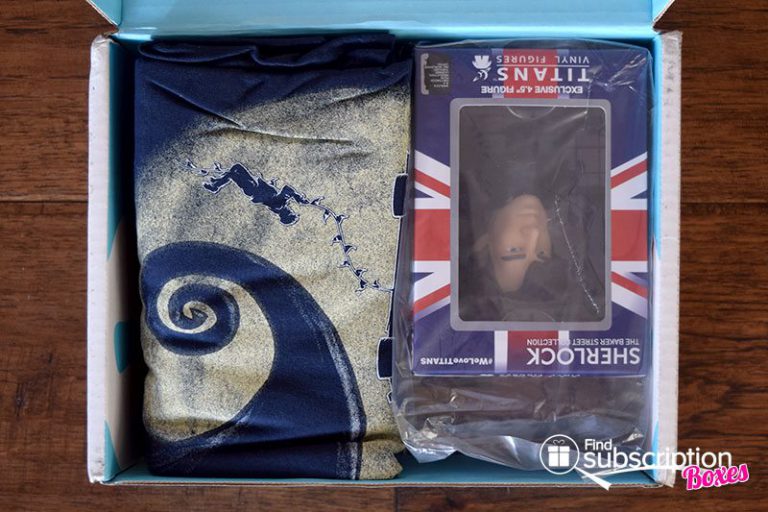 Inside the Nerd Block November 2015 Box
There were 7 items in our November 'tis the Season Nerd Block Classic Block.

EXCLUSIVE Firefly Ornament
This exclusive chrome variant Serenity is a perfect holiday decoration fo Firefly fans.
Star Wars: The Force Awakens Calendar
Keep track if your important dates and upcoming space adventures with this Star Wars Episode VII: The Force Awakens calendar.
Back to the Nightmare T-Shirt
This nerd t-shirt mashup combines Back to the Future and Nightmare Before Christmas.
National Lampoon's Christmas Vacation Moose Shot Glass
Enjoy a sip of eggnog or cider with this glass honoring your favorite holiday comedic family.
EXCLUSIVE Titan Sherlock Vinyl Figure
BBC's Sherlock is ready to solve even the smallest crimes as part of your vinyl collection.
Bonus Items:
Bill Murray Art Print by Art by Lee Howard
Marvel's Star Wars 001 with Variant Cover
November 2015 Nerd Block Review Wrap-Up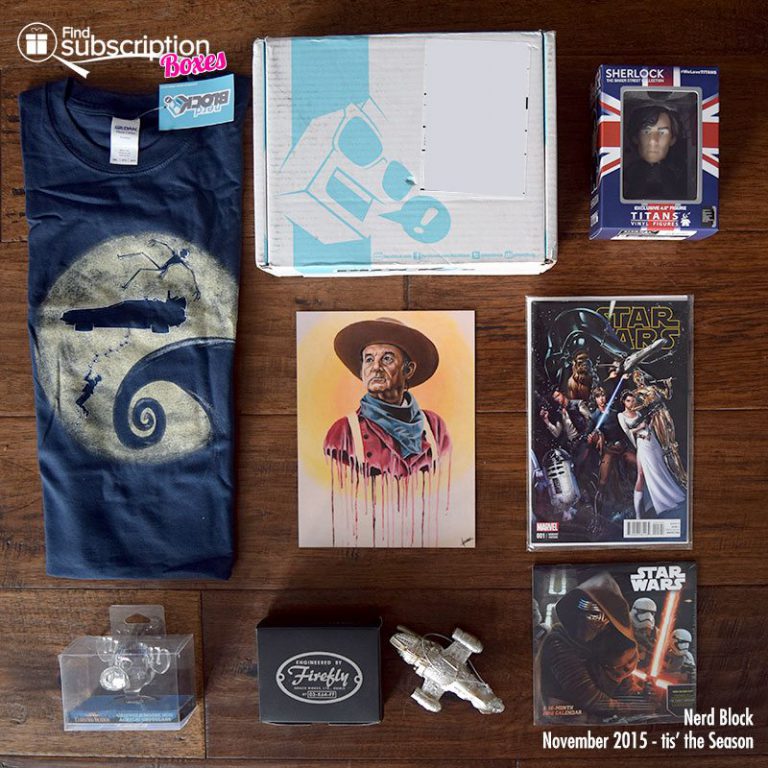 The November 'tis the Season Nerd Block was filled with nerd collectibles perfect for the holiday season. Some Firefly fans may struggle with whether to hang the chrome Serenity on the tree or keep it in the box. The Griswald-inspired shot glass could become a fun family heirloom on its own for those National Lampoon families. The Star Wars #1 bonus comic is definitely one of those that will stay in the plastic.
What was your favorite Nerd Block November nerd item?
Ends 11/25! Free Welcome Block!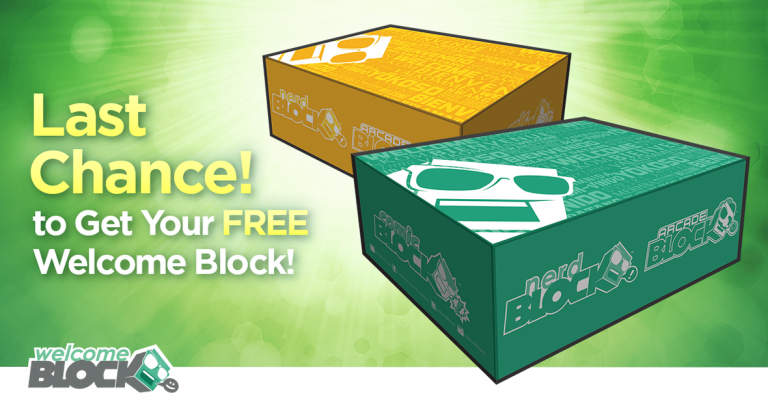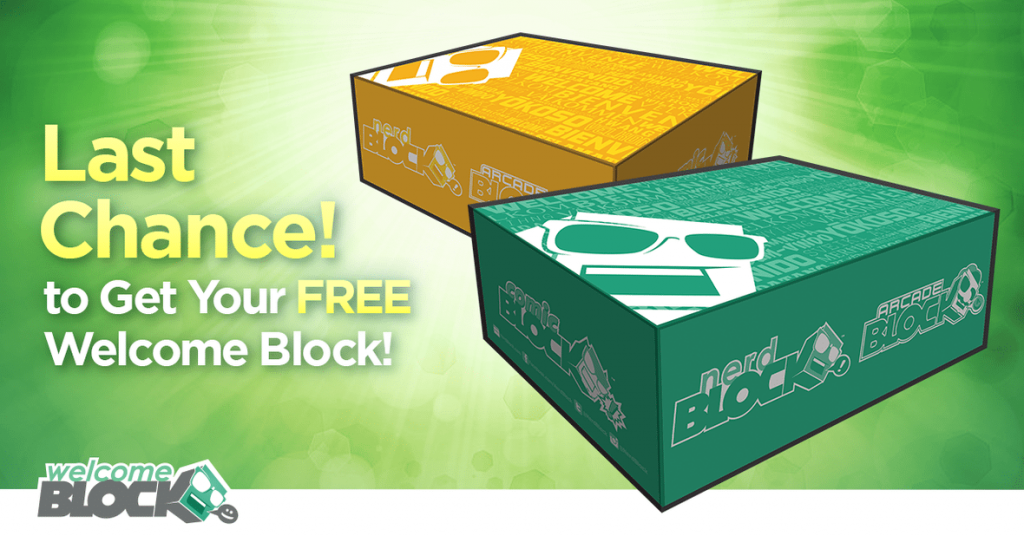 The Nerd Block Free Welcome Box offer is ending November 25, 2015! Join Nerd Block today to get your FREE Welcome Block filled with $20 worth of nerd collectibles.
Offer expired? Save 15% off monthly Nerd Block subscriptions when you use Nerd Block coupon code SAVE15 at checkout. Save up to 25% automatically with multi-month and multi-block subscriptions!