Green Kid Crafts delivers a monthly box of fun activities for kids 3-10. Just in time for summer, Green Kid Crafts has launched their Summer Discovery Pack! Get three fun summer-themed Green Kid Crafts Discover Packs – one each month from June to August – for just $59.95 + FREE shipping!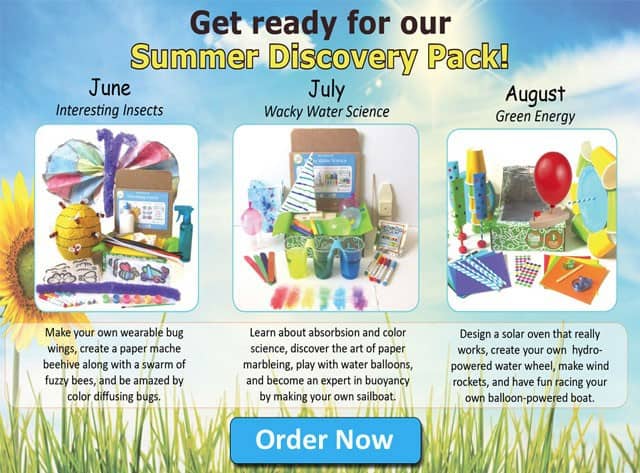 The Discovery Packs included in the Green Kid Crafts Summer Discovery Pack are:
June – Interesting Insects
Make your own wearable bug wings, create a paper mache beehive along with a swarm of fuzzy bees, and be amazed by color diffusing bugs.
July – Wacky Water Science
Learn about absorbsion and color science, discover the art of paper marbleing, play with water balloons, and become an expert in buoyancy by making your own sailboat.
August – Green Energy
Design a solar oven that really works, create your own hydro-powered water wheel, make wind rockets, and have fun racing your own balloon-powered boat.
Give your child three months of summer fun and learning with the Green Kid Crafts Discovery Pack. Order yours today!