The Bestowed monthly subscription box delivers an assortment of the best healthy food, snacks, beverages and lifestyle products on the market. Bestowed has just launched a new limited edition box – the Bestowed Best of Gluten-Free Box, Spring 2014 Edition.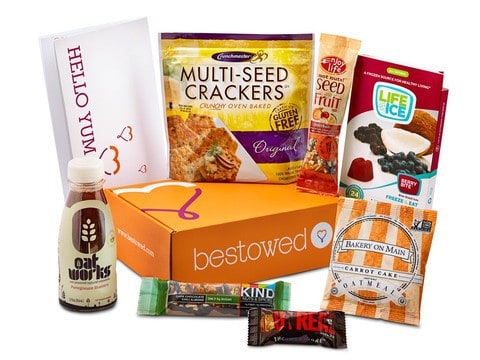 The Bestowed Best of Gluten-Free Box is just $19.95 and is filled with the best, better-for-you gluten-free food, snack, and beverage options, including:
Carrot Cake Oatmeal by Bakery on Main, one packet
KIND Snacks Dark Chocolate Chili Almond Bar, 1.4 oz
Enjoy Life Seed & Fruit Mix, 1.63 oz
LifeIce Freeze and Eat Bite-Sized Ices, Berry Bite, 48 cubettes
Crunchmaster Original Multi-Seed Crackers, 4.5 oz
Pomegranate Blueberry Smoothie by Oatworks, 12 oz
UNREAL Smooth One – Chocolate Caramel Nougat Candy Bar, 0.8oz
What do you think about this new limited edition box? Do you see any gluten-free goodies you're excited to try?