Discover the best cosmetics and beauty products from around the world with Wishtrend. Wishtrend has just launched a limited time only Wishtrend Kasper Box! The Wishtrend Kasper Box is a one-time box delivering body care and stunning lip products. Normally priced for $79.99, you can buy yours today for just $39.99 – a 50% savings – and get FREE shipping!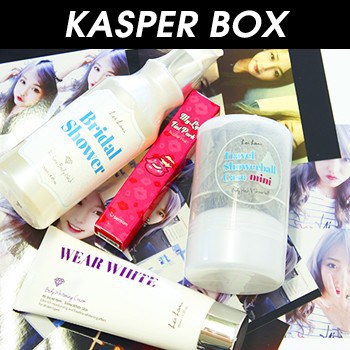 Get 3 brand new items at wishtrend that offer the best shower experience and flawless translucent skin. With the bonus best selling lip tint pack for kissable just bitten lips.
The Wishtrend Kasper Box includes:
Hurry, the Kasper Box is available from October 1st through Octber 10th ONLY! Order your Wishtrend Kasper Box today!
FOR SALE: KASPER BOX!
Wishtrend FREE Gift with Purchase & Wishtrend Coupon Code
Ready shop at Wishtrend? Through October 31, 2014 there are two great Wishtrend promotions:
Will you be picking up the Wishtrend Kasper Box? Which product are you most excited to try?