Today we're reviewing the NewBeauty TestTube November 2015 beauty box. One of the things I love about the New Beauty TestTube is the magazine included as part of the subscription! It's a wonderful and thick magazine chock full of lots of beauty-related information for women of all ages and experts from every field.
In the November 2015 NewBeauty TestTube box, the trendsetting insiders include a TV personality, a fashion blogger, and an Emmy award-winning sportscaster! I always love reading the insiders' take on the products featured. They give a personal touch to the items included in the shipment.
Inside the NewBeauty TestTube November 2015 Beauty Box
The NewBeauty TestTube November 2015 box was overflowing with product and included bonus items: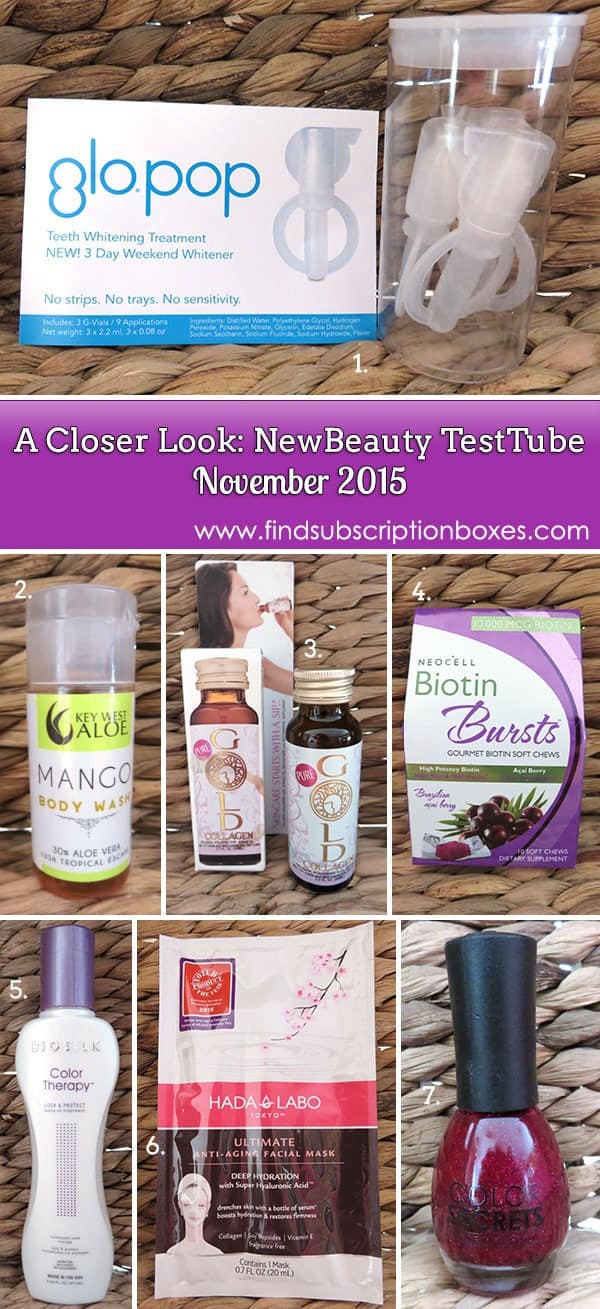 GLO Pop: Teeth Whitening Treatment, deluxe sample, contains hydrogen peroxide to provide a three-day weekend whitening treatment. Gentle with little or no sensitivity, the foaming action penetrates teeth and freshens breath with no need to rinse. Full treatment can yield results up to five shades whiter.
Key West Aloe: Mango Bath & Shower Gel, a nice sample bottle which contains 30% Lab-Certified Aloe Vera, Vitamin E, and Mango Extract. Nourishes and moisturizes with poly saccharides, amino acids, vitamins, and minerals while smelling yummy.
Pure Gold Collagen: Liquid Beauty Supplement, one use bottle. Drink the bottle to boost collagen and promote softer and younger-looking skin. Contains hyaluronic acid, hydrolyzed collagen, zinc, vitamin C, and other vitamins and minerals. Regular use may improve skin, hair, and nails.
NeoCell: Biotin Bursts High Potency Soft Chews, deluxe sample, plus an extra bonus deluxe sample. Delivers Biotin with Brazilian Acai Berry extract for antioxidant protection in a chew which is free of gluten, GMO, soy, and palm oil. Dose is one chew per day to support healthy hair, skin, nails and energy as a supplement.
BioSilk: Color Therapy Lock and Protect daily leave in treatment for hair, full size 5.64 fl. oz bottle which contains Vibariche, a color-protecting treatment enhanced with maracuja oil and rich in vitamins, antioxidants, and essential fatty acids which hydrate and protect damaged hair. Helps contain frizz and flyaways with silk proteins, and provides luster and shine.
Hada Labo Tokyo: Ultimate Anti-Aging Facial Mask, single-use mask contains Super Hyaluronic Acid, soy peptides, and vitamin E which hydrates the skin in ten minutes to improve skin texture, elasticity, and firmness. Easy-to-apply; press on, relax, discard mask, and pat remaining serum into your skin when done.
Color Secrets Professional: Nail Lacquer, full size nail color. Trendy, high shine color for your nails which is 100% vegan, 5-free and harm-free, and perfect for any look.
Bonus Editor Favorite! Ojon: Damage Reverse restorative conditioner, sample size bottle.
November 2015 NewBeauty TestTube Review Wrap-Up
The NewBeauty TestTube November 2015 beauty box delivers a wonderful array of products to enhance one's beauty on the outside and the inside. The Insider tips give real feedback, as well as insight on usage, and beauty advice.  The hottest, trendsetting products delivered to your door!
What was your favorite  from the NewBeauty TestTube November 2015 Tube?
NewBeauty TestTube Coupon
For a limited time, use our exclusive NewBeauty TestTube discount link to save 30% off your 1st NewBeauty TestTube beauty box.