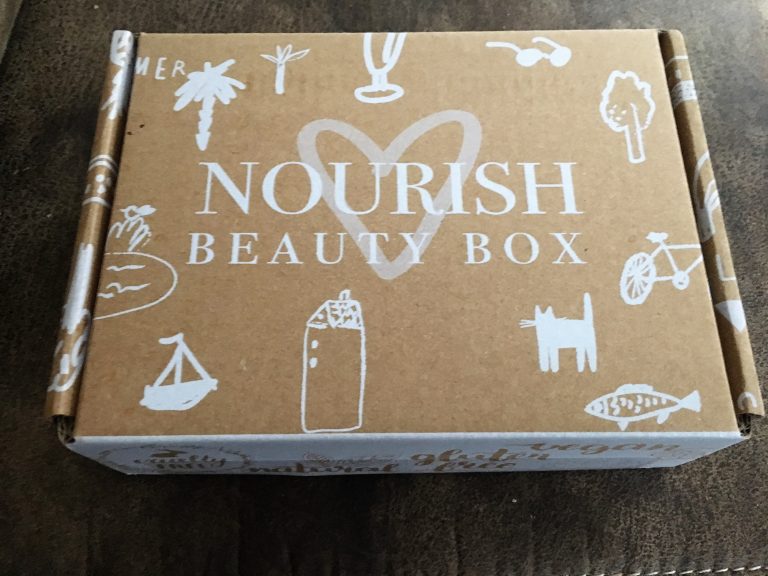 Nourish Beauty Box is a subscription box that prides itself on the natural products they provide. Each month you get at least four full size items that are curated specifically for you! They have different price options for monthly, three month, and six month subscriptions. For one month the prices are $29.99. The longer out you prepay, the better the discount of course! They also have an amazing option on their site called build your own box. For build your own box you can choose any four items from their list and you get 40% off!
Normally Nourish ships and the box arrives before the month even starts. I am assuming this month it got lost in the mail because it took longer than usual to come to my doorstep. I know this is not the norm though so do not hold it against this amazing company! Despite the delay everything arrived in safe condition. They always wrap the items in bubble wrap to keep it secure. This month there was an item to big to fit in the box so they had it all safely in an additional bubble wrap envelope! The hugest thing is the value for this months box. Normally there is a huge difference between what you pay and what you get but the value for this box was $98.99 which is an insane deal!
The first item in the box was the Dr. Botanicals Pomegranate  sleeping mask. This mask is designed to hydrate and nourish your skin as you sleep!Pomegranate is a wonderful scent if you ask me. This product smells absolutely incredible and when used makes your face feel its absolute best in the morning. The formula feels soothing and has a bit of a cooling effect when you spread it in a nice even layer on your face at night. It spreads so easily that you do not have to use a ton so the amount you get in this box lasts for quite awhile.
The next item in the box was the Lemon & Carrot facial cleansing gel. It is called a gel but it is more of an oil honestly. What it nice is that it cleans your face without the use of bubbly soap. It is a natural mix of lemon seed, lemon pee, carrot, and almond oils to give your skin a clean healthy glow. When you clean it off with water there is no greasy leftover residue! This product is awesome.
The third item in the box was Nourish Natural brand lip gloss. This is the second month I have received this gloss and I love it just as much as the last one. I am happy to have it in two different colors! The gloss glides on smoothly with with the applicator and gives just enough subtle color to make you shine!
Now I get to talk about my favorite item. This is also the item that was too large to fit in the box! Seraphine Botanicals is one of my favorite makeup brands thanks to nourish naturals. This Eyeshadow and blush palette is no exception! The colors are amazing as is the pigmentation. I have used this palette to really improve my makeup skill. I am not an expert but this is great to help me learn!
This whole box was a bundle of happiness from beginning to end. The items are incredible and cruelty free is the icing on the cake. Each item has its own purpose and makes you feel beautiful. The box has incredible value at a low price! I definitely recommend looking into this box!