Subscription boxes aren't just for people. There are also a variety of pet subscription boxes that will send your dog or a cat a monthly box of treats and toys just for them.
BarkBox is one of (if not the) original pet subscription box, delivering a monthly box of dog toys and dog treats right to your door. BarkBox customizes each box based on your dog's size (small, medium or large.)
We have a sizable (100+ lb) German Shepherd who loves his monthly BarkBox. This month, we're taking a closer look at the November 2013 BarkBox.
The BarkBox is a larger cardboard box.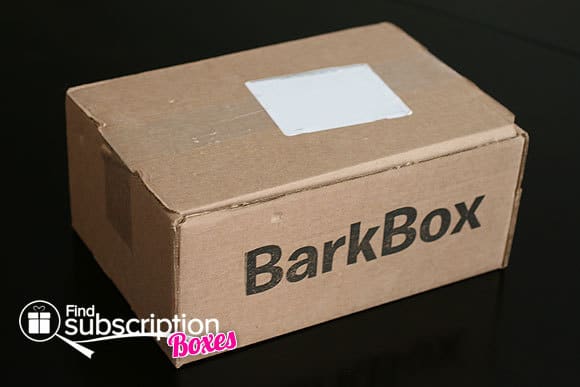 We loved the BarkBox/dog-themed paper wrapping inside.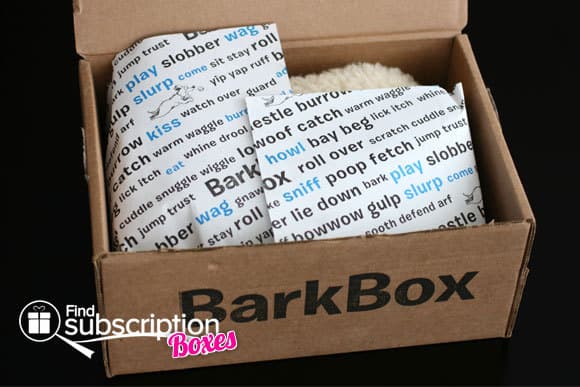 Inside each BarkBox is a fun informational card that describes the contents of that month's box.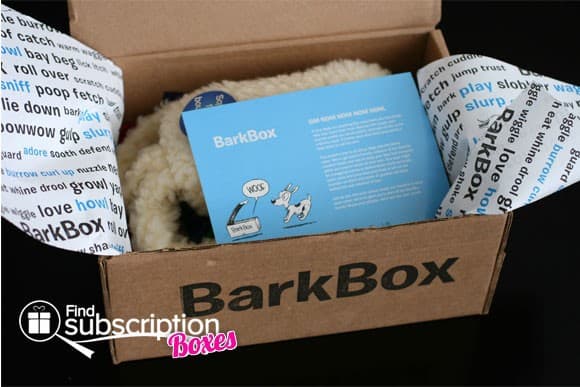 Inside the November 2013 BarkBox Monthly Subscription Box
There were 4 items inside the November 2013 BarkBox.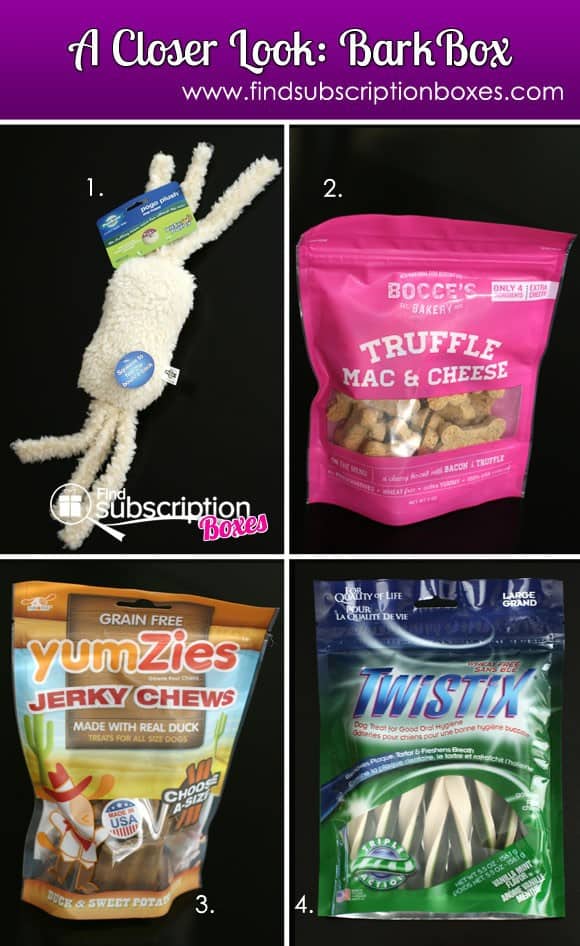 1. PetSafe POGO Plush Toy – Slap Happy Large, Retail Value: $15.99
Unlike other plush toys, this PetSafe POGO Plush has a plastic inner frame that makes it more durable for chewing.
2. Bocce's Bakery Truffle Mac & Cheese – 50z, Estimated Value: $7.50
Mac & Cheese – it's not just for humans!
3. yumZies Jerky Chews – Duck & Sweet Potato – 5oz, Estimated Value: $5.99
Made with real duck, this chew can easily be broken into smaller pieces for smaller dogs or smaller treats.
4. Twistix – Vanilla Mint Flavor Large – 5.5 oz, Retail Value: $6.50
This treat is a great way to help keep your pup's teeth plaque and tartar-free and help freshens doggie breath!
November 2013 BarkBox Monthly Subscription Box Wrap-Up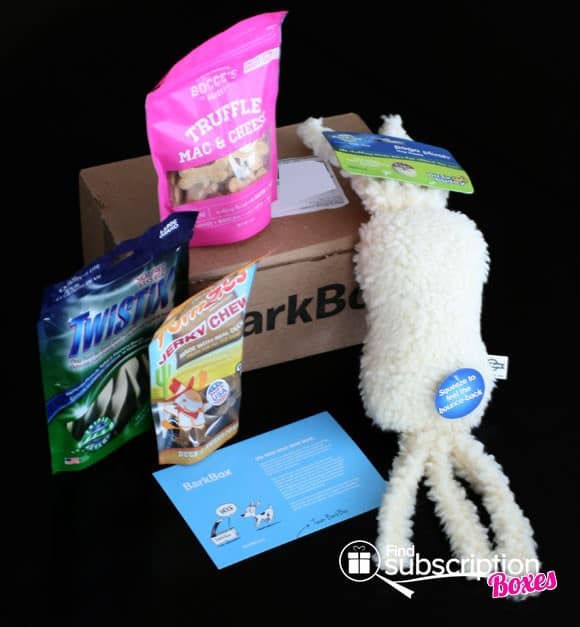 The November 2013 BarkBox was another winning box for us (and for the dogs.) We really liked that the chew toy wasn't stuffed and appreciated the variety of treats. The total value of this month's BarkBox was approximately $35.98.