Picking up after our dogs is something that many dog owners in cities and the suburbs need to do – whether it's the law or community rules. Many simply use plastic grocery bags to do "doggie duty", but with cities across the country implementing bag taxes, dog owners are quickly finding themselves running out of plastic bags to pick up after their dogs. Not only that, but plastic grocery bags aren't the most eco-friendly option.
With a PoopBuddy monthly subscription, you can get regular deliveries of eco-friendly poop bags automatically for as low as $8 a month. Not only are PoopBuddy poop bags eco-chic, they're also made of vegetable-based materials or natural ingredients. Using poop bags to pick up after your dogs not only helps keep your outdoor areas looking (and smelling) clean, but also helps prevent harmful bacteria from entering the water system.
Our November PoopBuddy shipment arrived in a bright teal bubble mailer with the PoopBuddy sticker on one side.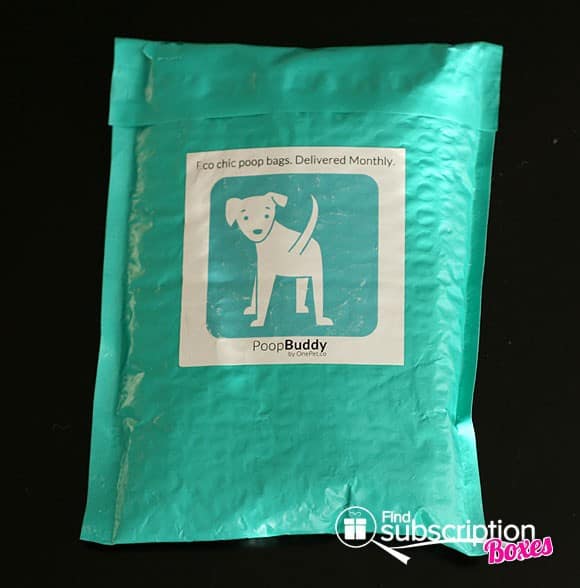 Inside our mailer, we found an informational card that described the items inside that month's PoopBuddy shipment, a coupon to try a free Honest Kitchen sample bundle, and raffle ticket which gives you a chance to win a fun prize.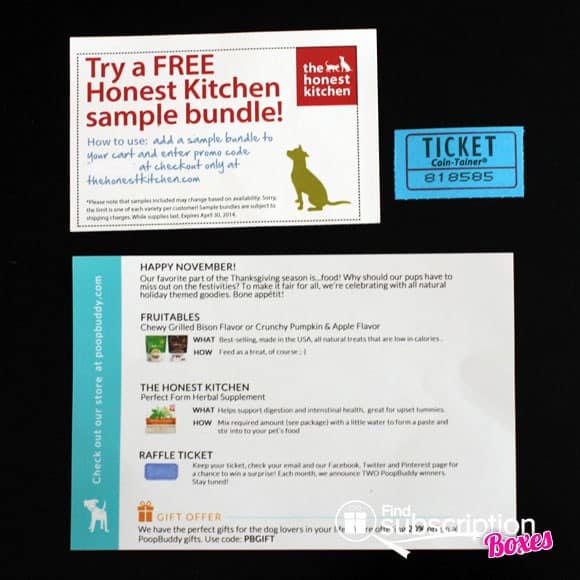 Inside the November 2013 PoopBuddy Dog Subscription Box
There were 3 different items inside our PoopBuddy subscription box.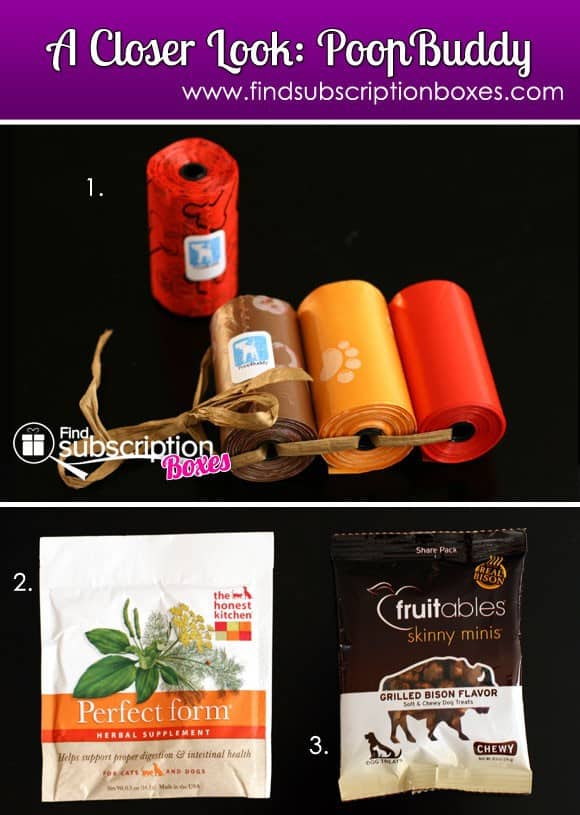 1. PoopBuddy Poop Bags – 4 rolls
Your PoopBuddy subscription provides monthly poop bag deliveries – enough poop bags for 2-3 walks per day. These bags have fun colors and patterns to make them look a lot more stylish than a regular plastic bag.
2. The Honest Kitchen Perfect Form Herbal Supplement – 0.5oz sample
Mix with water and add Perfect form to your dog's food to help support your dog's digestion and intestinal health.
3. Fruitables skinny minis – Grilled Bison Flavor – 0.5oz sample
Your dog will love these chewy dog treats made with real bison!
PoopBuddy Poop Bags
Here's a closer look at one of the PoopBuddy bags. PoopBuddy poop bags are usually un-scented, but the November PoopBuddy shipment had some lightly scented bags that were a nice surprise.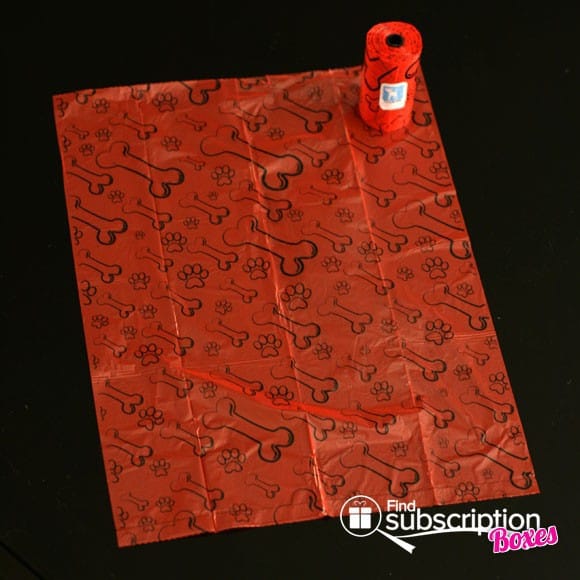 The PoopBuddy bags are not only a convenient solution for picking up after your dog, their colors and fun patterns just make them look cooler.
November 2013 PoopBuddy Dog Subscription Box Wrap-Up
We love that PoopBuddy conveniently delivers a monthly shipment of eco-chic poop bags. The extra treats were definitely a nice surprise. If you pick-up after your dog, PoopBuddy is a great dog subscription box that makes picking up poop a bit more "chic" and provides your dog with a couple of treats to boot!
Are you ready to give PoopBuddy a try? Use code FINDPB and save 50% off the 1st month of any PoopBuddy subscription or $5 off your entire purchase from the PoopBuddy store. PLUS – Sign-up today using our code and get a FREE treat with your first PoopBuddy shipment!
Do you subscribe to PoopBuddy? Leave a PoopBuddy review and let others know what you think about this dog subscription box.