Loot Crate delivers awesome geek subscription boxes featuring gear from top gaming and geek franchises. Every month's Loot Crate theme highlights a blend of the best in pop and geek culture. Monthly Loot Crate boxes include limited edition geek t-shirts, vinyl figures, and collectibles.  The November 2015 Loot Crate theme was Combat!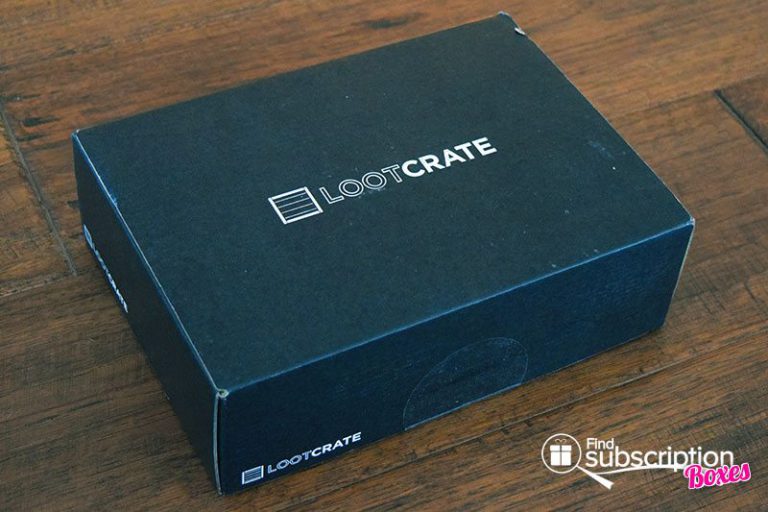 Each Loot Crate has a Loot Crate Mini Magazine. The November Loot Crate Magazine had articles about video game rivalries, an interview with WWE host Kyle Edwards, and descriptions for the Combat crate contents.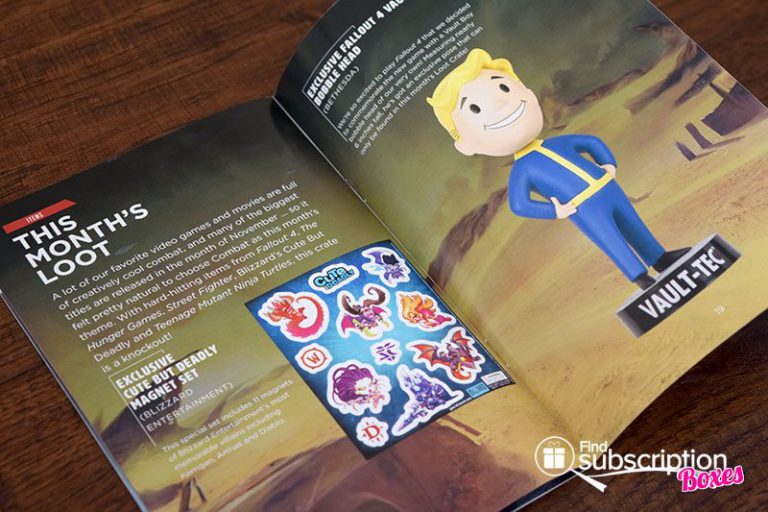 Here's a first look inside our November Combat Loot Crate.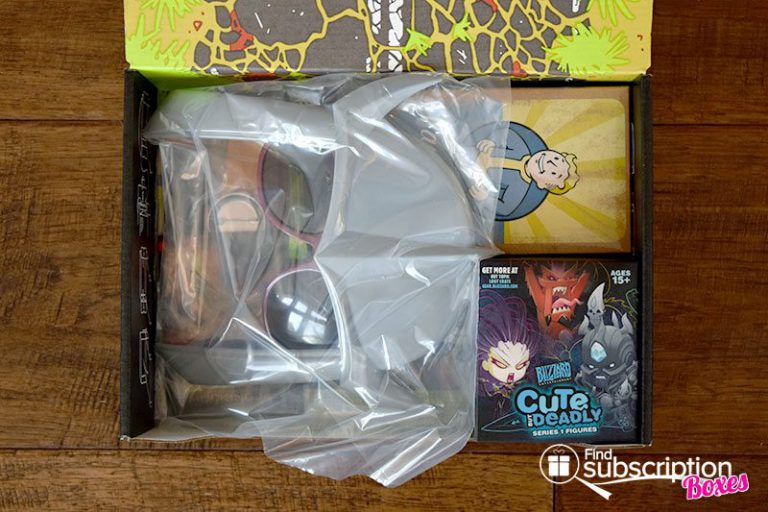 Inside the November 2015 Combat Loot Crate
There were Combat-themed geek collectibles in our Loot Crate Combat Crate.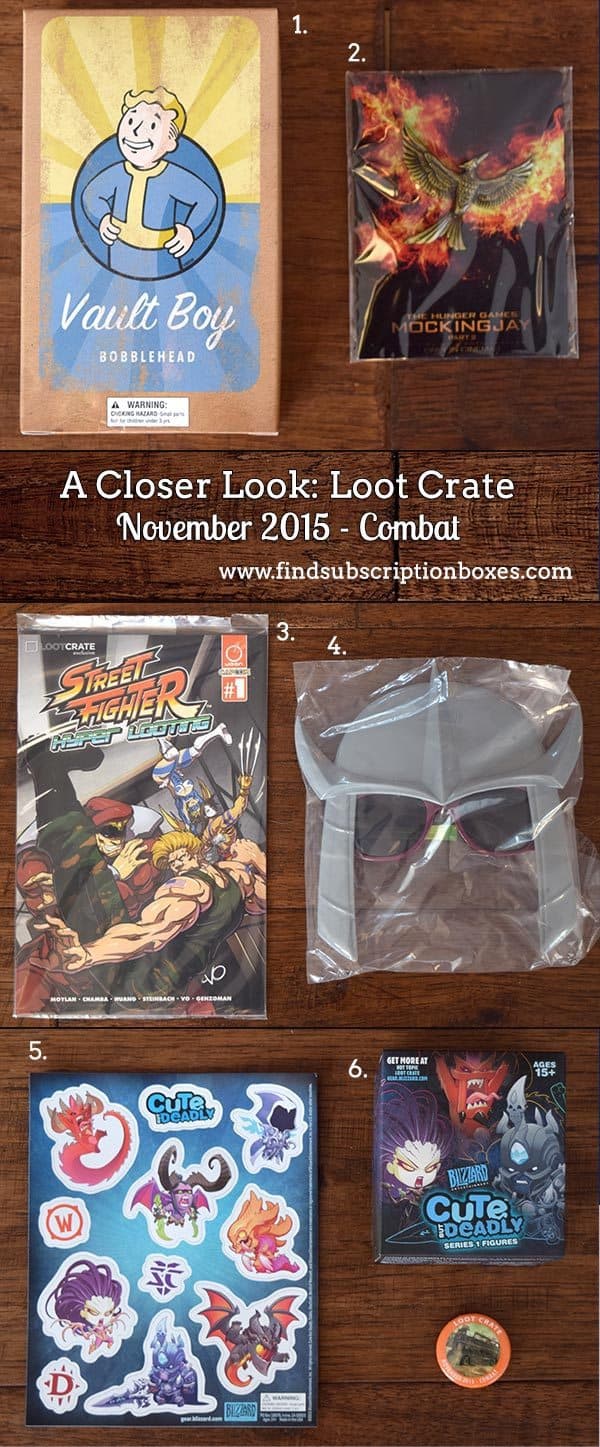 EXCLUSIVE Cute but Deadly Magnet Set
Decorate metal surfaces with some of Blizzard Entertainment's most memorable villains in all their "cuteness."
Cute but Deadly Vinyl Mystery Figures
These mini villains from Blizzard's Diablo, Starcraft and Warcraft are cute, but deadly.
EXCLUSIVE Fallout 4 Vault Boy Bobble Head
This Vault Boy bobble head has an exclusive post for Loot Crate and will always agree to another round of gameplay.
TMNT Shredder Sunglasses
Protect your eyes and armor up with these Shredder sunglasses.
The Hunger Games Mockingjay Part 2 Pin
Honor Katniss Eberdeen and get enjoy the final installment of The Hunger Games with this tribute token prop replica.
EXCLUSIVE Street Fighter Hyper Looting Comic Book
See what happens when Loot Crate employees and Capcom's Street Fighter heroes team up and battle to save the world from total annihilation.
Bonus: Loot Crate November 2015 Combat Crate Collectors Pin
November 2015 Loot Crate Review – Combat Crate Wrap-Up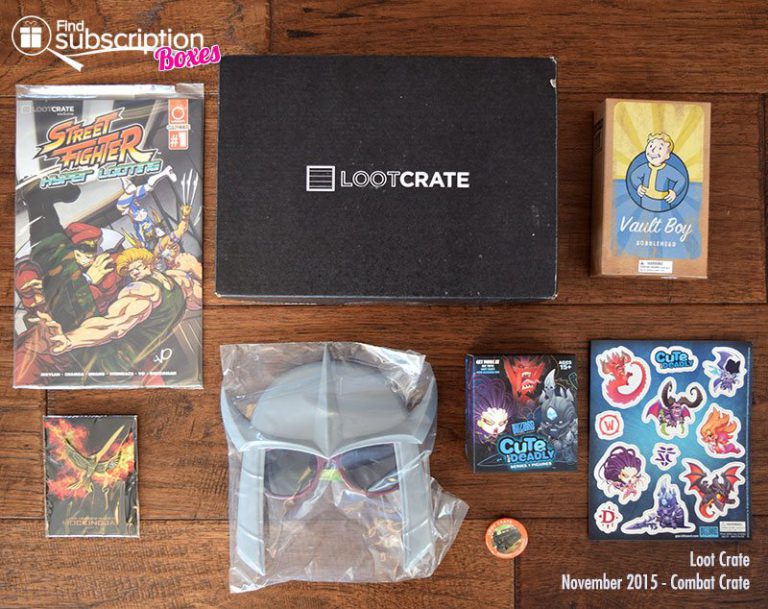 The November 2015 Loot Crate Combat Crate had exciting collectibles from both old-favorites and new fighting franchises. We've never seen Blizzard's villains look so adorable. We look forward to seeing how Loot Crate employees help save the world with Ryu and other Streetfighter Heroes. The Fallout 4 bobble head is a great addition to out vinyl collection.
What was your favorite November Loot Crate item?
The December Loot Crate theme has been revealed! See what it is…
Want to get your own Loot Crate every month? Save 10% off all Loot Crate subscriptions when you use code FINDBOXES at checkout.