Nerd Block Classic is monthly subscription boxes that delivers a mystery nerd box filled with nerd gear and collectibles. Each Nerd Block Classic has 4-6 nerd items, including an exclusive nerd t-shirt, with a total $60+ value. With today's Nerd Block Classic review, we're unboxing the November 2016 Nerd Block Classic nerd subscription box.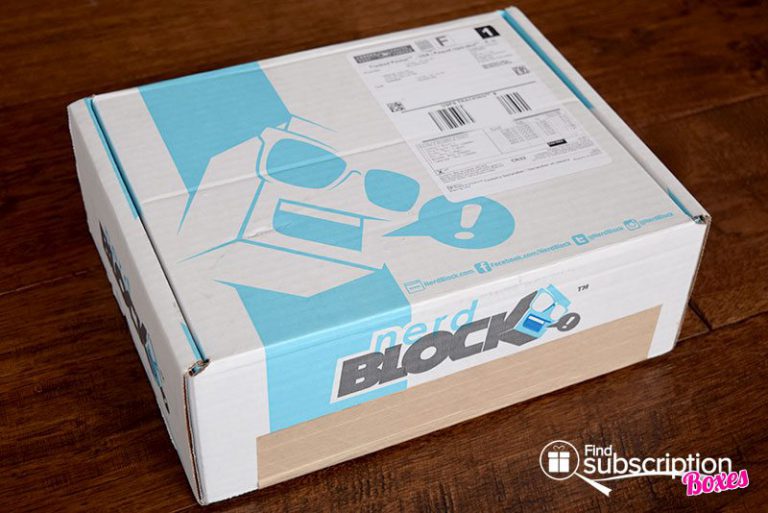 Nerd Block Classic boxes include a product card sharing information about the nerd collectibles in that month's nerd box. There was also a spoiler for the December Nerd Block Classic box.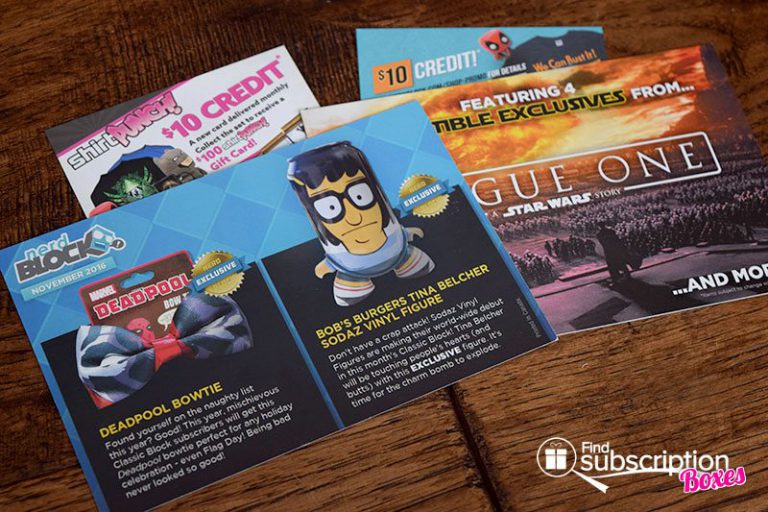 Here's a first look inside our Nerd Block Classic November nerd subscription box.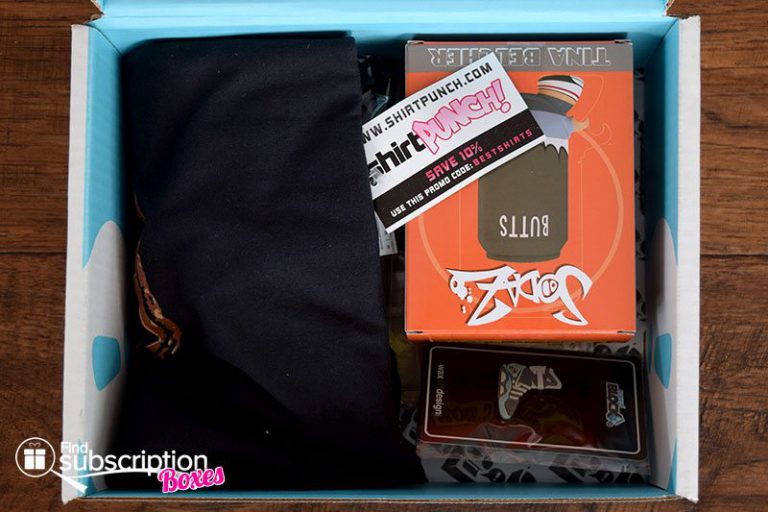 Inside the November 2016 Nerd Block Classic
There were 6 collectibles in our November Nerd Block Classic monthly nerd box.

EXCLUSIVE The Goonies T-Shirt
Never say die with this Goonies shirt from ShirtPunch.
EXCLUSIVE Bob's Burgers Tina Belcher Sodaz Vinyl Figure
Debuting in November's Classic Block, you won't have a crap attack with this Tina Blecher figure.
EXCLUSIVE The Nightmare Before Christmas Ugly Holiday Sweater Socks
Celebrate Halloween with spooky and festive style with these ugly holiday sweater socks from The Nightmare Before Christmas.
Lord of the Rings: Middle Earth Calendar
Keep track off all your upcoming quests with this 2017 calendar.
EXCLUSIVE Back to the Future Nike Shoe Pin
Show off your love of traveling back to the future with this exclusive Nike shoe pin.
EXCLUSIVE Deadpool Bowtie
Perfect for any party, this exclusive Deadpool Bowtie will keep you looking sharp.
November 2016 Nerd Block Classic Review Wrap-Up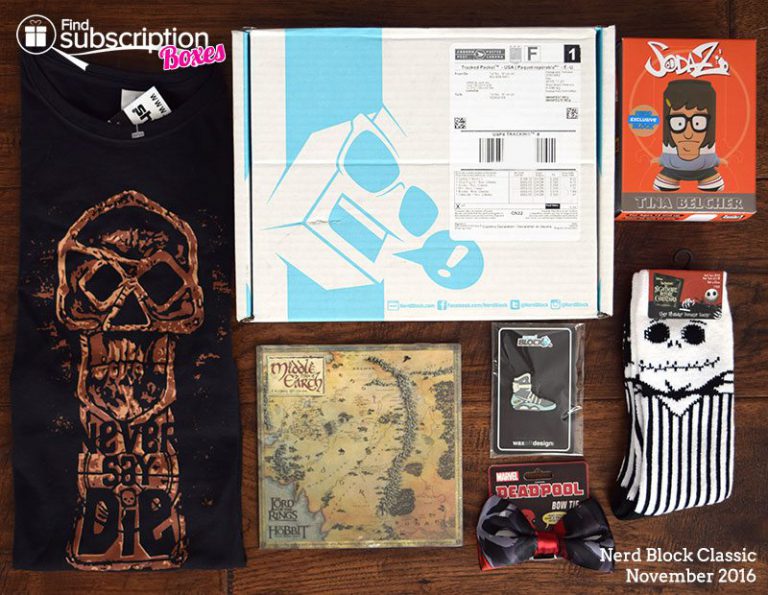 From classic movies to comic books, November's Nerd Block Classic had a variety of collectibles for nerds and geeks of all interests. Making its world-wide debut, the Bob's Burgers Sodaz figure is shaped like a soda-pop can. It's a fun and comical addition to our vinyl figure collection.
Last month's Nerd Block Classic delivered 3 nerd fashion items to help us look geek chic. First up is the exclusive Goonies t-shirt with their famous "Never say die" line. The design features the Copper Bones Skeleton Key. Next is the spiffy Deadpool bowtie that you can wear with your favorite shirt to dress-up while being a bit rebellious. The last nerdy fashion item was the Nightmare Before Christmas socks. These thick socks have Jack Skellington's face at the top cuff with a striped and ornamental "ugly holiday sweater" theme for the rest of the sock.
The Lord of the Rings calendar is perfect for hanging in your room or office. Each month features a map of a different part of Middle Earth. Finally, the Back to the Future pin is a fun pin designed after Marty's futuristic Nikes.
Which was your favorite collectible from November's Nerd Block Classic nerd box?
November 2016 Nerd Block Classic Coupon
Join Nerd Block Classic today and save on your first nerd mystery box! Use Nerd Block Classic coupon code FindSubBox16 to save 15% off the first month of new monthly Nerd Block Classic subscriptions. Save more with multi-block and multi-month subscriptions!