Shirt Block is a monthly subscription box from Nerd Block. For just $29.95 per month, Shirt Block subscribers receive a mystery collection featuring 5 geek t-shirts, worth $100, from your favorite fandoms. All of the shirts have 100% exclusive designs that represent the very best of popular and geek culture. With today's Shirt Block review, we're unboxing the November 2016 Shirt Block subscription box.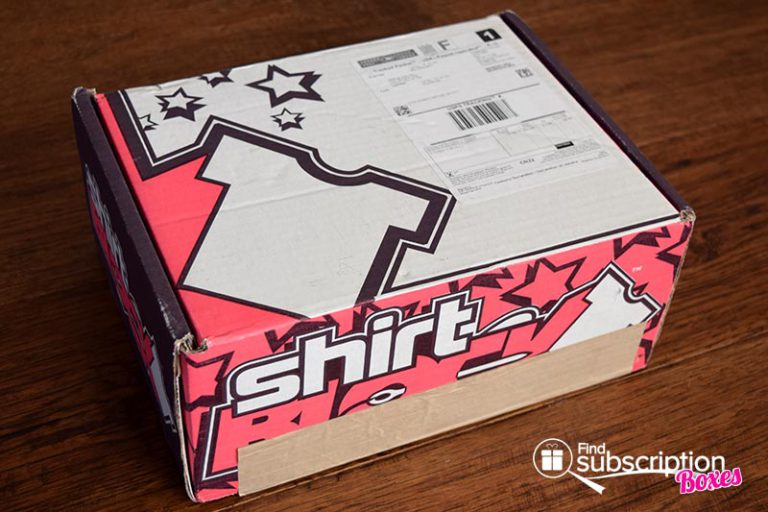 Shirt Block t-shirt boxes include a product card sharing information about that month's t-shirts. November's geek shirt subscription box featured an exclusively designed t-shirt by graphic designer and underwater activist inkOne Art.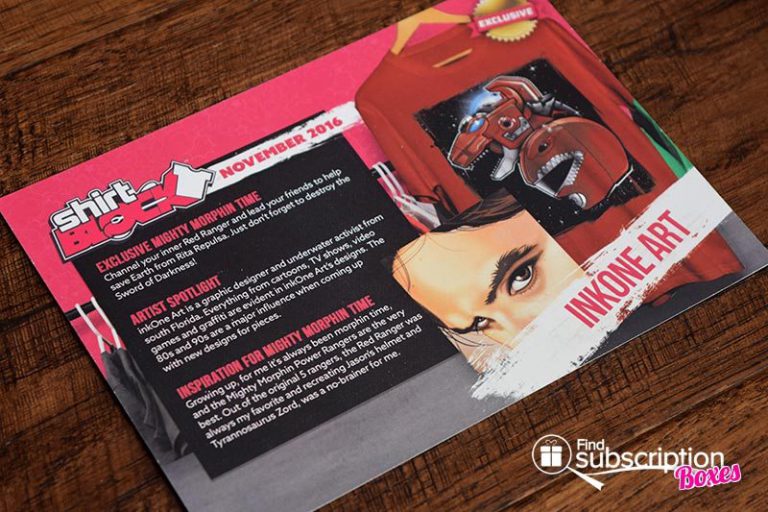 Here's a first look inside our Shirt Block November geek t-shirt monthly mystery box.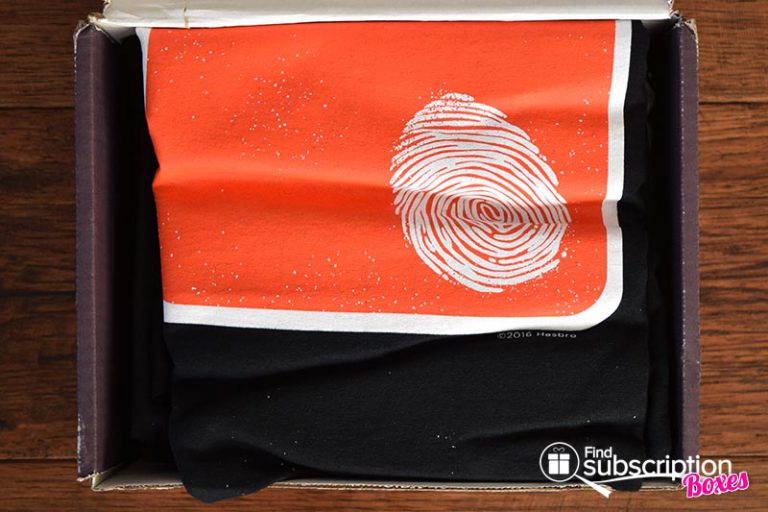 Inside the November 2016 Shirt Block
There were 5 geeky and nerdy shirts in our November Shirt Block monthly box.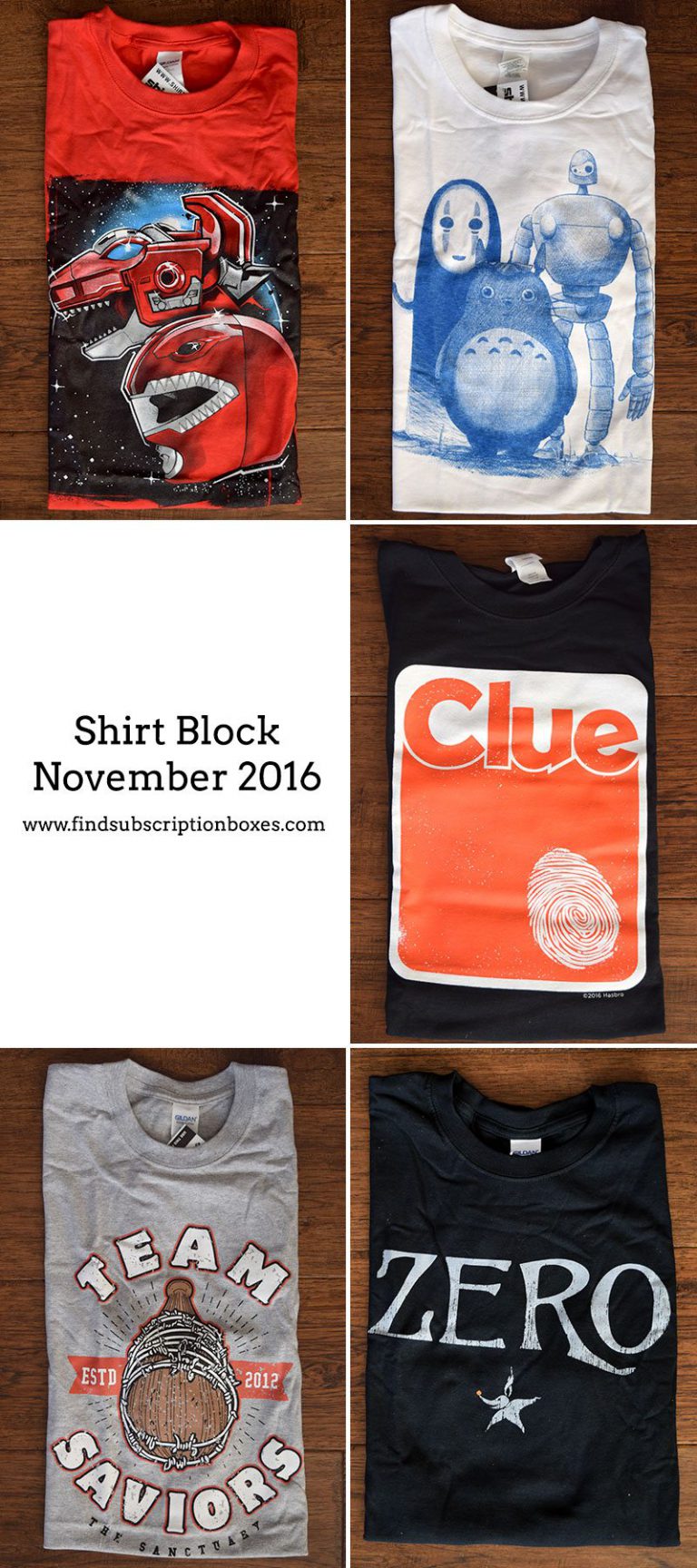 EXCLUSIVE Might Morphin Time Shirt
Destroy the Sword of Darkness and channel your inner Red Ranger with this exclusive Might Morphin Power Rangers shirt.
EXCLUSIVE Studio Ghibli Shirt
Show of your Miyazaki fandom with this shirt featuring Totoro, No-Face and a Laputa Robot.
EXCLUSIVE Clue Shirt
Be a master detictive and solve the mystery with this epic Clue shirt. Was it Colonoel Mustard in the conservatory with the knife?
EXCLUSIVE Team Saviors T-shirt
Head to batting practice with this t-shirt repping Team Saviors from The Sanctuary.
EXCLUSIVE Skeleton's Best Friend Shirt
Zero's nose will guide you through the foggy nights to Halloween Town.
BONUS: Every Shirt Block also includes a free $10 credit to ShirtPunch.com and a $10 credit to the Nerd Block Shop.
November 2016 Shirt Block Review Wrap-Up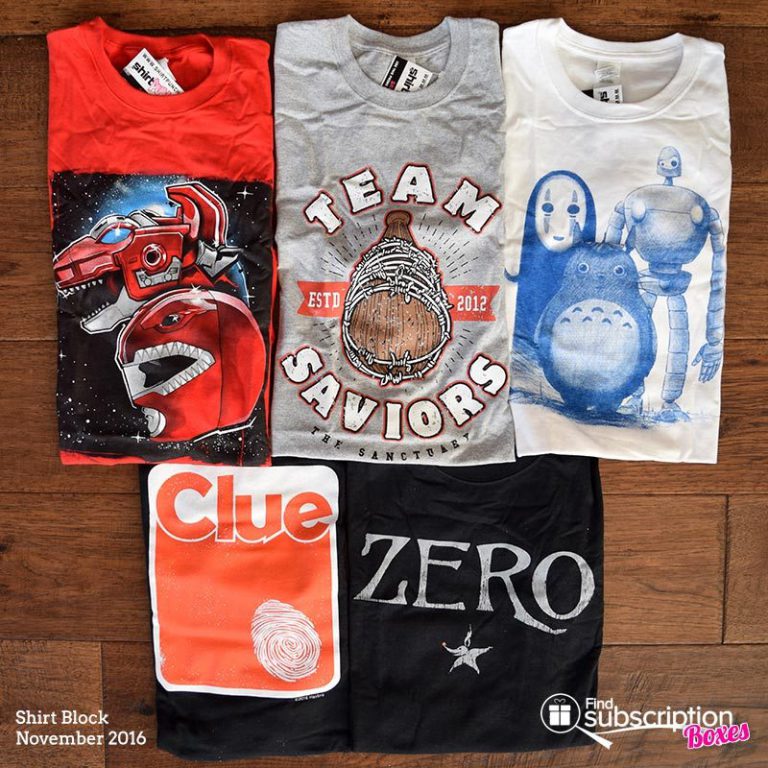 November's Shirt Block had a great mix of geek shirts from popular TV shows, movies, and board games. The featured shirt by inkOneArt is a bold red color and shows the Red Ranger's (Jason's) helmet and Tyrannosaurus Zord. The Walking Dead fans will easily recognize Lucille on the front of the Team Saviors t-shirt.
Repping the silver screen are the Miyazaki and Nightmare Before Christmas shirts. Zero is Jack Skellington's best friend and uses his glowing pumpkin nose to guide Jack through the fog on Christmas Eve. Hayao Miyazaki is known for his amazing Japanese anime films. This Studio Ghibli shirt features 3 characters from some of his popular movies – Totoro from My Neighbor Totoro, No-Face from Spirited Away, and a Laputa Robot from Castle in the Sky.
The last shirt in November's Shirt Block subscription box was from Clue, one of our favorite board games. The design is the card back of original Clue cards.
Which was your favorite November Shirt Block t-shirt?
November 2016 Shirt Block Coupon
Join Shirt Block today and save on your first box of geek t-shirts! Use Shirt Block coupon code FindSubBox16 to save 15% off the first month of new monthly Shirt Block subscriptions. Save more with multi-block and multi-month subscriptions!