ZBOX is a monthly geek subscription box for that sends subscribers a variety of geek items tied to a monthly theme. Each ZBOX features over £40 worth (that's about $50) of exclusive, licensed merchandise. With today's ZBOX review, we're unboxing the November 2016 ZBOX monthly geek box. The ZBOX November 2016 theme was VERSUS and has items inspired by the ultimate showdown – Marvel and DC.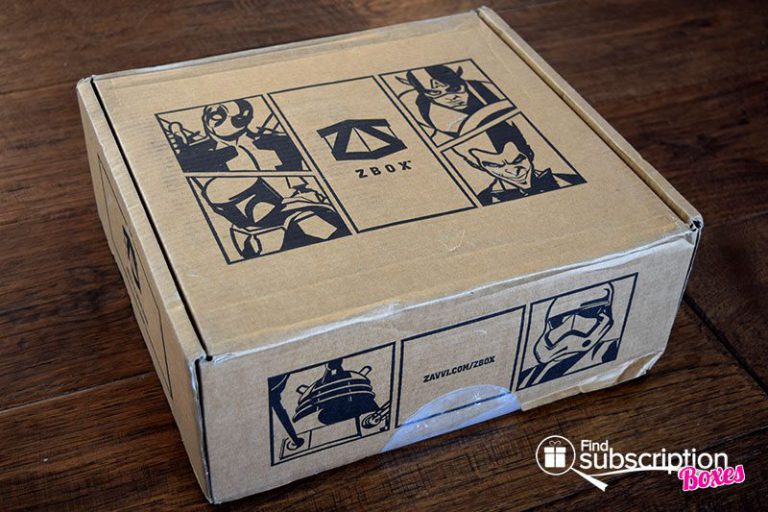 ZBOX includes a fun magazine revolving around each month's theme. The magazine includes fun articles and a description for each of the items in the box.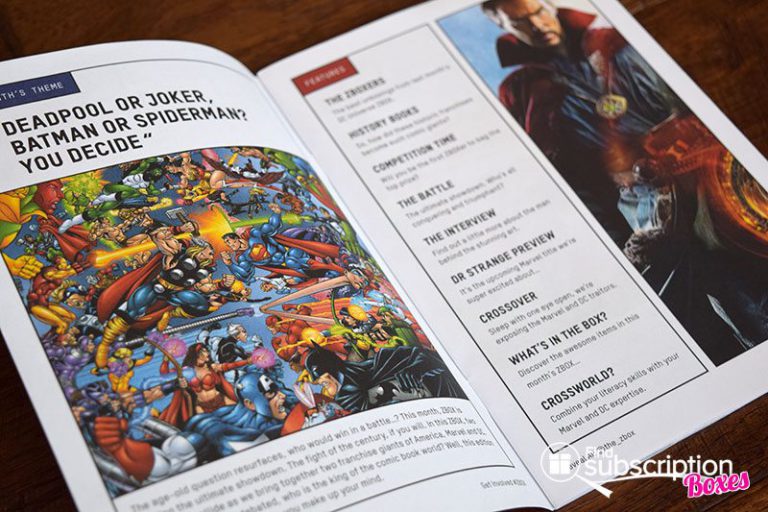 Here's a first look inside our November Versus ZBOX.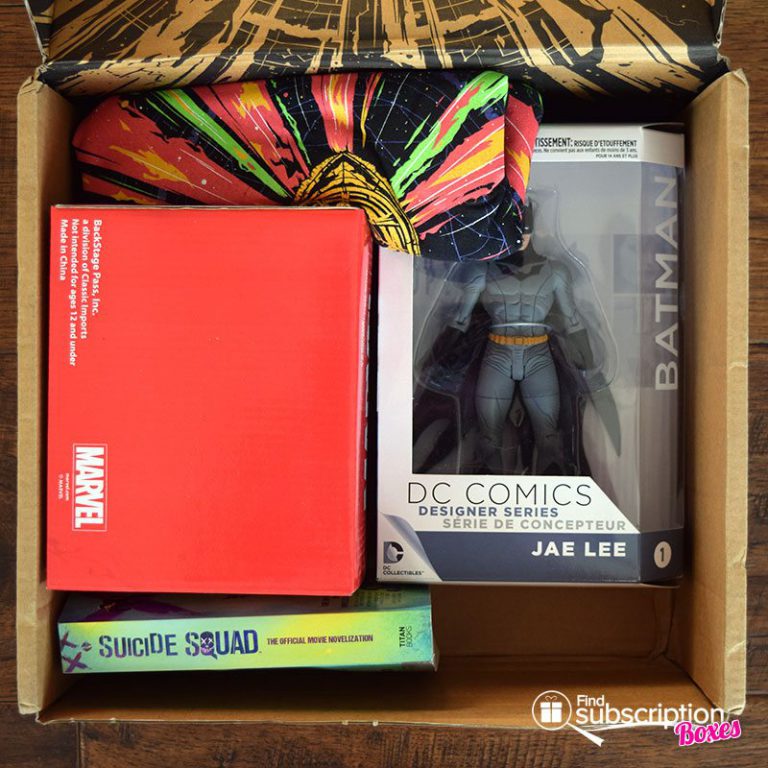 Inside the November 2016 ZBOX
There were 4 geek collectibles in our November 2016 ZBOX.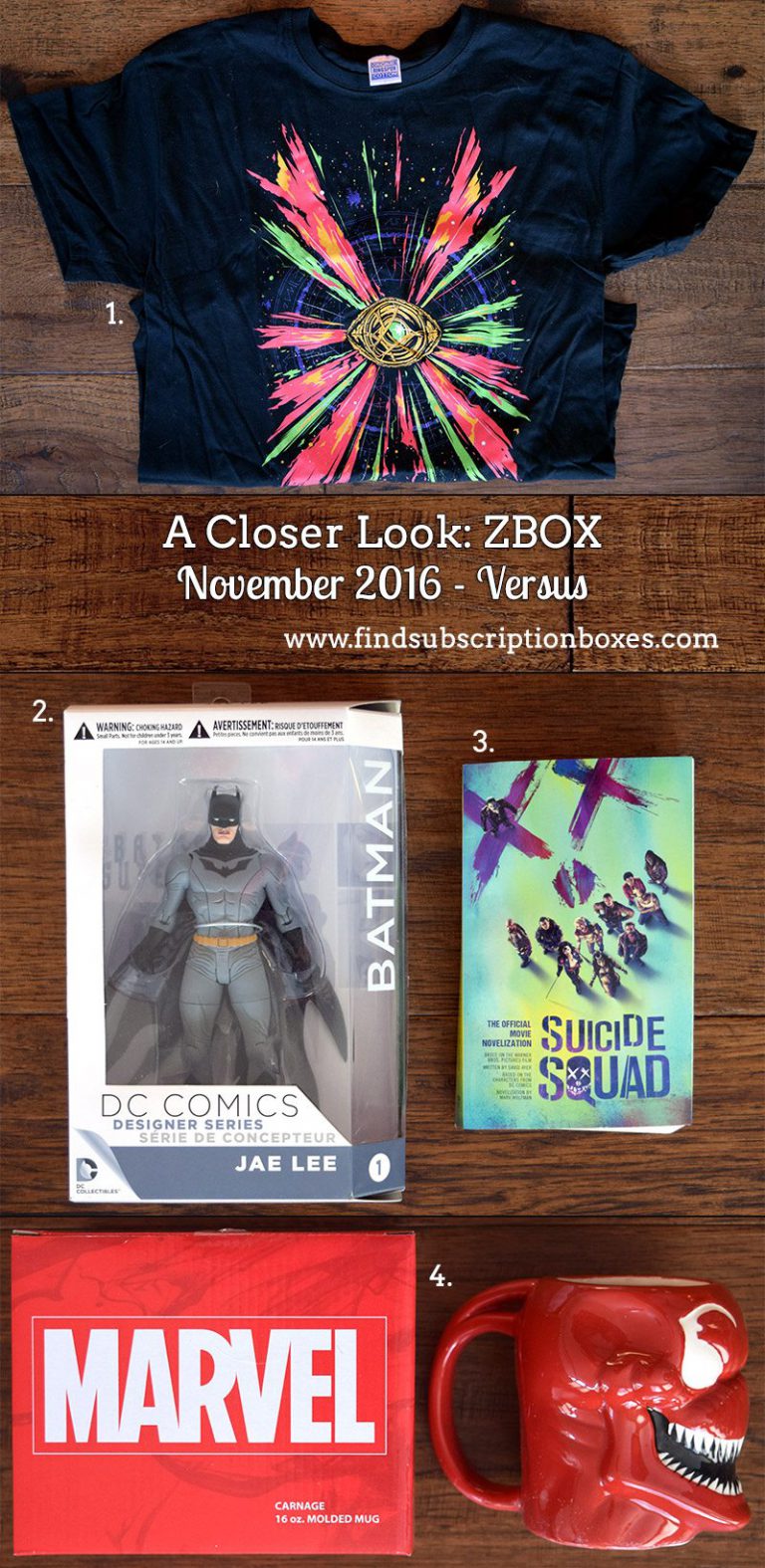 Marvel Doctor Strange T-Shirt
Expand your mind with this ZBOX exclusive Doctor Strange inspired shirt designed by Oli Riches.
DC Batman Figure
This DC Batman figure is the perfect desk decoration or addition to your Gotham figure collection.
Suicide Squad Official Movie Novelization
You've watched the movie, now you can sit back and enjoy reading about the adventures of Suicide Squad!
Carnage Mug
Use this molded Carnage Marvel mug for your morning coffee.
November 2016 ZBOX Review Wrap-Up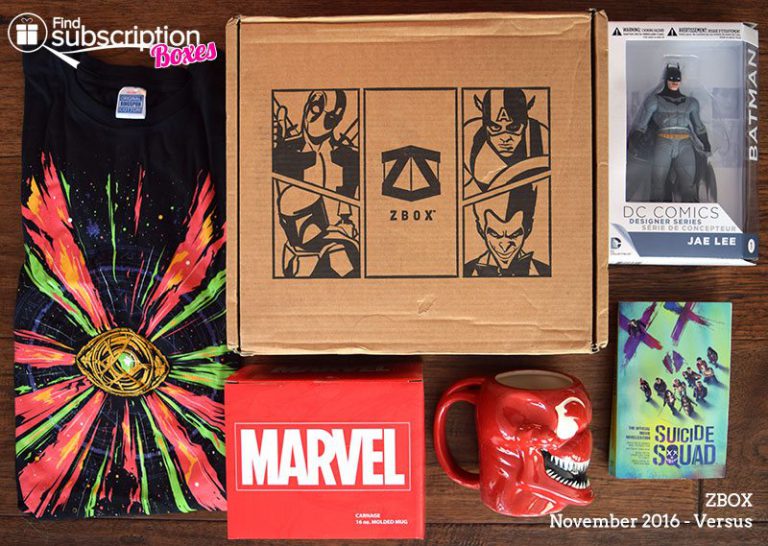 November's ZBOX featured a match-up that's one of the long-standing debates in comic book world – Marvel or DC Comics? The Versus-themed box featured characters from both of these popular comic franchises. The first geek collectible in the box is the EXCLUSIVE Doctor Strange t-shirt. This colorful design features the Eye of Agamoto in the center and bright colors bursting out.
Also from the Marvel Universe is the Carnage Mug. This molded red mug features Carnage's "grinning" and dangerous smile.
For this Versus ZBOX, there were also two items from DC Comics. Get a deeper look at the characters of your favorite Suicide Squad with Suicide Squad: The Official Movie Novelization by Marv Wolfman. In addition to providing more insight into the characters, this book also has a different beginning while tying up a few loose ends from the movie.
Finally, the last item in our box was a DC Comics Designer Series 1 Batman. Based on the style of artist Jae Lee, this Batman figure stands 6 3/4″ tall and is incredibly detailed.
What was your favorite geek collectible from the November Versus ZBOX?
ZBOX Free Star Wars POP! Offer
For a limited time, get a FREE Star Wars Funko POP! with new ZBOX subscriptions. Just click here and add BOTH a 1, 3, 6, or 12 month ZBOX subscription and one of the available Pop! Vinyls to your shopping cart to get the Funko POP! vinyl FREE!