HelloFresh is a weekly meal subscription service that provides delicious recipes and the fresh ingredients you need to prepare them. With today's November HelloFresh review, we're unboxing our latest HelloFresh Classic meal box.
Each week HelloFresh offers new menus with Classic, Veggie, and Family box options. HelloFresh boxes are carefully packaged with dry ice to keep your food cool and fresh.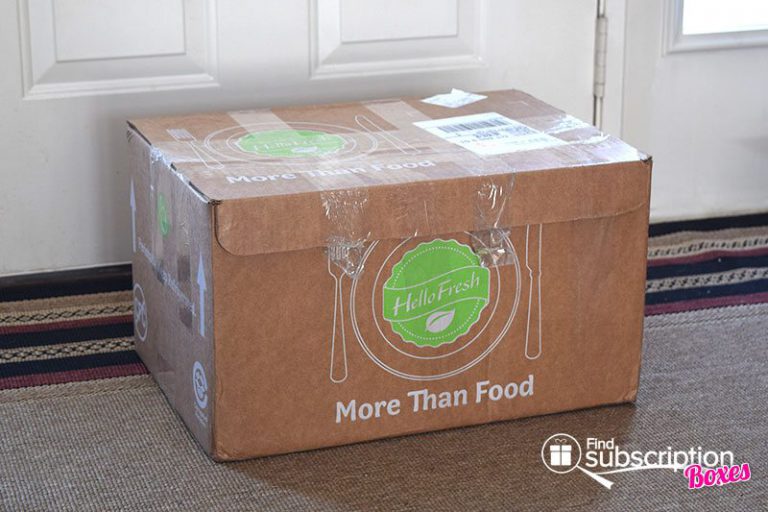 Here's a first look inside our November HelloFresh Classic box.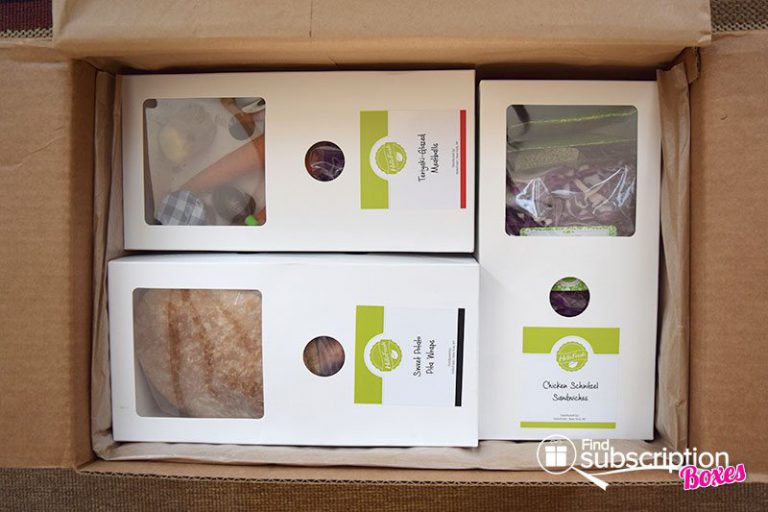 HelloFresh provides recipes with cooking instructions for each of the meals in the box. Their step-by-step instructions also have photos that show some of the cooking steps.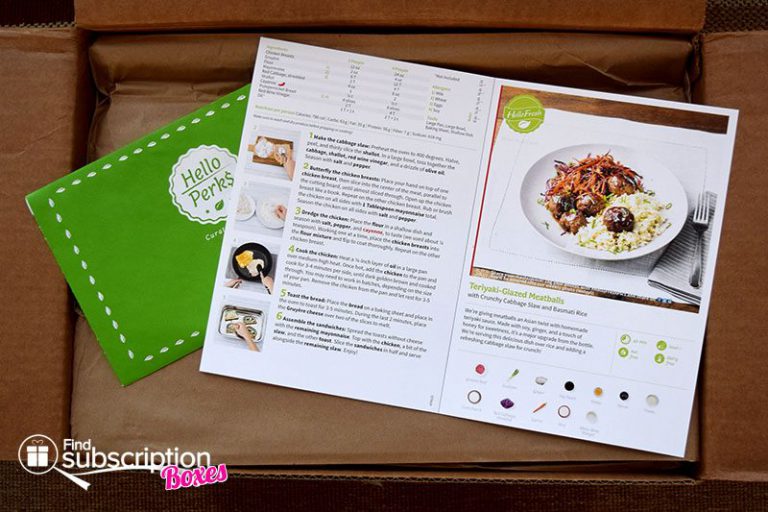 Inside the November HelloFresh Box
There were 3 meals in our November HelloFresh Classic Box.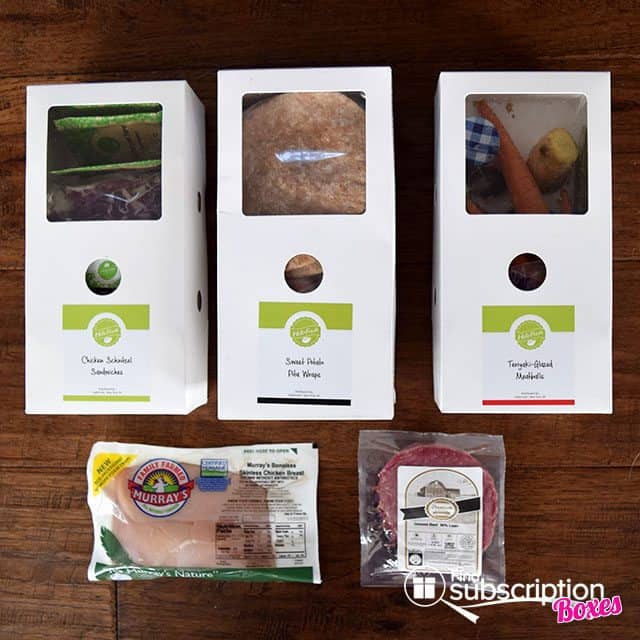 Chicken Schnitzel Sandwiches with Gruyère and Tangy Red Cabbage Slaw
Sweet Potato Pita Wraps with Golden Raisins and Shaved Vegetable Salad
Teriyaki-Glazed Meatballs with Crunchy Cabbage Slaw and Basmati Rice
Here are the ingredients in our Teriyaki Glazed Meatballs HelloFresh ingredient box. HelloFresh proided fresh veggies, sauces, sides and meat. We used salt and olive oil from the pantry.
We loved the vibrant colors of the fresh carrots, red cabbage, and fresh ginger in the side cabbage slaw.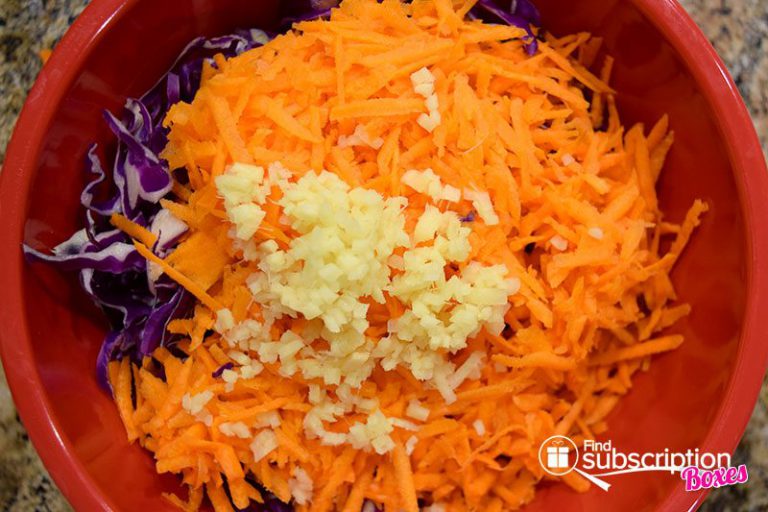 Just by following the easy recipe, we had our meatballs in the oven and cooking.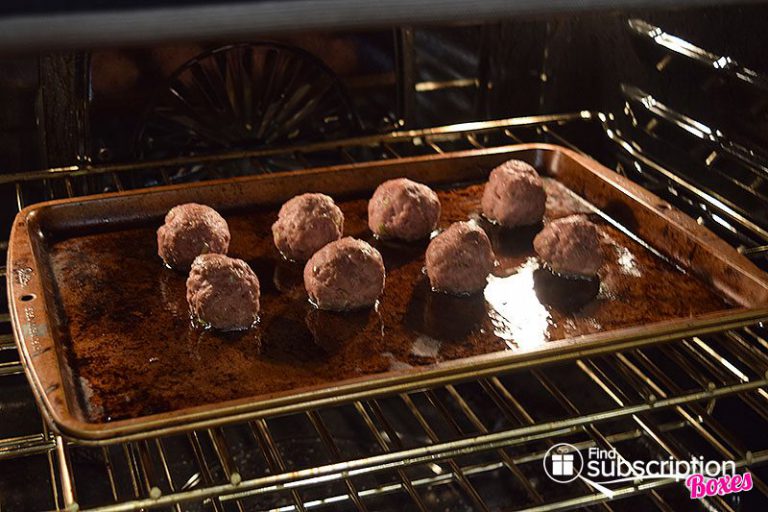 After 15 minutes, the teriyaki meatballs were ready for glaze and serving. Delish!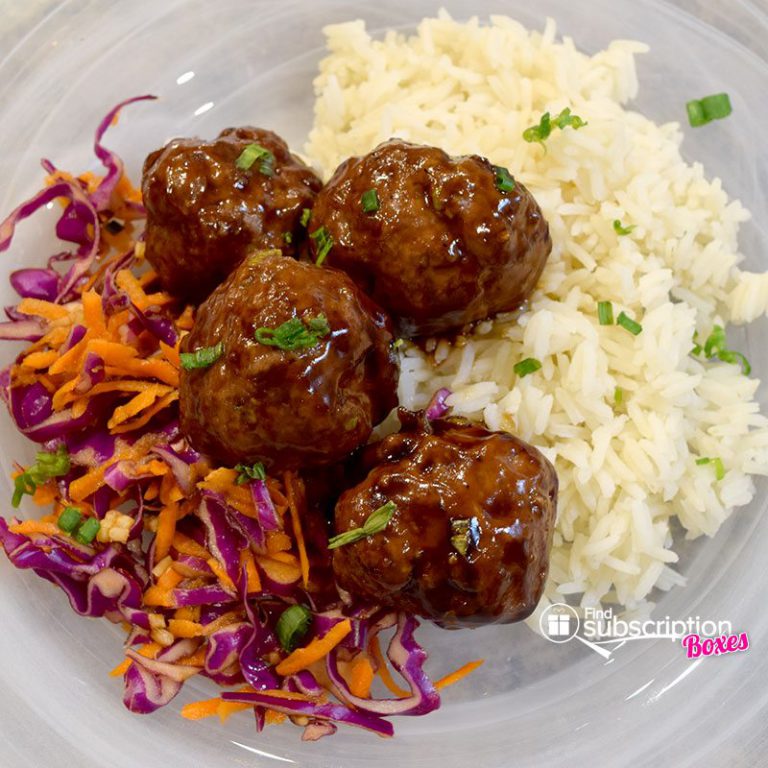 November HelloFresh Review – Classic Box Wrap-Up
We love the HelloFresh makes it so easy to prepare gourmet meals like a top chef. By sending the ingredients whole and unmixed, you can easily tweak or adjust the recipes to suit your tastes. We prepared our recipes "as-is" and though the meals tasted fresh and delicious. Each of the HelloFresh meals provided a unique flavor – from the Asian teriyaki to the middle eastern pita wraps.
What was your favorite HelloFresh meal?
HelloFresh Coupon Code
Through December 30, 2015, save $35 off your 1st HelloFresh Classic or Veggie Box when you use promo code TG50BLHF at checkout.
New Customers only. Valid on Classic or Veggie Box. Promo Code TG50BLHF expires December 31, 2015.
HelloFresh Teriyaki-Glazed Meatballs with Crunchy Cabbage Slaw and Basmati Rice
By
HelloFresh
, December 2, 2015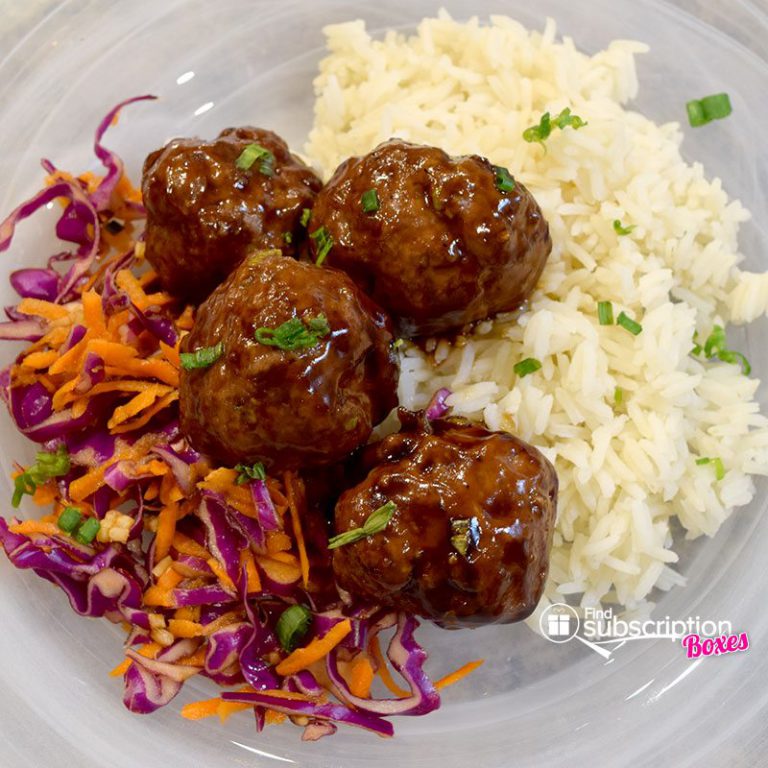 We're giving meatballs an Asian twist with homemade teriyaki sauce. Made with soy, ginger, and a touch of honey for sweetness, it's a major upgrade from the bottle. We're serving this delicious dish over rice and adding a refreshing cabbage slaw for crunch!
Prep Time: 15 minutes
Cook time: 15 minutes
Yield:
2 People
Nutrition facts: 650 calories, 17 grams fat
Ingredients:
– 10 oz Ground Beef
– 2 Scallions
– 1 thumb ginger
– 3 T Soy Sauce
– 1 T Honey
– 1 T Hoisin
– 1/4 C Panko
– 1 t cornstarch
– 4 oz Red Cabbage, shredded
– 1 Carrot
– 1/2 C rice
– 2 T White Win Vinegar
– 1 t Olive oil
Instructions:
1. Prep the ingredients: Preheat the oven to 400 degrees. In a small pot,
bring 1½ cups water to a boil with a pinch of salt. Peel and grate the carrot. Thinly slice the scallions, keeping the whites and greens separate. Peel and mince the ginger.
2. Cook the rice: Once the water is boiling, add the rice, cover, and
reduce to a simmer for 15 minutes. Remove from the heat and let steam until the rest of the meal is ready.
3. Make the cabbage slaw: In a large bowl, combine the cabbage,
carrot, ginger, white wine vinegar, and 1 Tablespoon soy sauce. Toss and set aside to marinate.
4. Form and cook the meatballs: In a medium bowl, combine the
ground beef, scallion whites, panko, and a large pinch of salt and pepper. Form the mixture into golf ball-sized balls and place on a lightly oiled baking sheet. Bake for 13-15 minutes, until cooked through.
5. Make the teriyaki sauce: In a small bowl, combine 1 teaspoon
corn starch (remember to measure as we may send you more) and ¼ cup water to make a slurry. Heat a small pan over medium heat. Add the remaining soy sauce, 1 Tablespoon honey, and the hoisin to the pan and whisk to combine. When the mixture begins to bubble, whisk the slurry into the pan and cook until thickened.
6. Finish and plate: Fluff the rice with a fork. Toss the meatballs into
the teriyaki sauce and serve over the rice with a side of cabbage slaw.Sprinkle with scallion greens and enjoy!