Every month, we look forward to getting our Loot Crate monthly subscription box. This box for "gamers and geeks" always has a fun theme and is filled with cool t-shirts, gadgets, and collectibles that fit that theme. The October theme was SURVIVE. What that meant, we didn't know until we opened the box.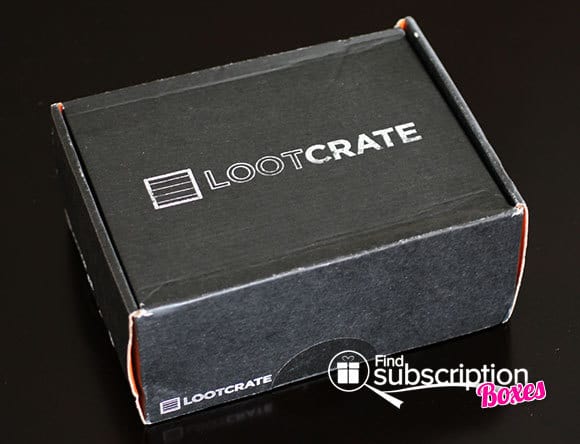 When we first opened our Loot Crate Box the mini-mag had fallen to the back of the box, so we got an early glimpse of the t-shirt inside. The mini-mag is a custom issue that describes all of the items in that month's Loot Crate box.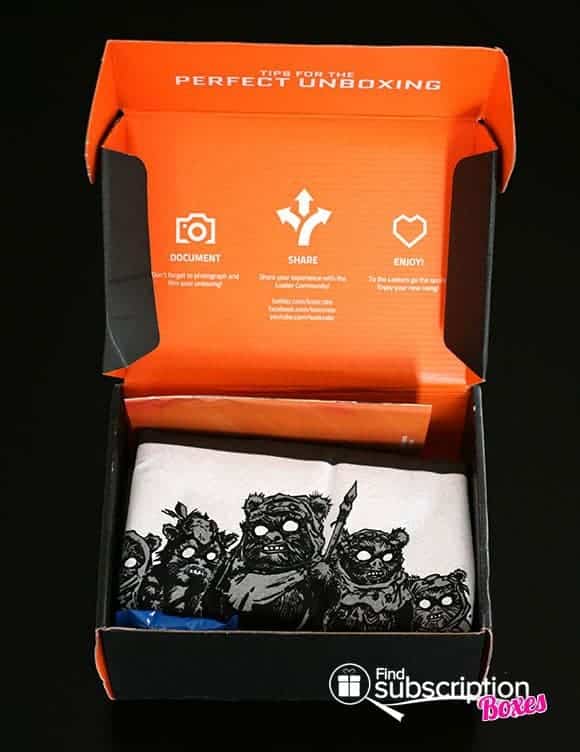 Inside the October 2013 Loot Crate Monthly Subscription Box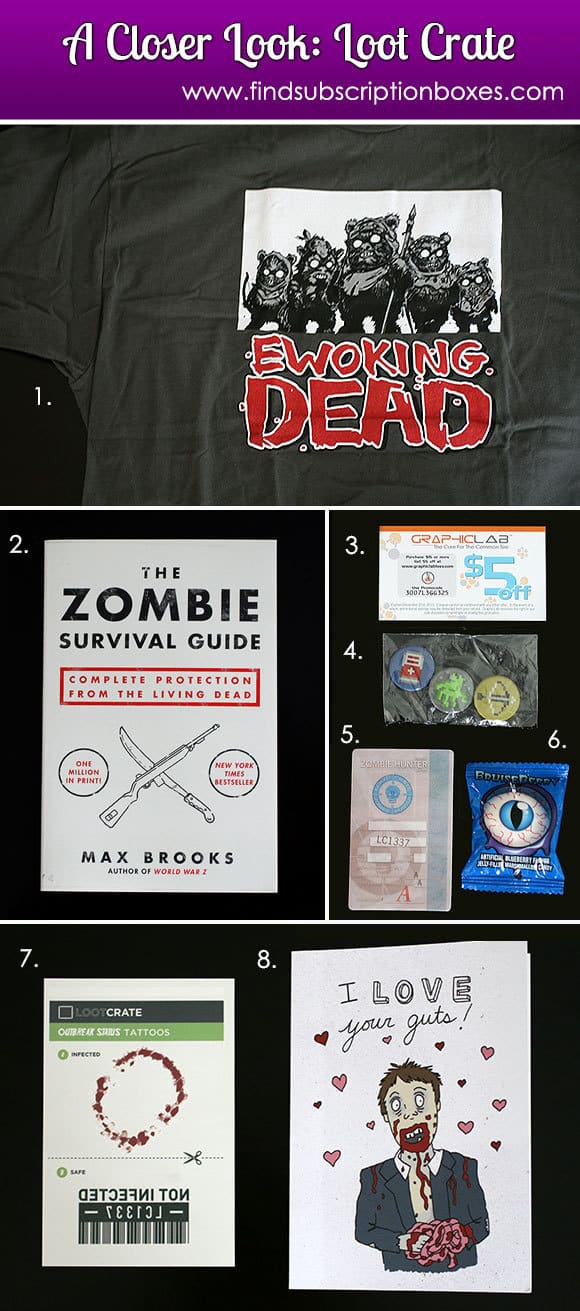 1. GraphicLab Ewoking Dead (LootCrate Edition) T-Shirt, Retail Value: $15
What do you get when you cross an Ewok with a zombie? You get the Ewoking Dead t-shirt. Next stop – Zombie Star Wars?
2. The Zombie Survival Guide – Paperback, Retail Value: $14.99
Written by the author of World War Z, Max Brooks, this guide is a must-read for surviving zombie attacks.
3. $5 Off GraphicLab Promotion Code
Use this code to save on an Ewoking Dead shirt for a fellow zombie-hunter!
4. 8-Bit Zombie Buttons – 3 Buttons
Pixelated "flare" you can pin on your bag, shirt, or zombie-hunting attire.
5. Zombie Hunter ID
Fill in your information and be an official Loot Crate Zombie Hunter!
6. BruiseBerry Jelly-Filled Marshamallow Candy – 1 eye, Estimated Value: $0.10
A candy that oozes jelly when you bite it can't get much more zombie-ish.
7. Outbreak Status Temporary Tattoo Set
Beware those who have the infected bite marks!
8. I Love Your Guts – 1 card, Estimated Value: $4
A sentimental card for zombie fans.
October 2013 Loot Crate Monthly Subscription Box Wrap-Up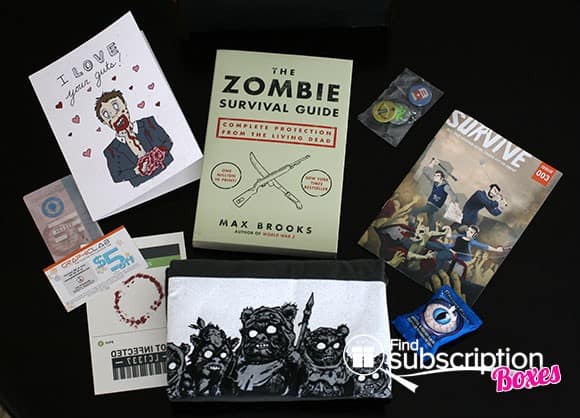 As fans of The Walking Dead and World War Z, this month's box was right up our alley. The Zombie Survival Guide was snatched up and taken for reading while I walked around saying "This Ewoking Dead shirt is so cool!" The October 2013 Loot Crate box had an estimated value of $34.10.

Want to get your own monthly Loot Crate box? Check out our Loot Crate listing for the latest Loot Crate coupon codes and promotions.