The COCOTIQUE beauty subscription box delivers an amazing collection of beauty and lifestyle products for women of color and diverse ethnicities every month. Monthly COCOTIQUE subscription boxes feature products from skin care, hair care, fragrance, nail and lifestyle companies. In addition, each month one COCOTIQUE subscriber receives the Bonus COCOTIQUE box which inclufes a gift certificate for a special gift!
We're taking a closer look at our first COCOTIQUE box with our October 2014 COCOTIQUE box review.
The COCOTIQUE subscription box arrived in a gold cardboard box with the COCOTIQUE logo printed on the side in black.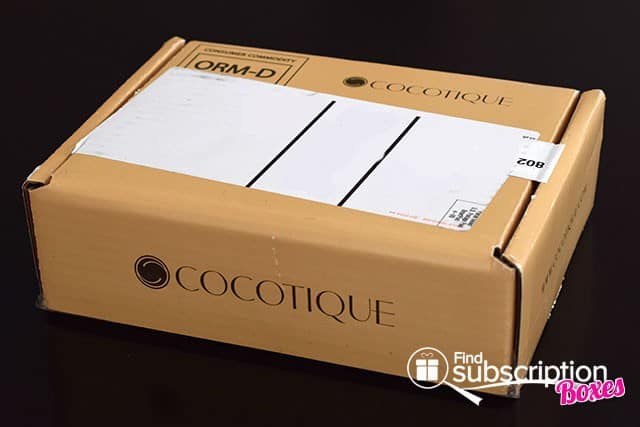 Inside the outer carboard box was a lovely brown box wrapped in an orange ribbon. This box is perfect for re-use as a gift box!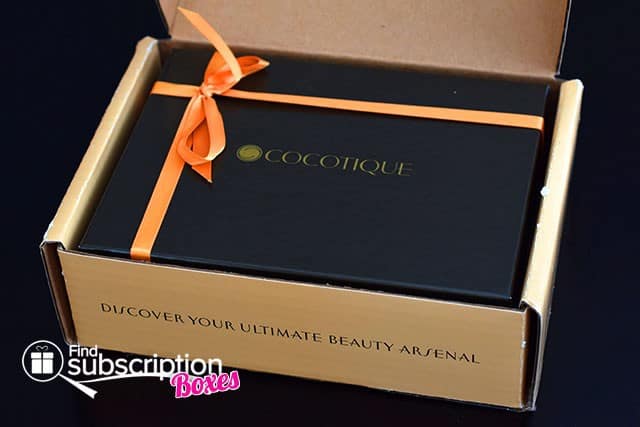 After removing the ribbon and opening the box, everything was wrapped in gold tissue paper. Under the tissue paper, we found this month's product information card describing the items in the October 2014 COCOTIQUE box.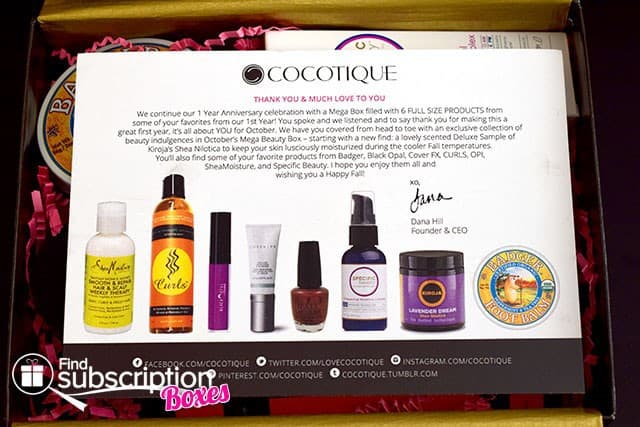 We also got our first look at the items in the October COCOTIQUE beauty box.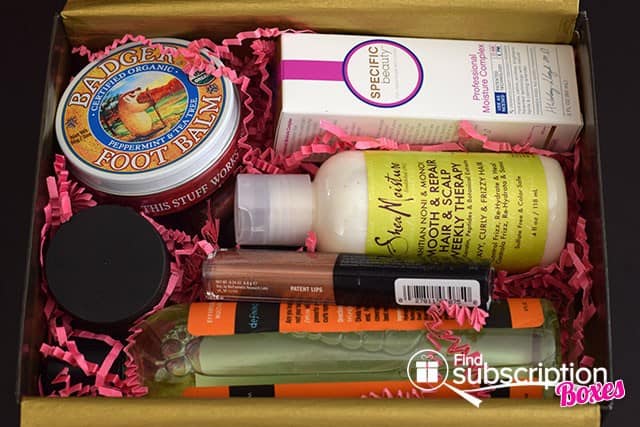 Inside the October 2014 COCOTIQUE Box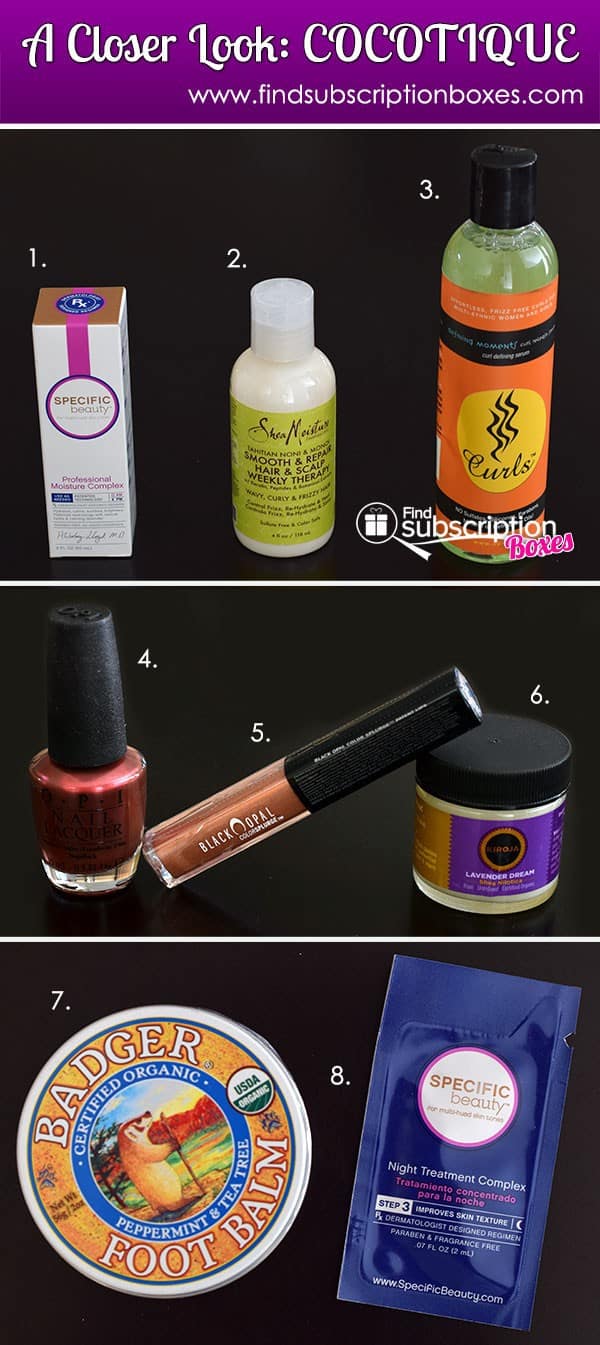 The October COCOTIQUE box was a Mega Beauty Box, featuring a collection of sixe full-size favorite products from the first year of COCOTIQUE boxes.
There were 7 products in our October 2014 COCOTIQUE box.
1. Specific Beauty Professional Moisture Complex, Retail Value: $19.99
Help to restore your skin's moisture preoctective barrier with a patented, paraben-free moisture complex using plant-derived ingredients.
2. SheaMoisture Tahitian Noni & Monoi Smooth & Repair & Scalp Weekly Therapy, Retail Value: $9.99
The secret to healthy, shiny hair, this ultra-nourishing treatment soothes, hydrates and provides antioxidant benefits to the scalp.
3. Curls Defining Moments Curl Release Serum, Retail Value: $12
Unlock your newly defined curls with powerful natural ingredients.
4. OPI Nail Lacquesr – I Knead Sour Dough, Retail Value: $9
Perfect for all skin tones, this neutral shade with warm tones of toasty brown can match anything in your closet!
5. Black Opal Color Splurge Patent Lips, Retail Value: $6.75
Add a pop of luxe creamy color with a shiny patent finish for the ulimate splurge for glossy lips. 
6. Kiroja Lavender Dream Shea Nilotica, Retail Value: $16
Highly valued for it's moisturiizing properties, this Eash African Shea butter (Shea Nilotica) is a beauty secret you've just been let in on.
7. Badger Peppermint & Tea Tree Foot Balm, Retail Value: $9.99
Give your feet a treat with this soothing balm that moisturizes and repairs dry, cracked feet and heels.
8. Specific Beauty Night Treatment Complex
This lightweight skin brightening formula helps improve skin texture while you sleep!
October 2014 COCOTIQUE Box Wrap-Up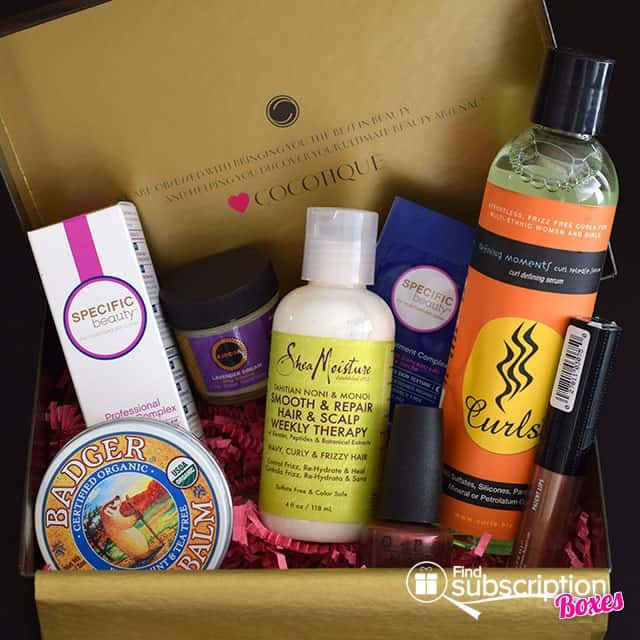 The October 2014 COCOTIQUE Mega Beauty Box was packed with full-size beauty products for your head down to your toes. The October COCOTIQUE box introduced us to new brands and new favorite products. The Badger Foot Balm is both a treat to your feet and to your nose with an amazing scent and providing soothing relieve. Healthy hair begins at the roots and we can't wait to see how the SheaMoisture therapy treatment can help our hair as we head into the drier winter months. The total retail value of the October 2014 COCOTIQUE box was $83.72!
Want to get the December 2014 COCOTIQUE subscription box? Subscribe by November 23, 2014 and use COCOTIQUE coupon code BOX10 to save 10% off any new COCOTIQUE subscription.