Last week, Loot Crate revealed the theme of the October 2014 Loot Crate: FEAR! Loot Crate delivers a monthly box of collectables and other goodies for geeks and gamers right to your door.
Every month, one Loot Crate subscriber wins that month's Mega Crate. Check out the epic goodies in the October Mega Crate worth over $3,000!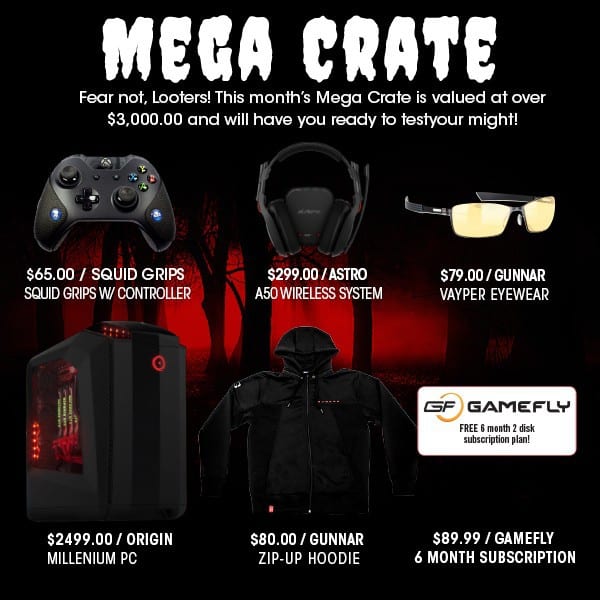 The October Loot Crate Mega Crate includes:
Squid Grips w/Controller – $65 value
Astro A50 Wireless System – $299 Value
Gunnar Vayper Eyewear – $79 Value
Origin Millenium PC – $2499 Value
Gunnar Zip-Up Hoodie – $80 Value
Gamefly 6 Month Subscription – $89.99 Value
In addition, 10 October Loot Crate subscribers will win an October Mini Mega Crate! The October Mini Mega Crate is worth over $200!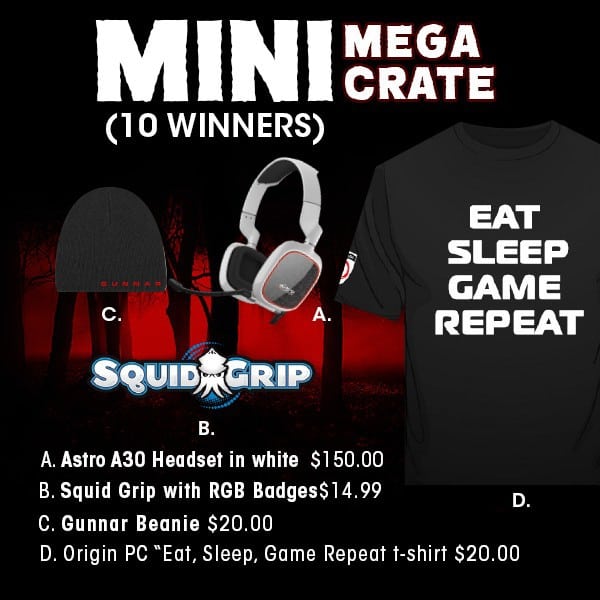 The October Loot Crate Mini Mega Crate includes:
Astro A30 Headset in white – $150 Value
Squid Grip with RGB Badges – $14.99 Value
Gunnar Beanie – $20 Value
Origin PC "Eat, Sleep, Game Repeat" t-shirt – $20 Value
Want to win one of the October Loot Crate Mega Crates? You have to be a subscriber to be eligible to win! Subscribe to Loot Crate today and use Loot Crate coupon code FINDBOXES to save 10% off any Loot Crate subscription.
Get a sneak peek into the October Loot Crate? Check out our October 2014 Loot Crate box spoiler post to learn about one of the items in this month's crate.
Which October Mega Crate prize do you want most?