Arcade Block is a video game monthly subscription box from Nerd Block. Every Arcade Block has 4-6 video game collectibles, including an exclusive gamer t-shirt. Each monthly gamer box has a $60+ total retail value. With today's Arcade Block review, we're unboxing the October 2016 Arcade Block.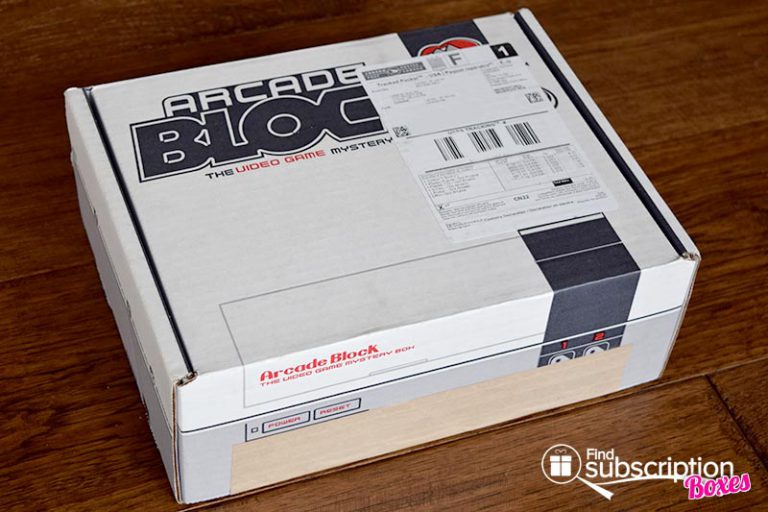 Arcade Block includes a product card that shares information about the gamer collectibles in that month's box. There was also a spoiler for the November Arcade Block.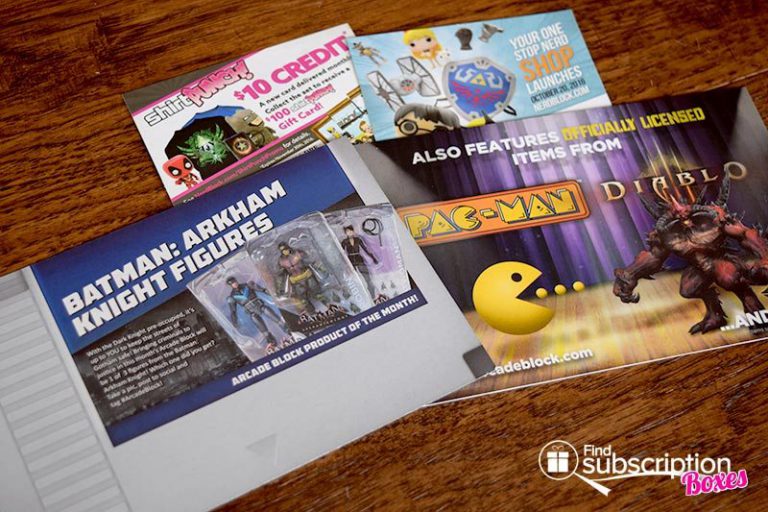 Here's a first look inside our Arcade Block October video game subscription box.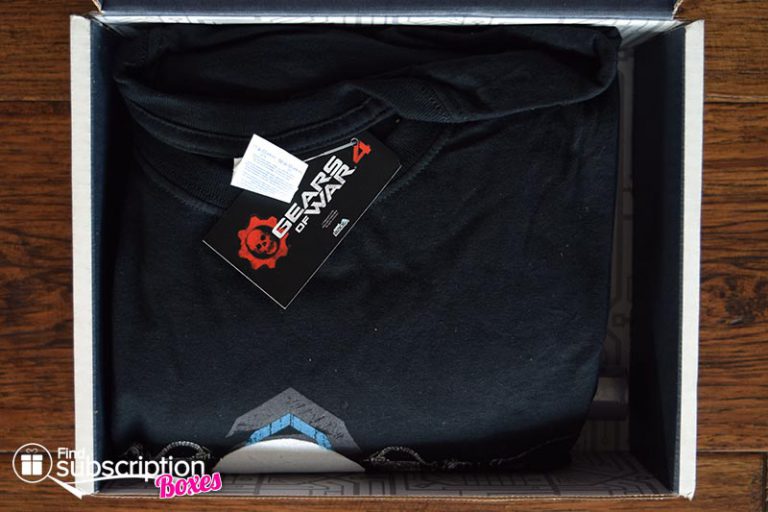 Inside the October 2016 Arcade Block
There were 6  video game collectibles in our October Arcade Block monthly box for gamers.

EXCLUSIVE Gears of War T-Shirt
Be an honorary COG and defend the Earth against the Locusts wearing this exclusive Gears of War shirt.
Batman: Arkham Knight Figures – Catwoman
Subscribers received 1 of 3 figures from Batman: Arkham Knight to help you keep the streets of Gotham safe.
EXCLUSIVE Star Fox Tube Socks
Join the Star Fox team with these exclusive tube socks. They're red, white and blue with a red Star Fox logo.
EXCLUSIVE Five Nights at Freddy's – Balloon Boy
Build your own Balloon Boy with this exclusively licensed construction set.
EXCLUSIVE Zapper Enamel Pin
Upgrade your collection with this retro zapper pin and get ready to blast away your 8-bit enemies.
EXCLUSIVE Mario Kart Poster
Get ready to start your engines and start racing with this exclusively licensed Mario Kart Poster.
Bonus Item: Drop Zone Beta Code – It gives you beta access to the new game from Sparkypants Studios. There was also the monthly$10 ShirtPunch Credit and a $10 credit to the new Nerd Block Store.
October 2016 Arcade Block Review Wrap-Up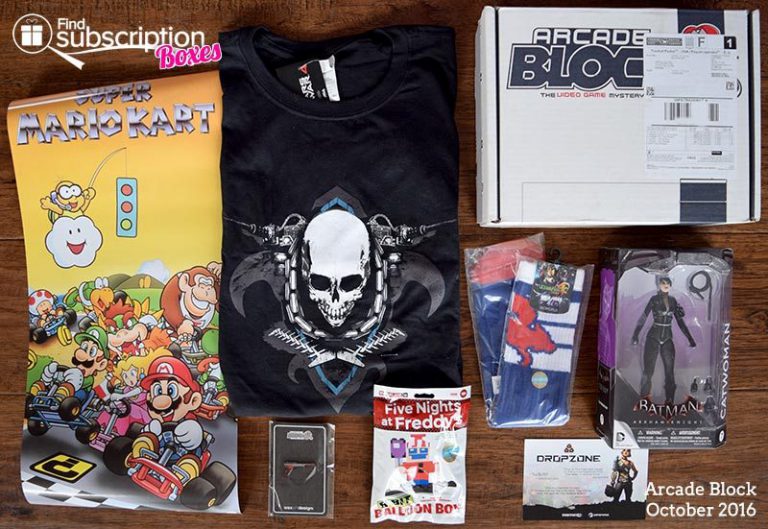 October's Arcade Block was filled with exclusives from both new and retro video games. We received the Catwoman Batman: Arkham Knight figure. This figure is incredibly detailed with movable limbs, Catwoman's famous whip and interchangeable hands. The next figure in the box was Five Nights at Freddy's Balloon Boy from McFarlane toys. You can build this exclusive figure to create a LEGO-style Balloon boy holding a balloon.
There were two video game apparel items in the Arcade Block October subscription box. The Star Fox tube socks are thick, blue socks that have red toes and white stripes at the top. The Star Fox logo decorates the top. Next is the Gears of War t-shirt featuring the trademark skull and machine guns on the front. A small Gears of War logo is on the back of the shirt.
The Mario Kart Poster is fun video game decor item.  The bright, yellow poster features all of the Mario Kart characters racing around the track. Finally, you can decorate your bag or shirts with the Zapper pin. We love the old school design of this laser gun.
What was your favorite October Arcade Block video game item?
Arcade Block Coupon
Join Arcade Block now and save on your first video game monthly box! Use Arcade Block coupon code FindSubBox16 to save 15% off the first month of new monthly Arcade Block subscriptions. Save more with multi-block and multi-month subscriptions!