Comic Block is a comic book monthly subscription box from Nerd Block. Every month, Comic Block sends exclusive merchandise, comic books, and other comic collectibles right to your door. Each box has $60 worth of comic collectibles, including an exclusive comic t-shirt. With today's Comic Block review, we're unboxing the October 2016 Comic Block.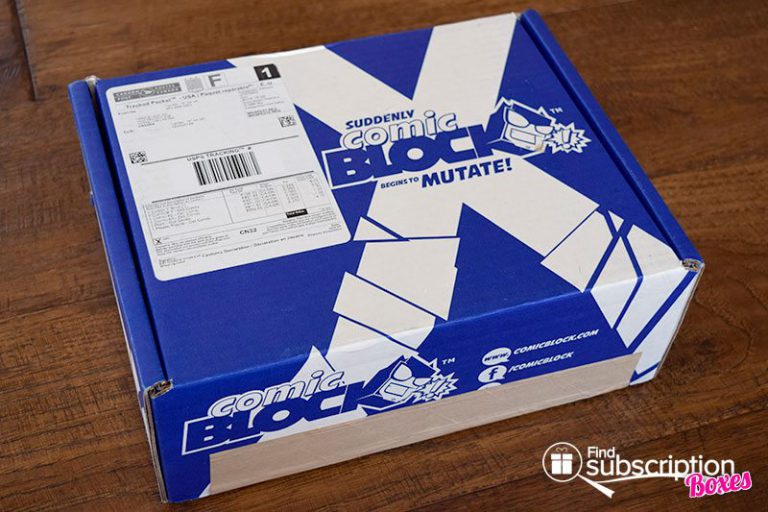 Comic Block includes a product card describing each of the comic book collectibles in the monthly comic box. There was also box spoilers for November's Comic Block – 8 EXCLUSIVE comic collectibles including Marvel Daredevil, Hellboy, Harbinger Renegades, and 4 exclusive variants!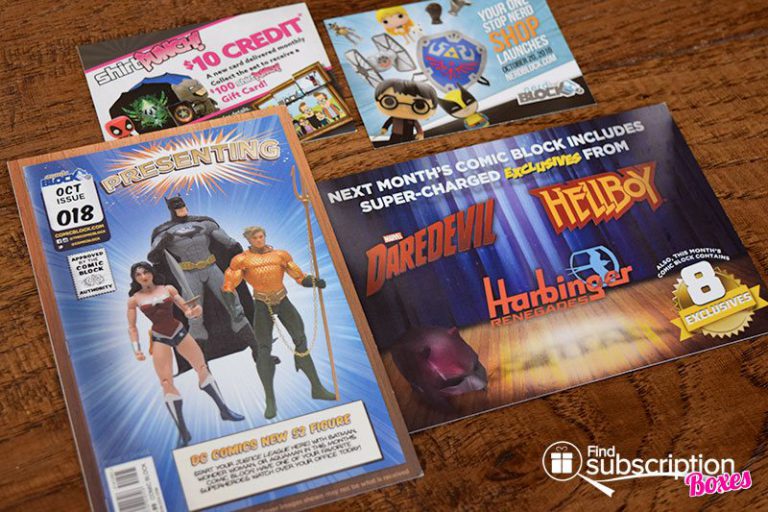 Here's a first look inside our October Comic Block.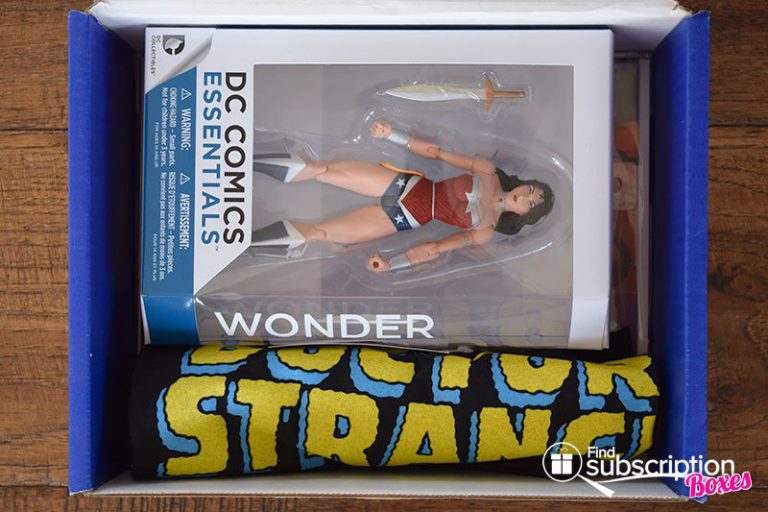 Inside the October 2016 Comic Block
There were 6 comic goodies in Comic Block's October box.
EXCLUSIVE Doctor Strange T-Shirt
Celebrate the release of Doctor Strange with this exclusive t-shirt and praise the mystical arts.
DC Comics New 52 Figure
Build your Justice League figure collection with one of 3 superheroes – Wonder Woman, Batman, or Aquaman.
Limited Edition Zombie X-Men Art Print
The X-Men are re-imagined as zombies in this limited edition print by Fredrik Eden.
EXCLUSIVE Serenity Issue #1 with Variant Cover
Featuring cover art by Ramon Perez, follow Malcom Reynolds and his crew as they answer a call for help.
EXCLUSIVE Champions Issue #1 with Variant Cover
This issue #1 comic follows the journey of Ms. Marvel, Spider-Man, Nova, The Hulk, Cyclops, and Viv Vision – the new team of Champions.
EXCLUSIVE Warhammer Issue #1 with Variant Cover
With an exclusive variant cover by Antonio Fuso, this Warhammer Issue #1: Will of Iron follows Baltus and his fellow Dark Angel Space Marines on a search for ancient artifacts.
Bonus: A $10 Shirtpunch.Com Credit is in every Block! This month there was also a $10 credit to the Nerd Block Shop.
October 2016 Comic Block Review Wrap-Up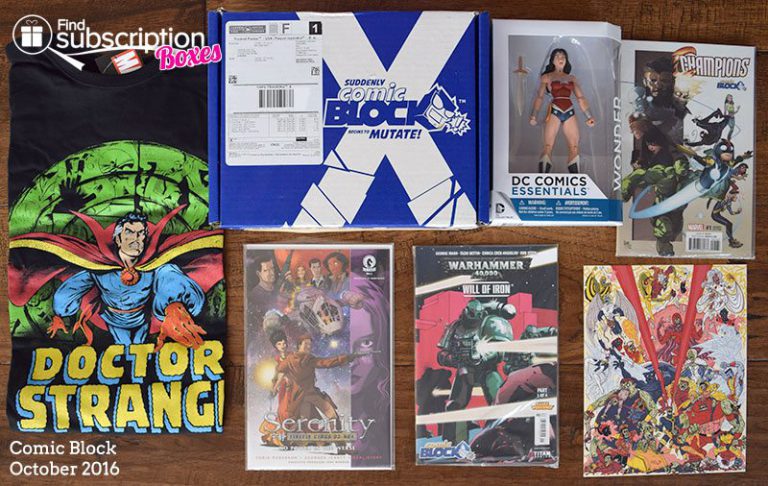 October's Comic Block comic book subscription box featured lots of exclusive comic collectibles and variant cover comic books. First up – the Doctor Strange t-Shirt featuring the comic book version of Doctor Strange wearing the Cloak of Levitation. (The movie is still in theaters if you haven't watched it yet!)
This month's figure was one of the members of DC Comics's Justice League! We received Wonder Woman (whose own feature film is hitting theaters June 2, 2017.) Our Wonder Woman figure has moveable limbs and she's geared up with her Lasso of Truth and sword.
For comic book art, Comic Block included a limited edition print by Fredrik Eden. In this print, Storm, Cyclops and the other X-men are brain-eating zombies!
There were three Issue #1 comics with exclusive variants. We enjoyed catching up with Mal, Zoe, and the rest of the Serenity crew on their latest adventure through the galaxy.  In Marvel's Champions Issue #1, we catch up with a young group of heroes following Civil War II. Instead of fighting each other, they want to prove that super heroes can still bring hope and make the world a better place.
Finally, Warhammer 40,000 is based on the tabletop miniature wargame by Games Workshop. In the Will of Iron comic book, storms have receded from the Calaphrax Cluster. It's a race between multiple forces to see who can gain access to the ancient relics, knowledge, and weapons that have been buried for ages.
What was your favorite October Comic Block comic collectible?
Comic Block Coupon
Join Comic Block now and save on your first comic box! Use Comic Block promo code FindSubBox16 to save 15% off the first month of new monthly Comic Block subscriptions. Save up to 25% with multi-block and multi-month subscriptions!