GLOSSYBOX is a monthly beauty subscription box for beauty addicts and fans. GLOSSYBOX delivers five deluxe and full-size beauty products from popular and emerging luxury and niche beauty brands in each beauty subscription box. With today's GLOSSYBOX review, we're unboxing the October 2016 GLOSSYBOX.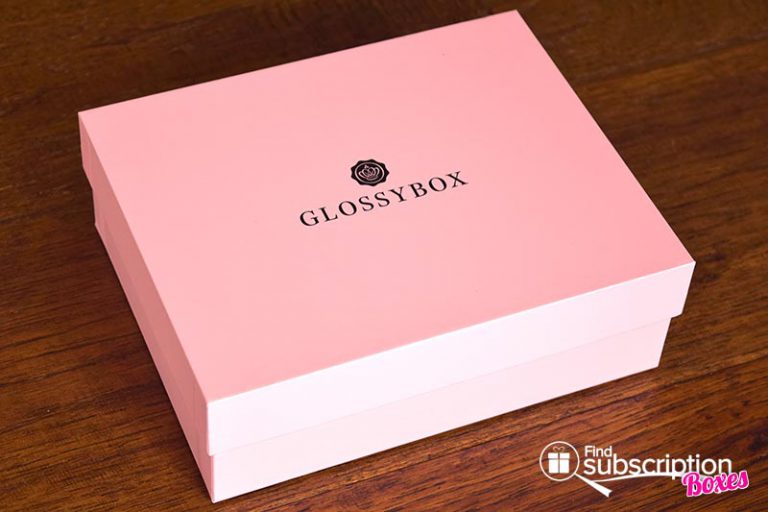 The October GLOSSYBOX brochure describes each of the beauty products in this monthly beauty subscription box. There are also useful tips and tidbits of information for using the luxury beauty treats.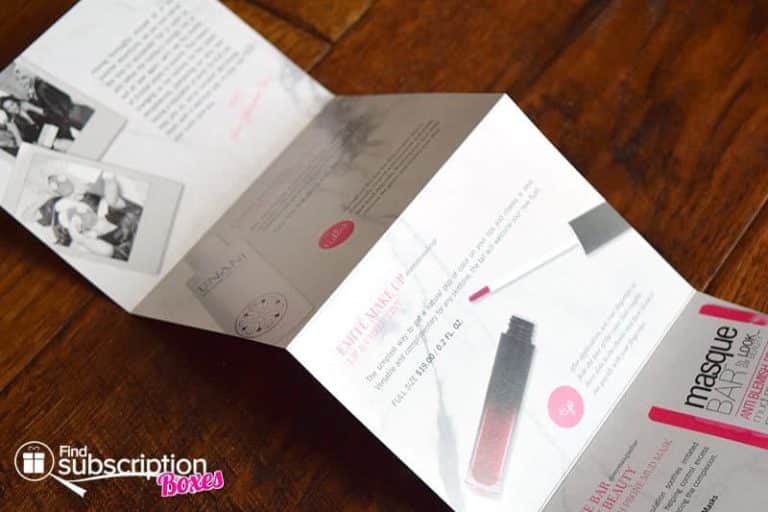 Here's a first look inside our October GLOSSYBOX.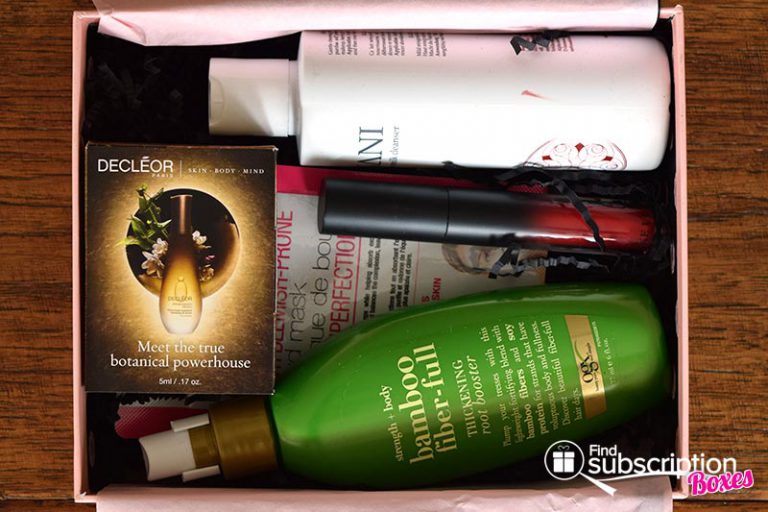 Inside the October 2016 GLOSSYBOX
The October 2016 GLOSSYBOX had 5 makeup and beauty products.

OGX Beauty Strength + Body Bamboo Fiber-Full Thickening Root Booster
Add body and volume to your hair with this lightweight blend of bamboo fibers and soy proteins.
Unani Il-luminate Milk Cleanser
Take your daily face cleanse up a notch with this UNANI milk cleanser featuring nutritious natural oils that purify and protect your skin.
Masque Bar by Look Beauty Anti-Blemish Prone Mud Mask
Control excess oil by purifying and balancing the complexion with this non-drying mud mask.
Emite Make Up Lip & Cheek Tint
Add a natural pop of color to your lips and cheeks with the versatile tint.
Decleor Aromessence Neroli Hydrating Oil Serum
Hydrate and smooth your skin with this 100% natural serum-oil packed with hazelnut botanical oil and essential oils of neroli, sandalwood and petitgrain.
October 2016 GLOSSYBOX Review Wrap-Up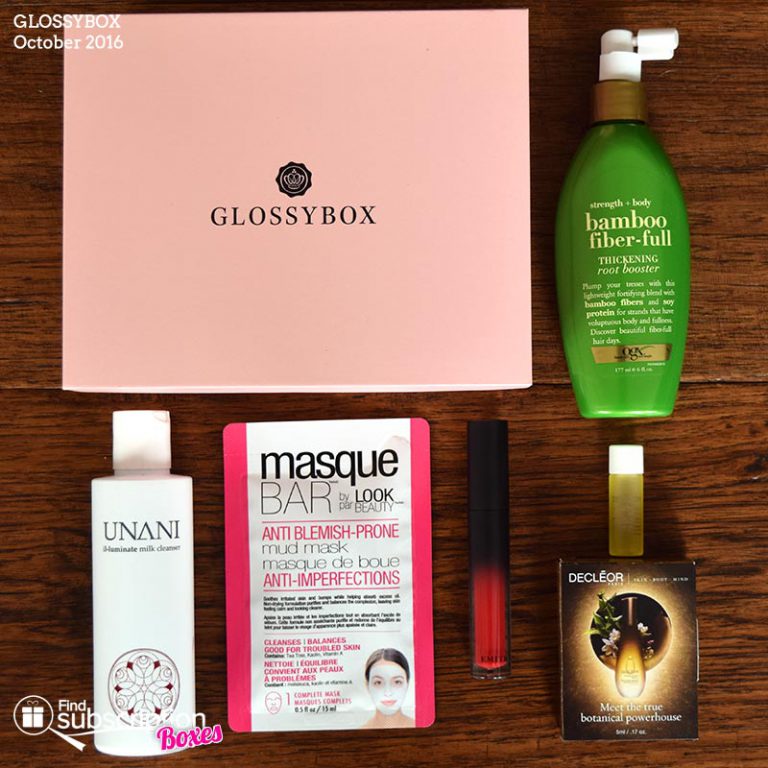 October's GLOSSYBOX had luxury beauty treats to help us get fresh skin, gorgeous hair, and touch of color. The Emite Make Up Lip & Cheek Tint is a versatile makeup product that quickly adds a natural pink hue to your lips and cheeks. Just dab a few dots to your lips or cheeks, then blend with your fingertips for a subtle glow. You can add another layer of tint for more color. GLOSSYBOX put together a useful video to show you how to apply this Emite tint.
We've been looking for a new face cleanser and were excited to try the Unani Milk Cleanser. First – it smells amazing. It has a fresh, vibrant, almost fruity scent. It doesn't suds or foam when you wash, but it gently cleanses your skin. We love that it didn't make our skin feel dry or tight after washing.
We followed up the face wash with the Decleor Hydrating Oil Serum. Just a couple of drops of this serum was enough to provide added hydration to our skin. Our skin felt smooth and soft after just one use. We tried it alone but you can also use it under your daily moisturizer if you need an added boost of moisture. This will be perfect as the Winter weather kicks in.
The other skin care product in the box was the Masque Bar mud mask. If your skin has a few blemishes or bumps, this is the product to use. You apply it after washing your face and let it sit for 15-20 minutes. It easily washes off and helps balance and clear your skin, without drying it out. There was enough product in one packed for two treatments!
OGX Beauty's Bamboo Fiber-Full Root Booster is the hair product to use if your hair has been looking a little flat. Just lightly mist it onto clean, damp hair, focusing on the roots, and dry to add volume and thickness to your hair. You can also apply it to dry hair for a quick boost during the day.
What was your favorite October GLOSSYBOX beauty pick?
GLOSSYBOX Free Gift Offer
Through October 31, 2016, 2016, new GLOSSYBOX subscribers can get up to $200 in free beauty gifts you join GLOSSYBOX today!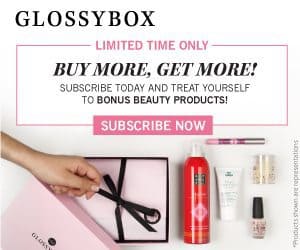 Offer valid through October 31st, 2016, 11:59 pm ET. Available while supplies last. Valid only for first time customers. When purchasing a 3-Month, 6-Month or 12-Month plan, customer will receive a past GLOSSYBOX(es) at random. The past box(es) will be shipped separately once an order has been deemed successful. Valid only on the purchase of any new recurring subscription (Monthly, 3-Month, 6-Month or 12-Month). New plans will begin the date they are created and cannot be combined with an existing subscription/order. If offer does not apply successfully before checkout, it cannot be added at a later time. Offer not valid for Canadian residents. Only valid in the Continental U.S., excluding Alaska & Hawaii. Available while supplies last.