Kitchen Table Passport is a subscription plan which enables the adventurous to "eat and explore the world" from one's own kitchen. Each box contains mementos, Discovery Cards, and a Taste Package. There are several plans from which to choose, and there's even a gift option. It's a great way to learn about a new country and taste food from the featured country you can make yourself. With today's Kitchen Table Passport review, we're unboxing the October 2016 Kitchen Table Passport box.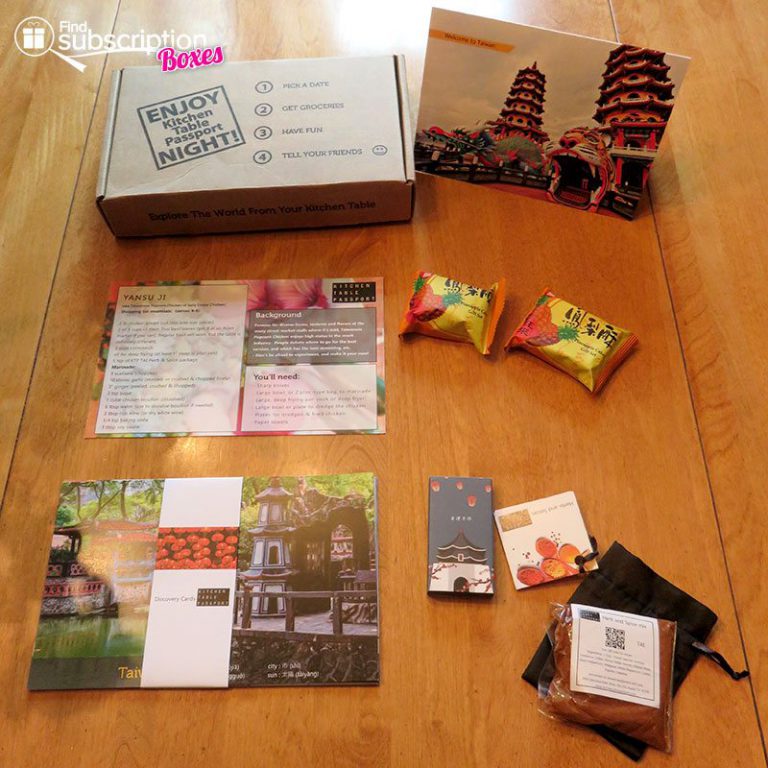 The October 2016 Kitchen Table Passport box takes us to Taiwan. Our welcome note told us Lisa visited Taipei for business several times. It also contained our dish: Yansu Ji, fast facts, a little bit about Taiwanese cuisine, and an explanation of this month's mementos: a handmade paper box and two Pineapple Cakes. The pineapple cakes are also known as pineapple tarts or pineapple shortbread. They can be warmed and served with tea or eaten as-is. The handmade box is reminiscent of a matchbox by the way it opens. It has a plum blossom, a symbol of Taiwan, on the front and lanterns. The words in character say "Handmade in Taiwan." The boxes were designed exclusively for Kitchen Table Passport by an artisan in Taipei.
As always, there's a playlist accessible by QR code. The beautiful Discovery Cards are like a mini encyclopedia of information at our fingertips. They feature the culture, geography, celebrations, food, industry, traditions, and so forth. The Taste Package contains our recipe for Yansu Ji, a Taiwanese "popcorn chicken" usually found a street market stalls, seasoning in a satin bag for the chicken dish, a shopping list with easy to find ingredients, and serving suggestions.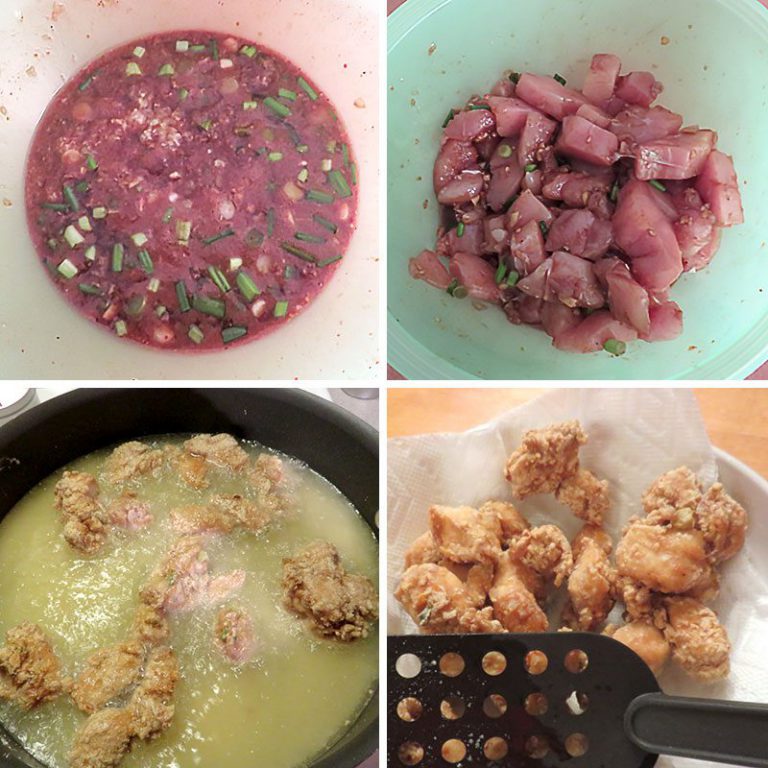 Yansu Ji is very easy to make. I had a lot of the ingredients on hand. I only had to substitute one item I couldn't find at the store (a suggestion was included on the recipe card). Popcorn Chicken is a valued commodity in the snack industry in Taiwan. First, I had to prepare and marinade the chicken for at least an hour. After that, it was easy to bread in the cornstarch. It is a deep fried dish that comes together quickly. The dish is mildly spicy and a bit salty.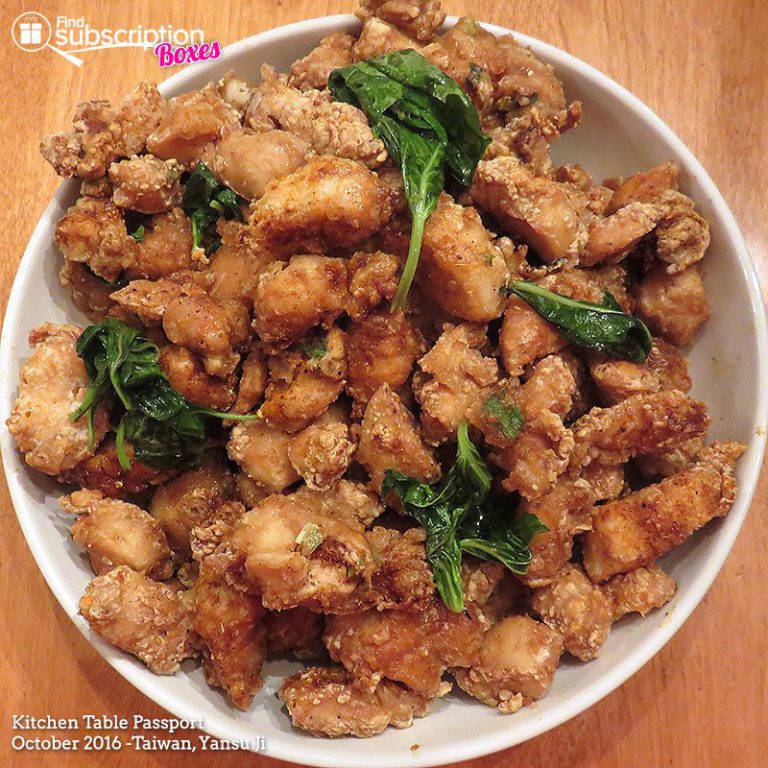 Yansu Ji was a huge hit with the entire family. We always enjoy discussing the Discovery Cards when feasting on the meals in the recipes from Kitchen Table Passport. We love "visiting" the country of the month through the cards and mementos provided in each box. Each month broadens our knowledge of different cultures through good food and family time around the dinner table.
Kitchen Table Passport $10 Free Gift Card
For a limited time, get a FREE $10 Gift Card to spend at Kitchen Table Passport. Just click here and provide your info to get your free $10 Kitchen Table Passport gift card.