Loot Gaming is a monthly subscription box for video game fans from Loot Crate. Each Loot Gaming crate feature $60+ worth of epic collectibles, figures, apparel, accessories and more from the biggest and best video game franchises. With today's Loot Gaming review we're unboxing the October 2016 Loot Gaming crate. The October Loot Gaming theme was RUMBLE.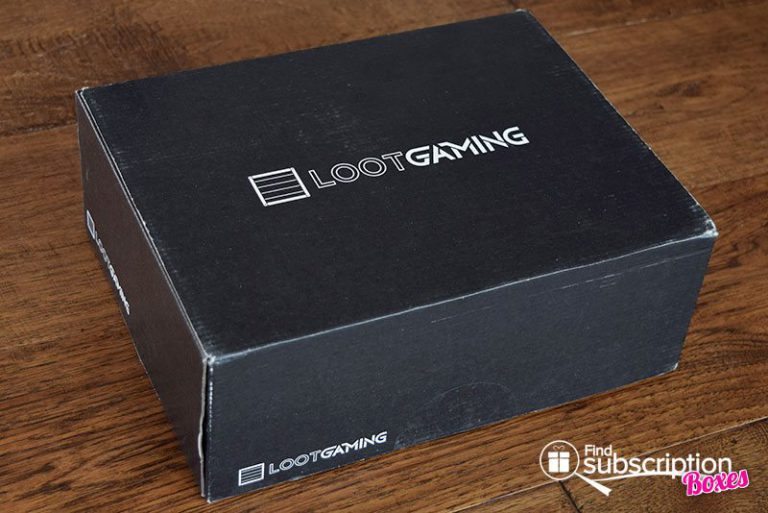 This month Loot Crate included a large poster that had descriptions of each month's gamer collectibles on the back.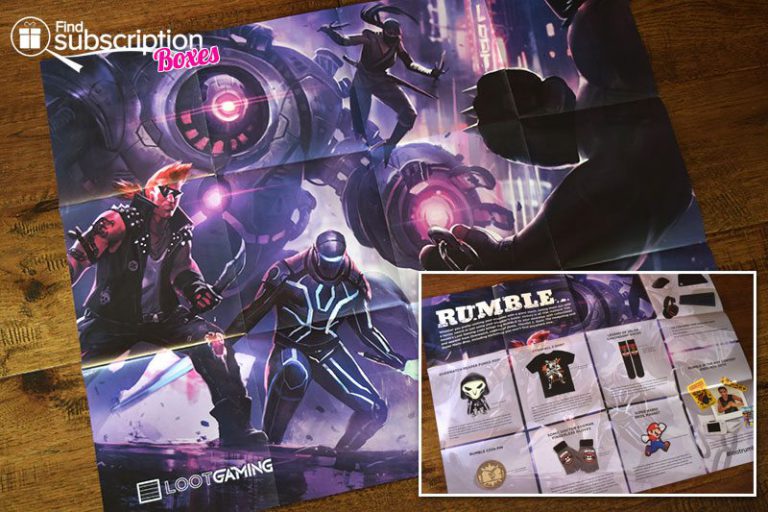 Here's a first look inside our October 2016 Loot Gaming Rumble crate.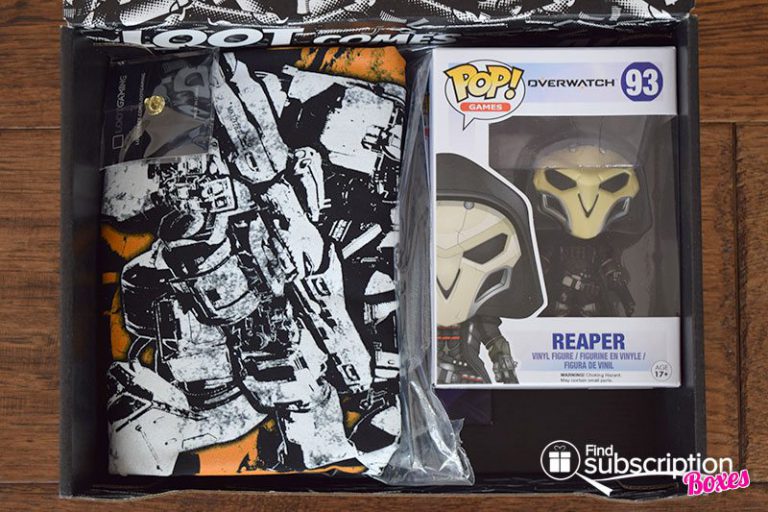 Inside the October 2016 Loot Gaming Rumble Crate
There were 6 video game items in the October Rumble Loot Gaming subscription box.

EXCLUSIVE Titanfall 2 Shirt
This exclusive t-shirt design features Tone, one of 6 new Titans in Titanfall 2.
Overwatch Reaper Funko Pop!
With Hellfire Shotguns, this Overwatch Reaper Funko Pop! is always ready for a fight.
EXCLUSIVE Legend of Zelda Ganondorf Socks
These exclusive Zelda socks show Link's archenemy Ganon in his Gerudo form.
EXCLUSIVE Sonic Doctor Eggman Fingerless Gloves
You'll be ready to face Doctor Eggman in style with these exclusive fingerless gloves decorated with the Robotnik icons.
EXCLUSIVE Super Mario Bros. Magnet
Decorate your fridge or any metal surface with this exclusive Mario magnet and get ready to save the Princess from Bowser.
EXCLUSIVE Rumble Coin Pin
This exclusive coin features a design commemorating the fallen and the heroes who carry on.
Bonus: PAC-MAN Bandages
October 2016 Loot Gaming Box Review Wrap-Up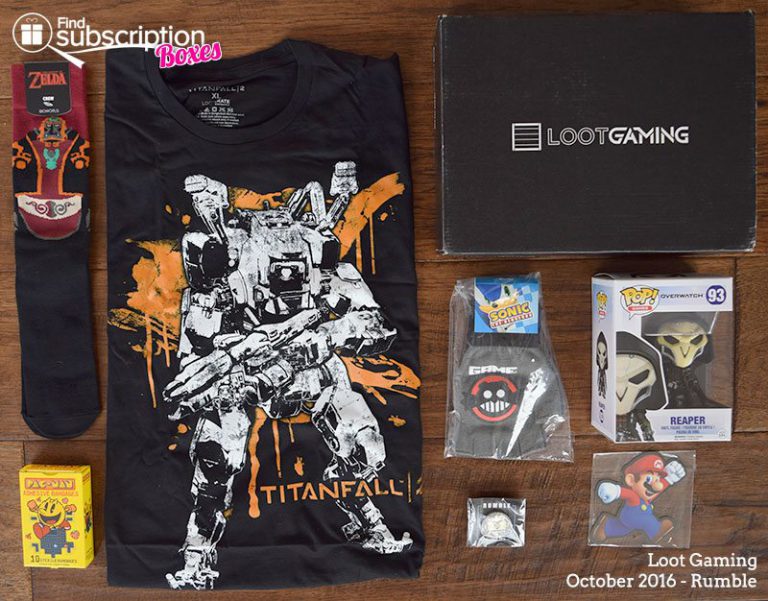 From Super Mario Bros. to Titanfall 2, the October Loot Gaming Crate delivered gamer collectibles from both retro and current popular video games. Released last month, Titanfall 2 introduced use to new Titans, the giant mechs you control in this multiplayer first-person shooter game. Tone is one of those Titans and this Titanfall 2 t-shirt features Tone ready for battle with her 40mm Cannon and Tracer Rockets.
There were two wearables in the Rumble Loot Gaming crate. The Legend of Zelda socks feature Ganondorf, the primary Legend of Zelda antagonist who seeks to acquire the Triforce to help him conquer the world. These socks show him before he was transformed into Ganon beast form by the power of the Triforce. Next are the Sonic the Hedgehog fingerless gloves. These gloves are perfect for touch-screen gaming while keeping your hands warm. In addition to the Robotnik icons, one glove says "Game" and the other glove says "Over."
From Overwatch, the Reaper Funko Pop! vinyl figure is a new addition to our Pop! collection. In addition to his Hellfire Shotguns, this 3 3/4″ vinyl figure has the dangerous and ruthless mercenary's ominous black robe, ammo belt and spooky mask.
The last video game collectible, the Super Mario Bros. magnet, features Mario leaping into the air and is a fun way to add gamer decor to your home or work space.
What was your favorite geek item from the October Rumble Loot Gaming crate?
Loot Gaming Coupon Code
Use Loot Gaming coupon code SAVE3 for $3 off any new Loot Gaming subscription. Join today!