Nerd Block Classic delivers monthly mystery subscription boxes of nerd gear and collectibles. Each Nerd Block Classic has 4-6 nerd collectibles, including an exclusive nerd t-shirt, with a total $60+ value. With today's Nerd Block Classic review, we're unboxing the October 2016 Nerd Block Classic nerd subscription box.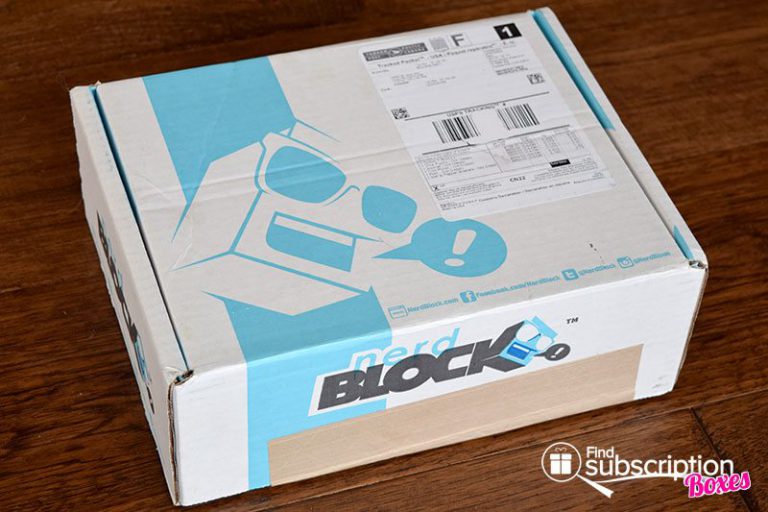 Nerd Block Classic boxes include a product card sharing information about the nerd collectibles in that month's nerd box. There was also a spoiler for the November Nerd Block Classic box.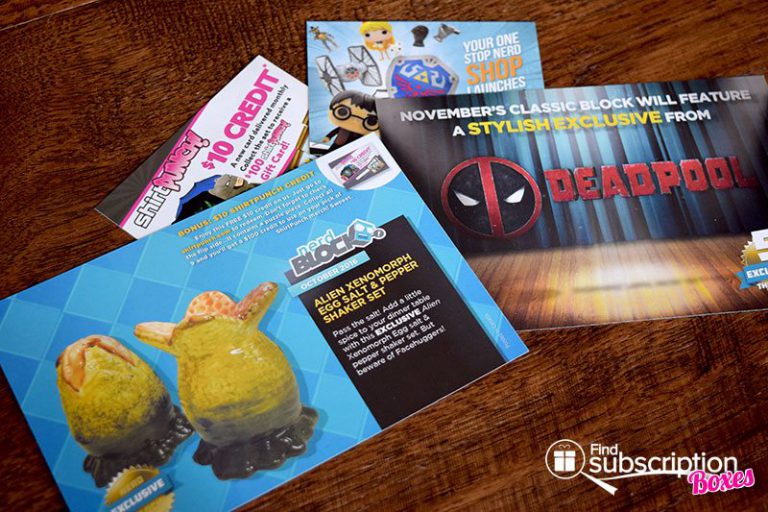 Here's a first look inside our Nerd Block Classic October nerd subscription box.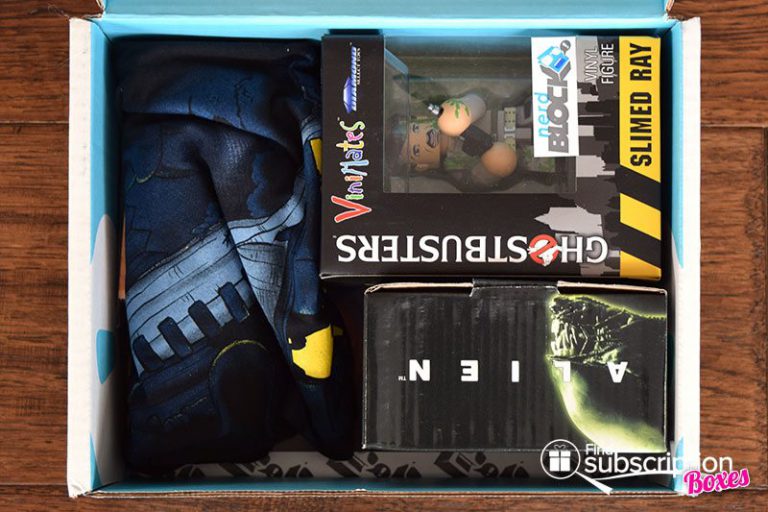 Inside the October 2016 Nerd Block Classic
There were 6 collectibles in our October Nerd Block Classic monthly nerd box.

EXCLUSIVE ShirtPunch The Simpsons Treehouse of Horror T-Shirt
This exclusive Simpson tee is inspired by The Simpsons Treehouse of Horror – the annual Halloween event.
LIMITED EDITION Scream Ghostface & Sidney Prescott Art Print
Decorate your wall with this spooky mash-up art print by artist Matthew Therrien that combines Ghostface & Sidney Prescott from Scream.
EXCLUSIVE Ghostbusters Slimed Ray Stantz Vinimates Vinyl Figure
You won't be scared of no ghosts with this exclusive vinyl figure of Ray, who's already been slimed.
EXCLUSIVE Beetlejuice Handbook for the Recently Deceased Journal
This Beetlejuce notebook has blank pages for you to keep track of important notes about the afterlife.
EXCLUSIVE Alien Xenomorph Egg Salt & Pepper Shaker Set
Add some Alien decor to your dinner table with these Xenomorph Egg salt & pepper shakers.
EXCLUSIVE The Walking Dead Ear Coin Purse
Channel your inner Daryl Dixon and ward off walkers with this exclusive coin purse.
October 2016 Nerd Block Classic Review Wrap-Up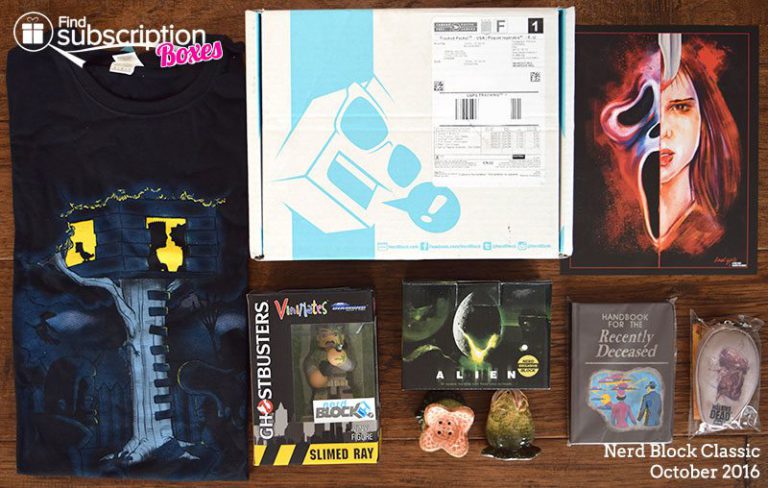 October's Nerd Block was filled with Halloween-inspired nerd collectibles from popular scary movies and TV shows. The Simpsons t-shirt design has Bart and Lisa hanging out in their treehouse (of course) with two ominous figures standing outside. It was the perfect nerd shirt for watching this year's annual Halloween Simpsons episodes.
Three spooky movies were featured in this month's Nerd Block. The Scream art print pays homage to the cult classic scary movie. It has Ghostface on one side and Sidney on the other with an ominous knife blade appearing at the top. Next was the Ghostbusters vinyl figure. This Vinimates Ray Stanz figure is slimed and shows Ray holding a proton gun, ready to shoot any ghosts. For Alien fans, the salt and pepper shakers shaped like Xenomorph eggs are a fun way to season your food.
Inspired by Daryl's zombie ear necklace, The Walking Dead coin purse is a unique way hold your spark change. Finally, you can log your battles against monsters and spirits, or jot down helpful reminders, with the Beetlejuice notebook.
What did you think of October's Nerd Block Classic nerd box?
October 2016 Nerd Block Classic Coupon
Join Nerd Block Classic today and save on your first nerd mystery box! Use Nerd Block Classic coupon code FindSubBox16 to save 15% off the first month of new monthly Nerd Block Classic subscriptions. Save more with multi-block and multi-month subscriptions!