Sci-Fi Block is a monthly sci-fi subscription box for science fiction fans. Every month, Nerd Block hand-picks a collection of licensed merchandise and collectibles representing the very best in science fiction entertainment to include in your monthly sci-fi box. With today's Sci-Fi Block review, we're unboxing the October 2016 Sci-Fi Block.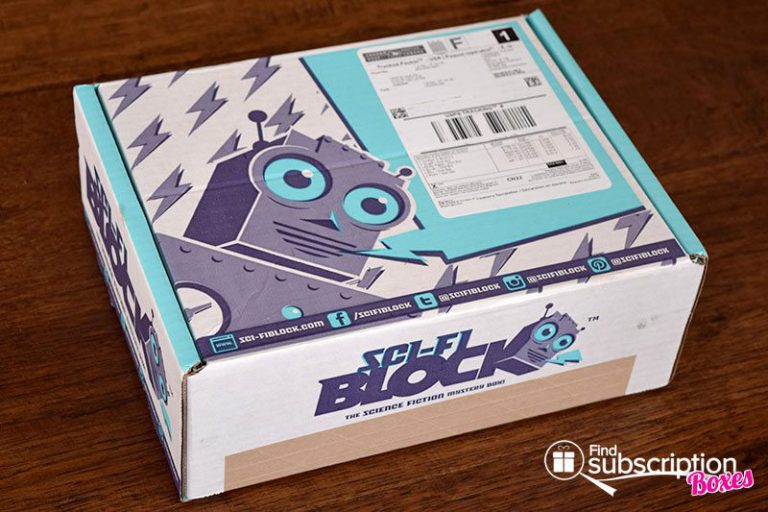 Sci-Fi Block includes a product card that has the describes each of the science fiction collectibles in the monthly sci-fi box. They also shared box spoilers for November's Sci-Fi Block – exclusively licensed items from The Terminator, Alien and Predator!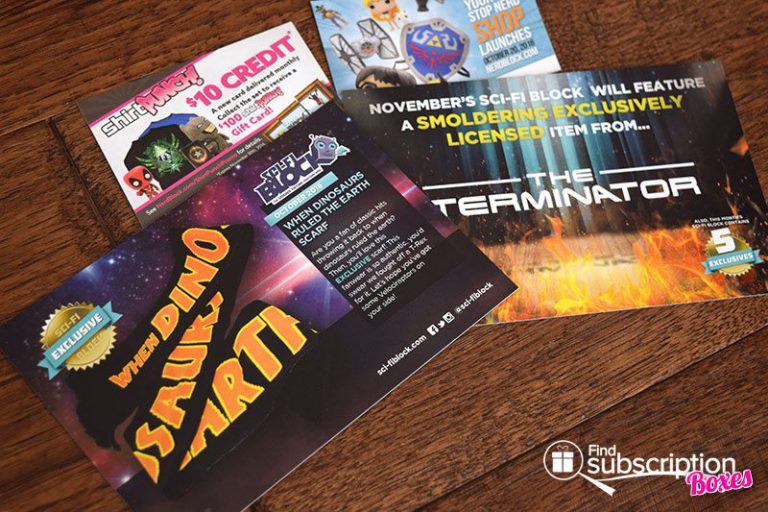 Here's a first look inside our October Sci-Fi Block.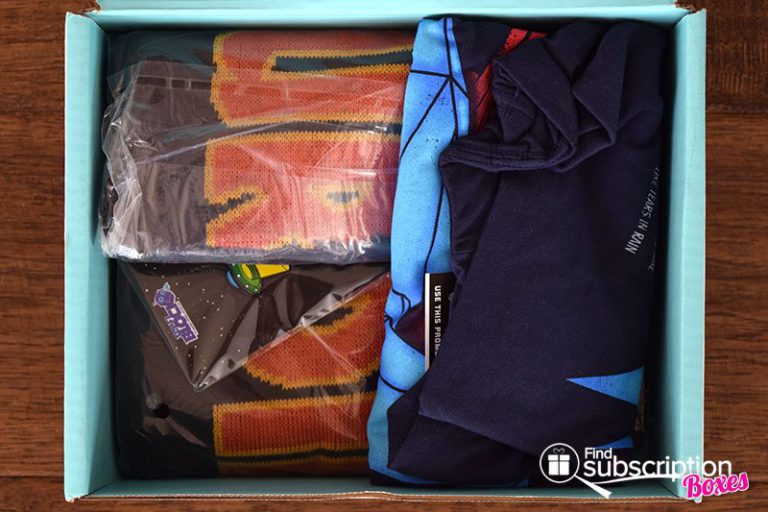 Inside the October 2016 Sci-Fi Block
There were 6 sci-fi items in our Sci-Fi Block October 2016 monthly sci-fi box.

EXCLUSIVE When Dinosaurs Ruled the Earth Scarf
Stay warm with this exclusive scarf that throws you back to when dinosaurs ruled the earth.
EXCLUSIVE Blade Runner T-Shirt
This ageless design will transform you into a replicant walking among humans.
EXCLUSIVE Mystery Science Theatre 3000 4-Pack DVD
Go on a hilarious adventure with one of two Mystery Science DVD collections honoring best B to Z rated Sci-Fi movies.
EXCLUSIVE Judge Dredd Year One with Variant Cover
Follow Judge Dredd in his year one book as he brings judgement day to Mega-City One's villains.
EXCLUSIVE Alien Abduction Enamel Pin
This exclusive pin captures an alien abduction in action.
Limited Edition Fredrik Eden Star Wars Art Print
Decorate your walls with this limited edition art print that shows that even those from a galaxy far, far away could not escape the zombie outbreak.
Bonus: Every Sci-Fi Block also includes a $10 credit to ShirtPunch and a $10 credit to the Nerd Block shop. Collect all 9 card designs to receive a $100 ShirtPunch credit.
October 2016 Sci-Fi Block Review Wrap-Up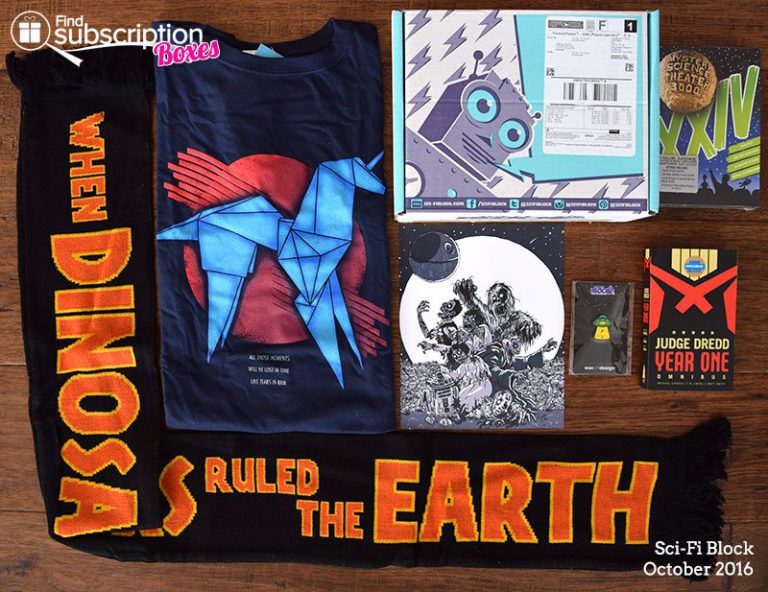 October's Sci-Fi Block delivered a great mix of sci-fi collectibles. This month there were two wearables. The When Dinosaurs Roamed the Earth scarf is the perfect Winter geek accessory. The tagline is printed on both sides of the scarf, which is thick and long enough to wrap around your neck a few times for extra warmth. Next is the Blade Runner t-shirt which features the origami unicorn that Gaff left in Deckard's apartment.
There were also two entertainment items in the October Sci-Fi Block. If you love the cheesy and kooky B-rated sci-fi movies, the Mystery Science Theatre 3000 DVD collection is just for you. It has a set episodes from the cult comedy series Mystery Science Theater 3000, where janitor Joel Robinson is launched into space and forced to watch B movies as part of two mad scientists' plot to create the perfect B-movie and use it take over the world. For the science fiction readers, Judge Dredd Year One introduces us to Joe Dredd as a rookie and follows his early days and new adventures as a Mega City-One Judge.
The Star Wars art print is a Star Wars and zombie mash-up. It's a gruesome way to see some of our favorite Star Wars characters. Finally the Alien Abduction pin is a colorful pin that shows someone being beamed up into a UFO. Pin it onto a jacket or bag to add some sci-fi flare.
What was your favorite October Sci-Fi Block nerd collectible?
Sci-Fi Block Coupon Code
For a limited time, save 15% off your first Sci-Fi Block with new monthly subscriptions. Use Sci-Fi Block coupon code FindSubBox16 to at checkout to get your discount.