Shirt Block is a monthly subscription box from Nerd Block that delivers geeky t-shirts every month. Every month, Shirt Block delivers a monthly subscription box of 5 geek t-shirts, worth $100, from your favorite fandoms for just $29.99. Shirts have 100% exclusive designs that represent the very best of popular and geek culture. With today's Shirt Block review, we're unboxing the October 2016 Shirt Block subscription box.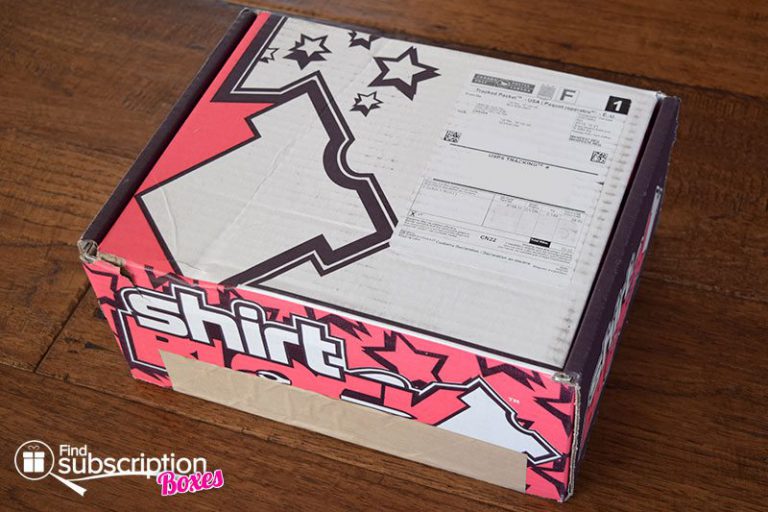 Shirt Block t-shirt boxes include a product card sharing information about that month's t-shirts. This month featured an exclusively designed t-shirt by illustrator and designer Vincent Trinidad.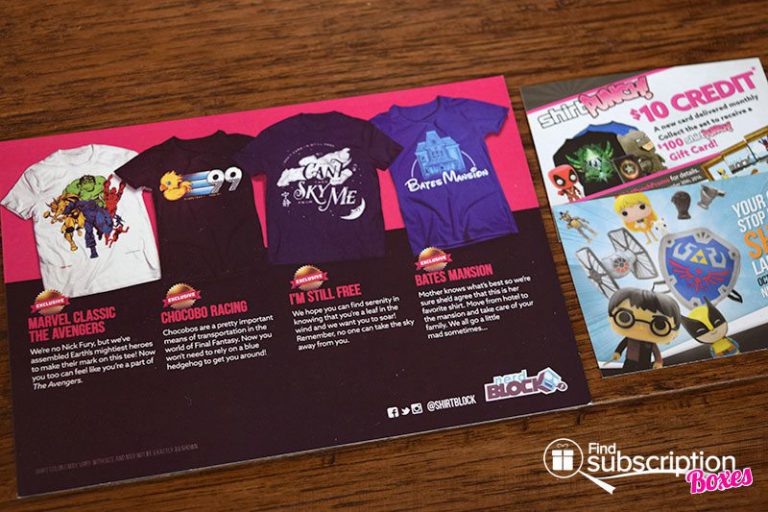 Here's a first look inside our Shirt Block October geek t-shirt monthly mystery box.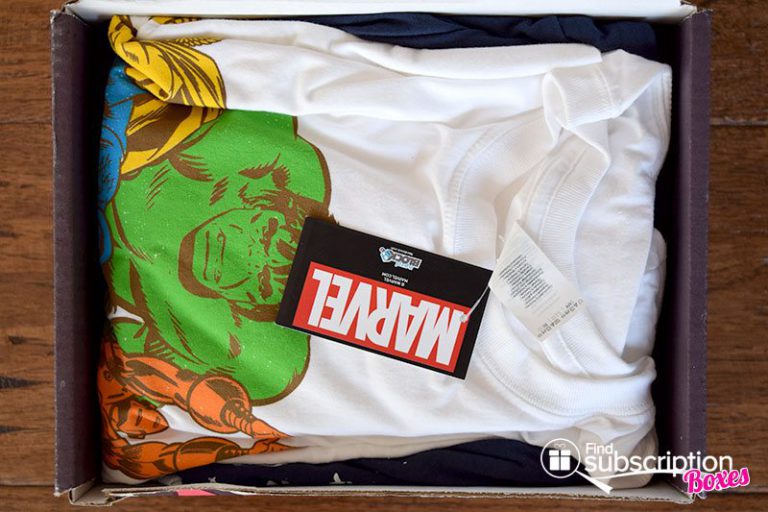 Inside the October 2016 Shirt Block
There were 5 geeky and nerdy shirts in our October Shirt Block monthly box.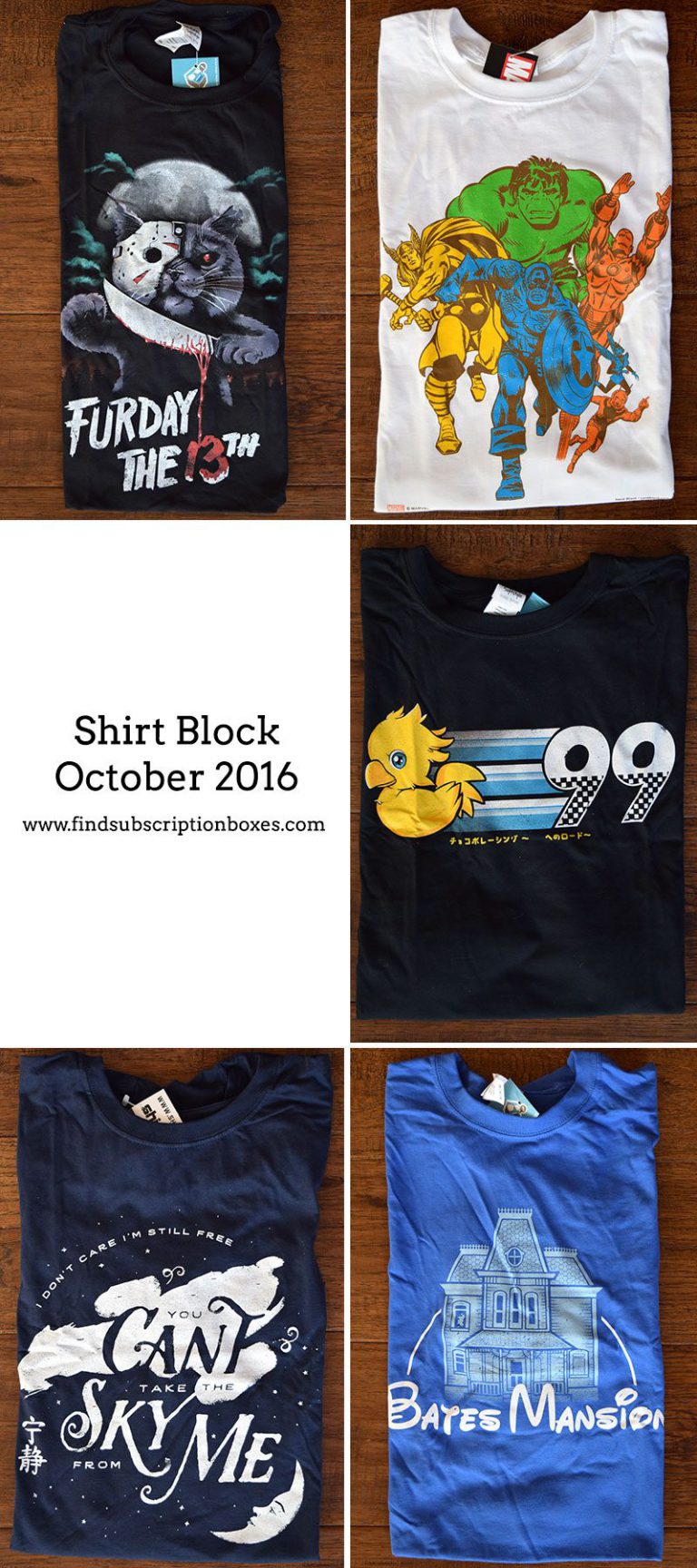 EXCLUSIVE Furday the 13th T-Shirt
Show your love of cats and classic horror films with this exclusive shirt designed by Vincent Trinidad.
EXCLUSIVE Marvel Classic The Avengers Shirt
Earth's mightiest heroes have assembled to make their mark on this Marvel Classic shirt.
EXCLUSIVE Chocobo Racing T-shirt
Race to your destination with Final Fantasy's flightless and high-speed Chocobos.
EXCLUSIVE I'm Still Free T-shirt
Find serenity and soar like a leaf in the wind with this Firefly shirt.
EXCLUSIVE Bates Mansion Shirt
Bates Hotel has moved to the Bates Mansion from the Alfred Hitchcock film Psycho.
BONUS: Every Shirt Block also includes a free $10 credit to ShirtPunch.com
October 2016 Shirt Block Review Wrap-Up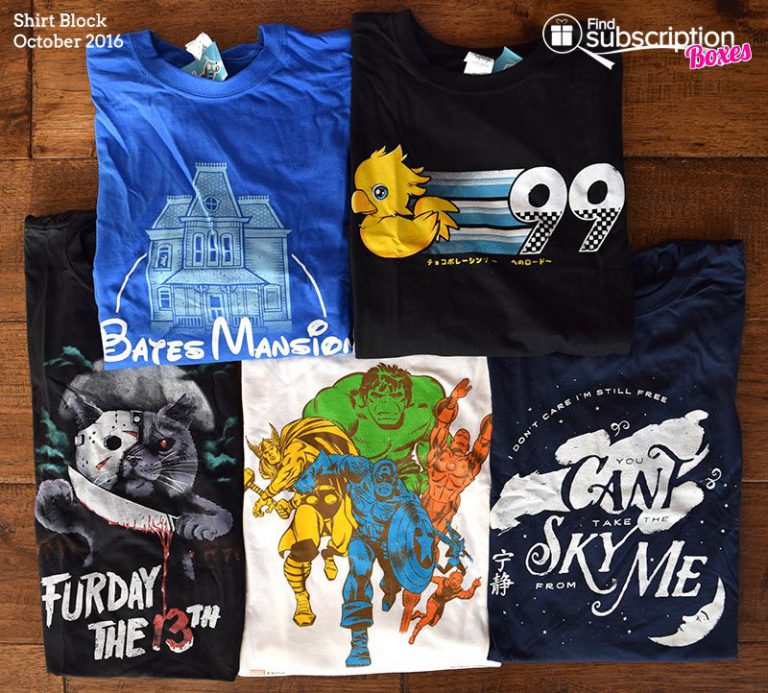 From video games to comic books, October's Shirt Block delivered unique and exclusive shirts perfect for pop culture fans. The featured Furr-day the 13th t-shirt combines the spooky Friday the 13th classic horror film with Jason designed as a cat.
We just re-watched Captain America: Civil War so The Avengers shirt was a great pick for us. It features Cap, Hulk, Thor, Ironman, The Wasp and Antman, with each character designed in a different color.
Firefly fans will instantly recognize the line from the Firefly theme song, The Ballad of Serenity, written by the show's creator Joss Whedon. It perfectly captures the spirit of the Serenity crew as they travel the 'Verse.
If you love Final Fantasy, you'll love the Chocobo Racing shirt. Chocobos first appeared in Final Fantasy II and are helpful creatures that allow themselves to be ridden, helping heroes on their adventures.
Finally, the Bates Mansion shirt gives a not to both Psycho, the horror thriller film based on Robert Bloch's novel. The style of the text reminds us of the haunted Disney mansion.
Which was your favorite October Shirt Block t-shirt?
October 2016 Shirt Block Coupon
Join Shirt Block today and save on your first box of geek t-shirts! Use Shirt Block coupon code FindSubBox16 to save 15% off the first month of new monthly Shirt Block subscriptions. Save more with multi-block and multi-month subscriptions!