The Trendy Box delivers a monthly subscription box featuring 2-4 trendy jewelry and fashion accessories. With today's The Trendy Box review, we're unboxing the October 2016 The Trendy Box. The October The Trendy Box theme was Balanced Baubles and featured balanced baubles that can accessories a fancy dress or jeans and a jacket. It's the perfect mix of ying and yang.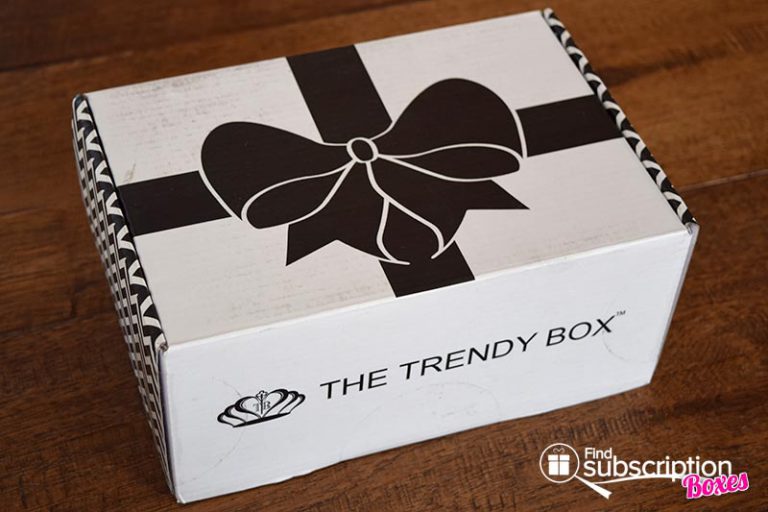 Each The Trendy Box monthly jewelry box includes a card the describes the jewelry and accessories in that month's box. It also lists the MSRP for each jewelry item.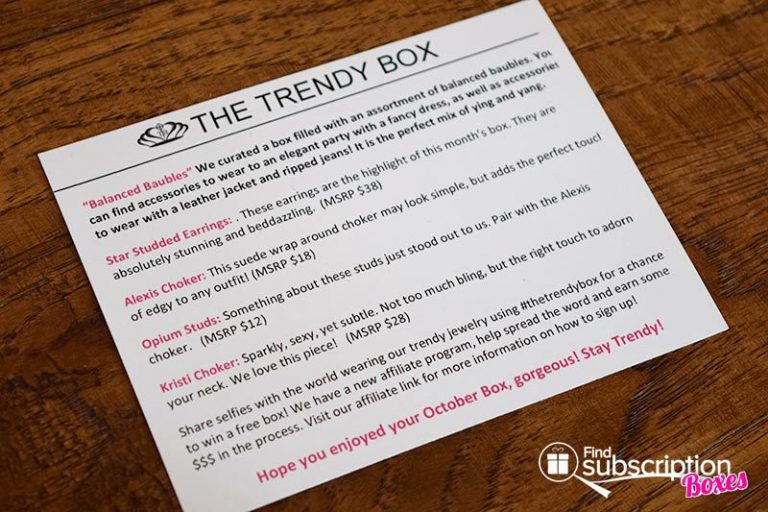 Here's a first look inside our The Trendy Box October jewelry subscription box.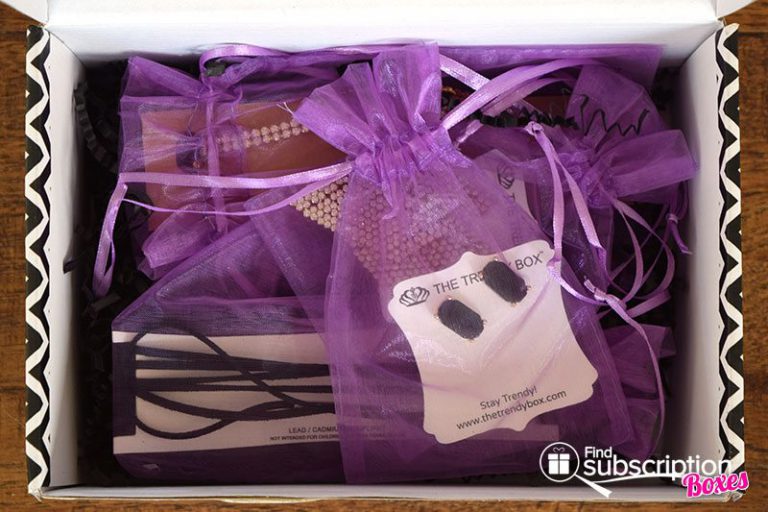 Inside the October 2016 The Trendy Box
There were 4 jewelry items in our October The Trendy Box.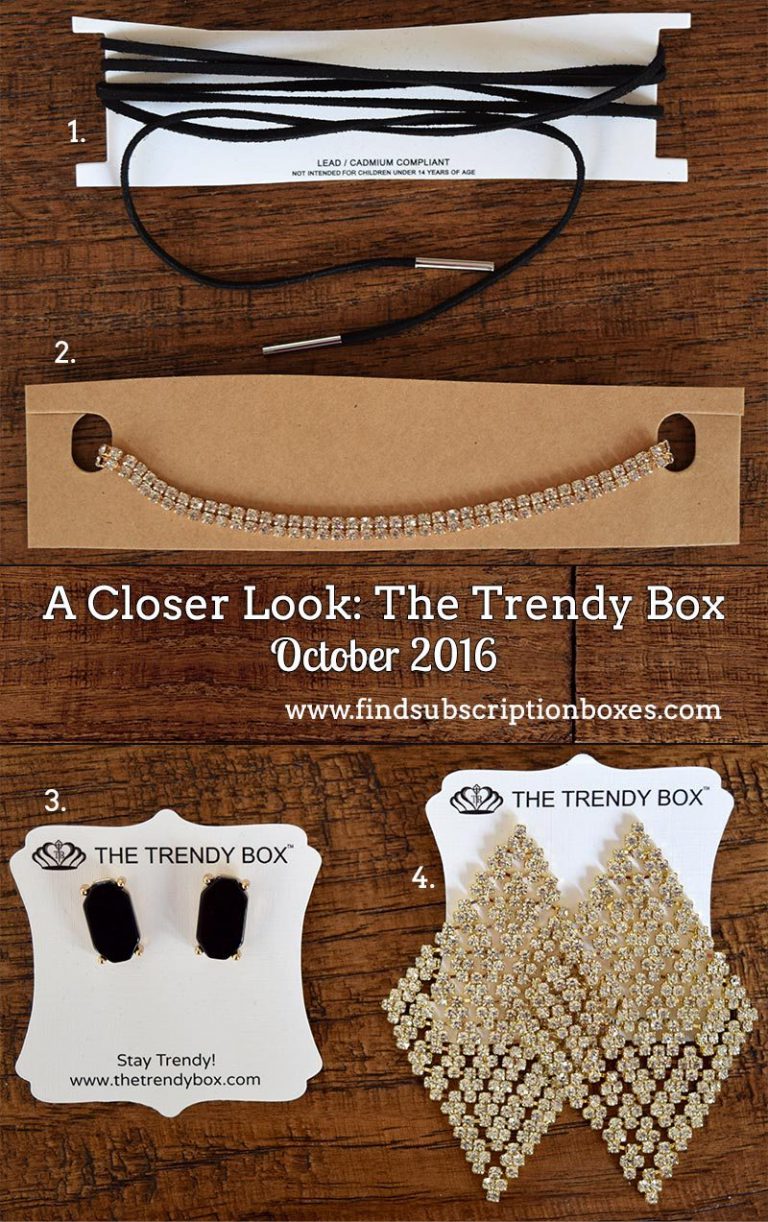 Alexis Choker, $18 MSRP
This suede wrap choker looks simple but adds a touch of edge to any outfit.
Kristi Choker, $28 MSRP
Adorn your neck with this sexy piece that has sparkle without too much bling.
Opium Studs, $12 MSRP
Pair these gorgeous studs are the perfect earrings to wear with the Alexis choker.
Star Studded Earrings, $38 MSRP
The highlight of this month's box, these earrings are stunning and bedazzling.
October 2016 The Trendy Box Review Wrap-Up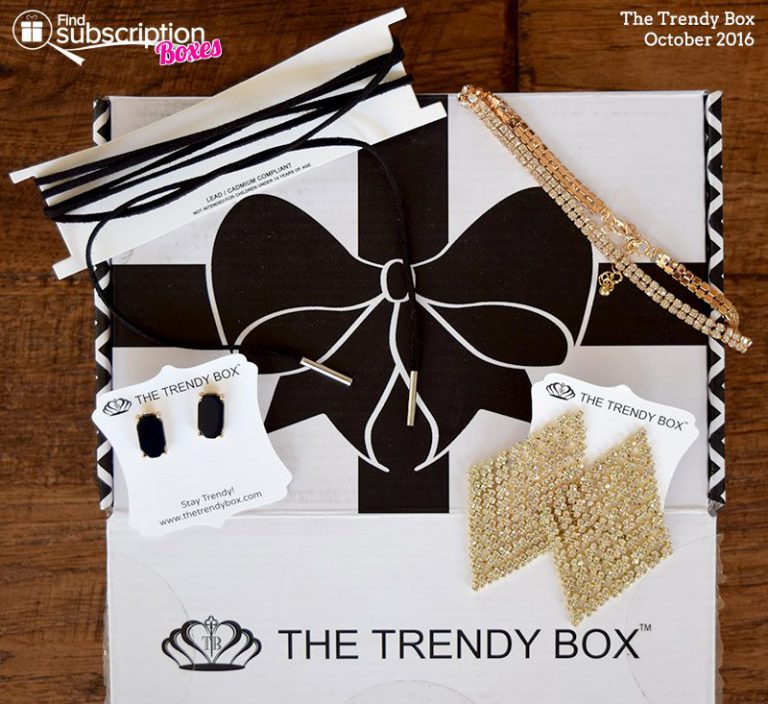 October's The Trendy Box featured chokers, one of this year's emerging jewelry trends, and gorgeous earrings. The suede choker is a wrap-around choker that you can make look longer or shorter depending on how many times you wrap it. When paired with the Opium Studs, it definitely adds an edgy look to your outfit. The studs themselves are simple, black earrings that make a bold statement.
The Star Studded Earrings definitely add bling to any outfit. They're longer earrings that dangle and glisten every time you move your head. You can wear them to accessorize an evening outfit and can dress-up daytime outfits too.
The Kristi choker is a shorter choker that is surrounded with crystals and has a small bauble on the end. You can wear it with either the Opium Studs or the Star Studded Earrings for even more sparkle. The total MSRP value of the October 2016 The Trendy Box was $96!
What was your favorite October The Trendy Box jewelry item?