Piquant Post is a monthly subscription box that sends out four small-batch spice blends and four curated recipe cards. Their chefs develop recipes using international flavors, and each month is themed around a different country. You no longer have to worry about combing the grocery store for exotic spices; the box contains enough spice to make each recipe (plus a little extra).
The Cost:
Month to Month: $11.99/month
6 Month Prepay: $65.94 ($10.99/month)
12 Month Prepay $119.88 ($9.99/month)
Shipping: Free to U.S., $7 to Canada, $11 for International
Today, I will be reviewing Piquant Post's June shipment, which was Zanzibar themed! It arrived in a small cardboard envelope, and all spices were in perfect condition.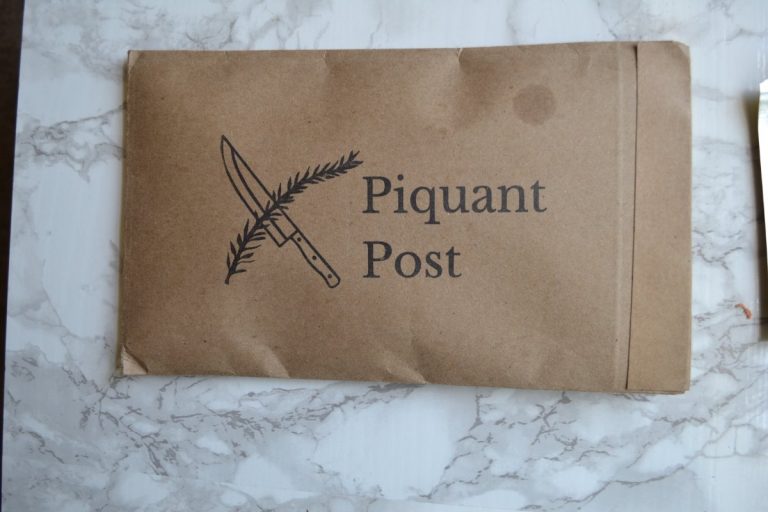 June's four spice blends were Tamarind Curry, Spiced Pilaf, Berbere, and Berbere.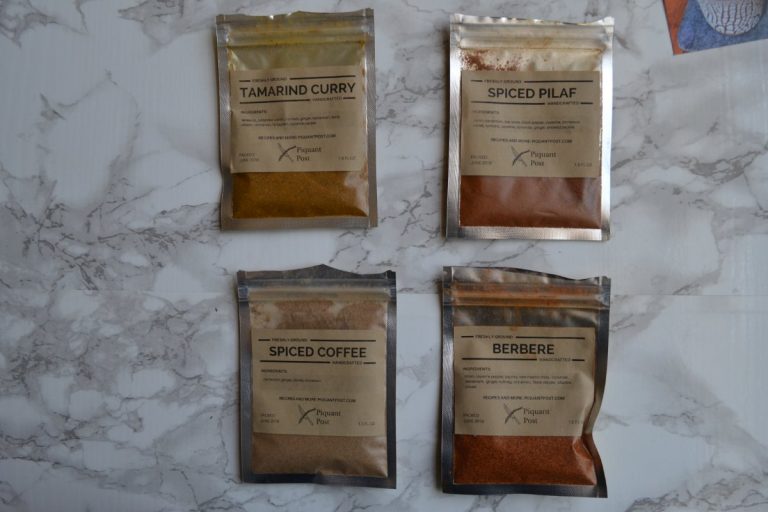 The four curated recipes were Zanzibar Pilau, Tanzanian Spicy Slaw, Fish Coconut Curry, and Spiced Coffee.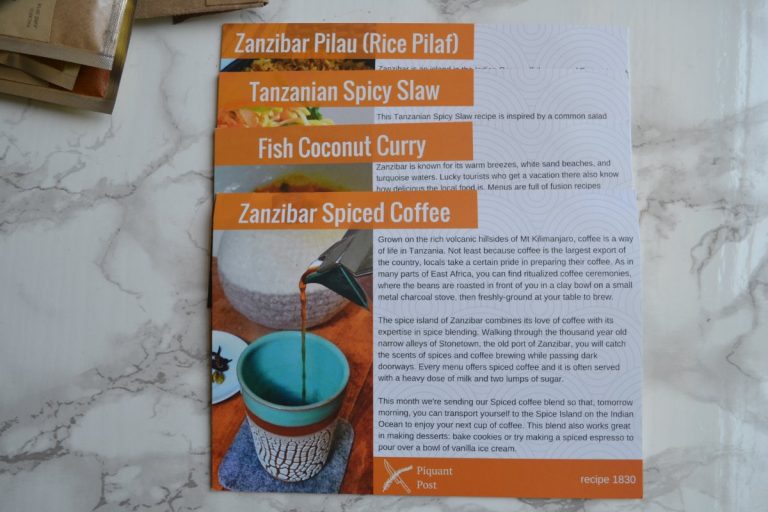 Spiced Pilaf
This spiced pilaf blend contains cumin, cardamom, star anise, black pepper, cayenne, cinnamon, cloves, turmeric, cayenne, coriander, ginger, and smoked paprika. Wow! This is such a complex blend; it's a little smoky from the paprika and cumin, and a little sweet from the star anise, cardamom, and cloves.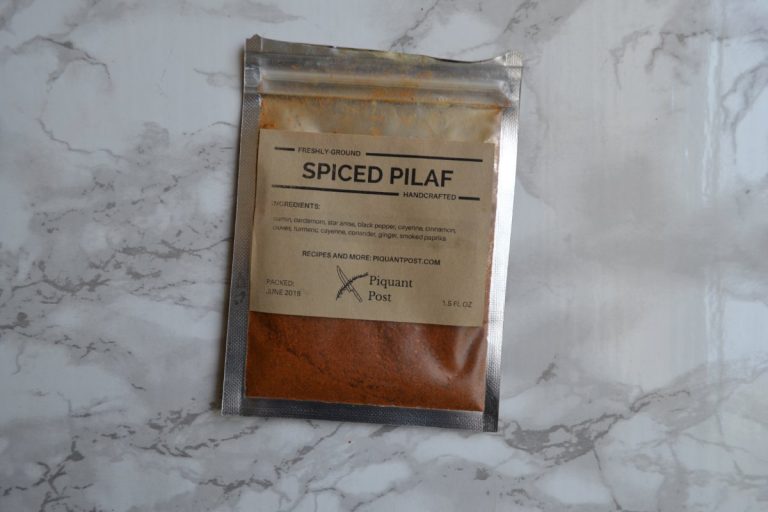 It's corresponding recipe was Zanzibar Pilau, an African inspired rice pilaf. I've only ever had boxed pilaf – trust me, it's nowhere as good as this! I added chicken to the pilaf for my meat-loving fiance, and substituted pepitas for cashews. I seriously couldn't get enough of this! The ingredients are cheap and simple and it was on the table in half an hour, but it tasted like it had been simmering all day.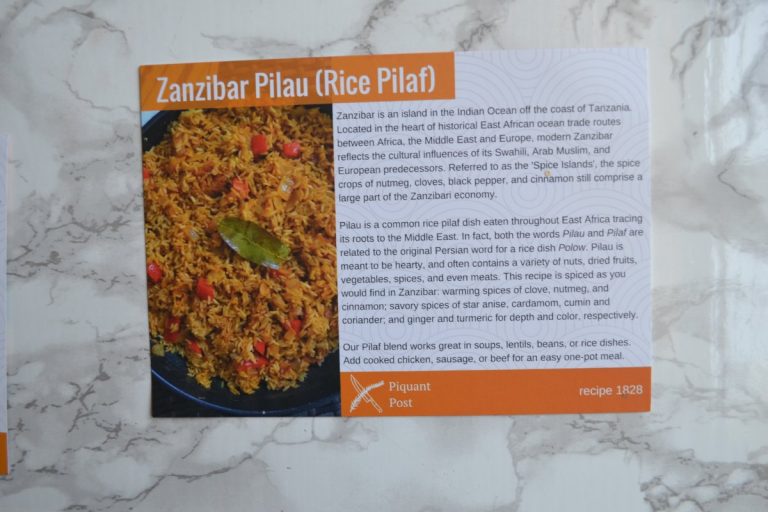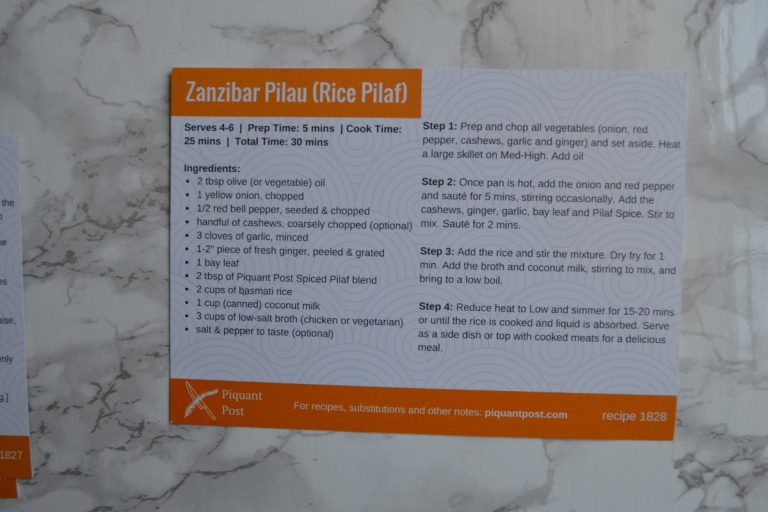 Here is a look at the finished dish. Yummy! Oh, and that vibrant looking slaw? That's the next recipe we'll look at.
Berbere
Berbere is a popular spice blend in the Horn of Africa, and contains onion, cayenne pepper, paprika, new mexico chilis, coriander, cadamom, ginger, nutmeg, cinnamon, black pepper, allspice, and cloves. This packs a spicy punch, and a little goes a long way.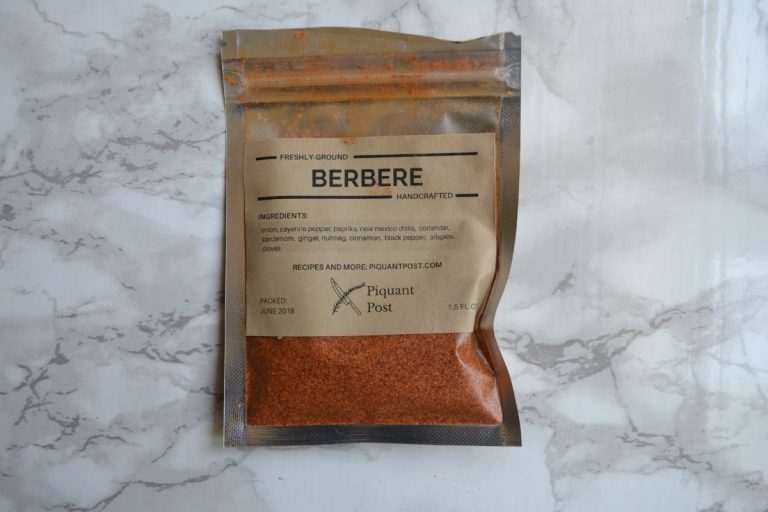 The corresponding recipe for Berbere was Tanzanian Spicy Slaw. This is inspired by a salad called Kombuchari that is commonly eaten in East Africa. I actually had to make quite a few substitutions for this one. Both grocery stores I visited were out of cabbage, and the cucumbers I bought went bad much quicker than I anticipated. So, when it was time to make this, I doubled the carrots and added yellow and orange bell peppers. It was really tasty! I usually don't like mayo-based salads (coleslaw makes me barf), but I really enjoyed this.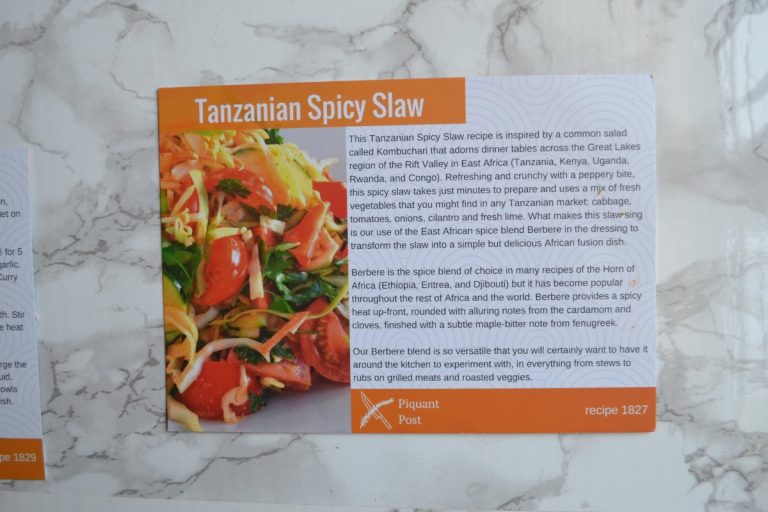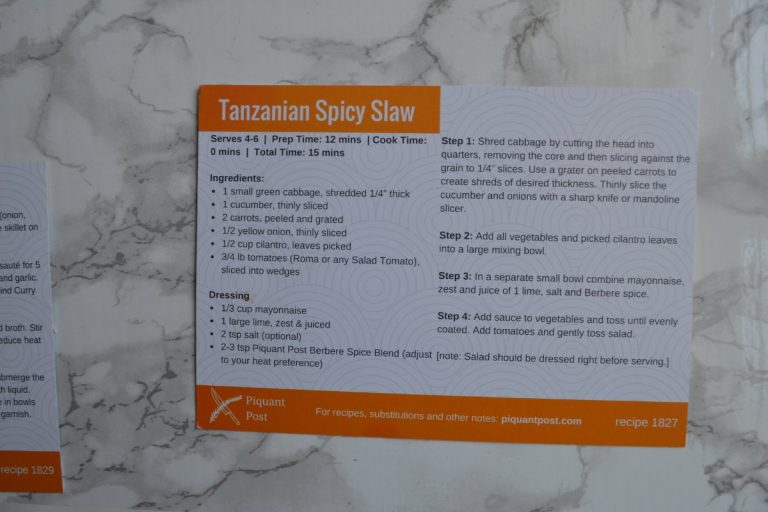 Tamarind Curry
Tamarind is a tree that produces pod with a sticky, sour fruit – so it makes a wonderfull addition to dishes with sweet ingredients such as coconut milk. This Tamarind Curry blend contains tamarind, coriander, cumin, turmeric, ginger, cardamom, black pepper, cinnamon, fenugreek, and cayenne pepper.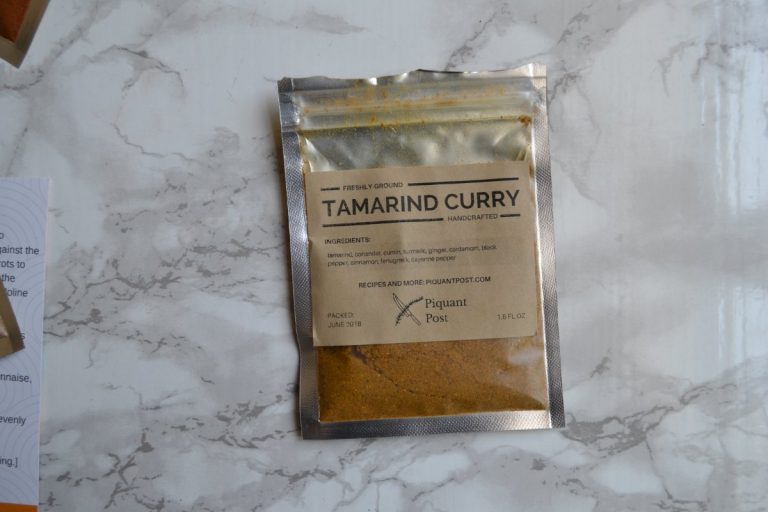 It's corresponding recipe was fish coconut curry. I make fish curry quite often, but I always use the same old recipe. I am excited to add this spice and recipe to my aresenal! It gives such a pop of flavor to the broth, and is almost citrusy. I used flounder in this dish, and it was absolutely delicious.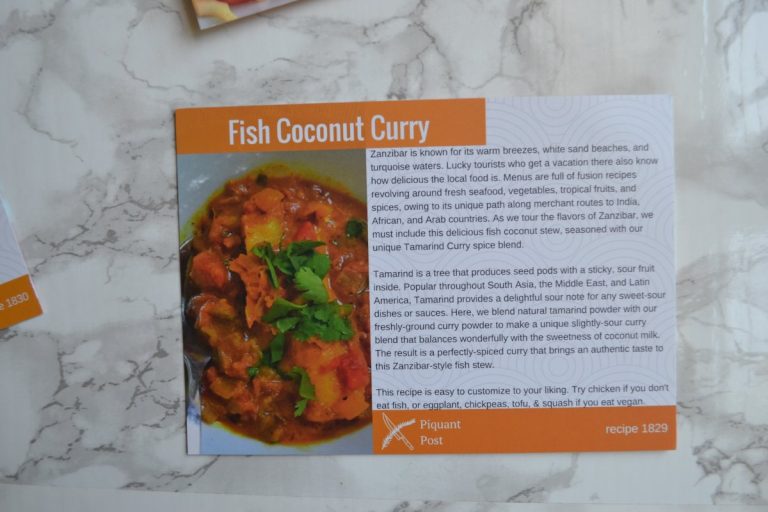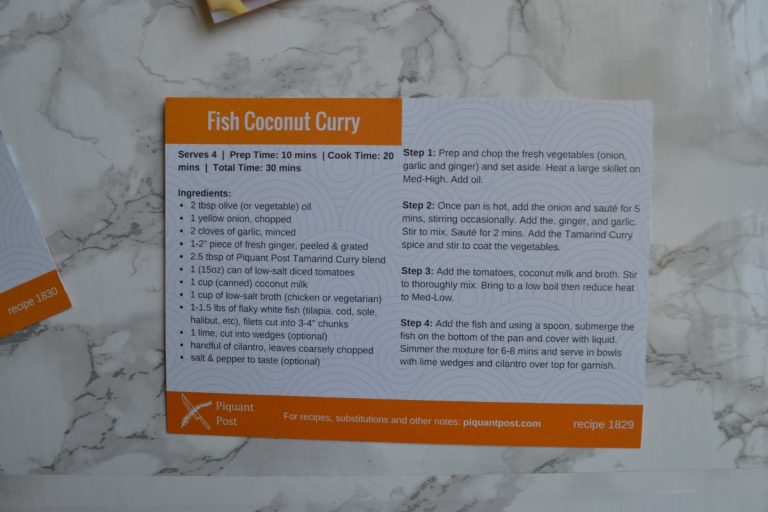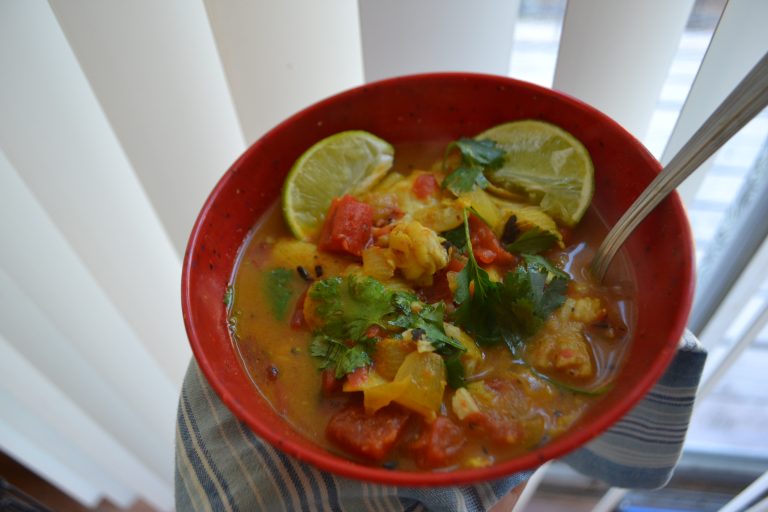 Spiced Coffee
The spiced coffee blend is made of cardamom, ginger, cloves, and cinnamon. To me, the cardamom flavor is strongest in this blend and smelling it reminds me of chai.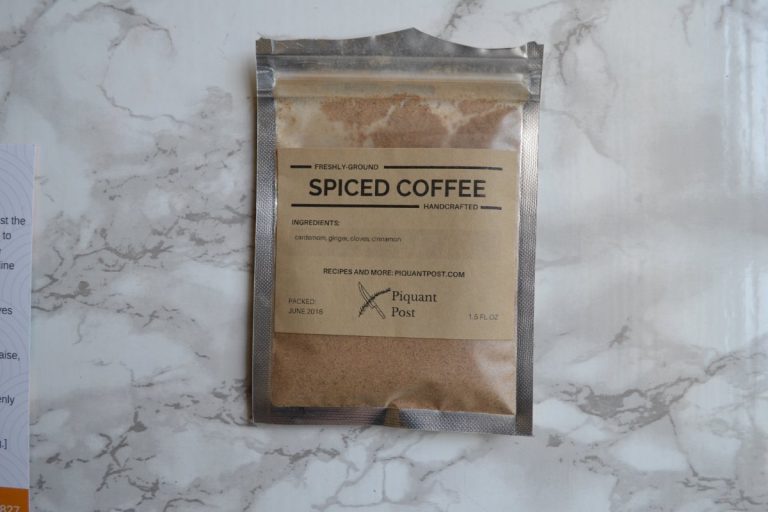 It's corresponding recipe is Zanzibar Spiced Coffee. I went a few months without coffee, but I've went back on it just before this box arrived. So, I was quite excited to try this out! All I had to do was stir in a little bit of spice blend into my morning coffee, and it instantly gave it chai flavors. There is enough in the packet for me to do this several times!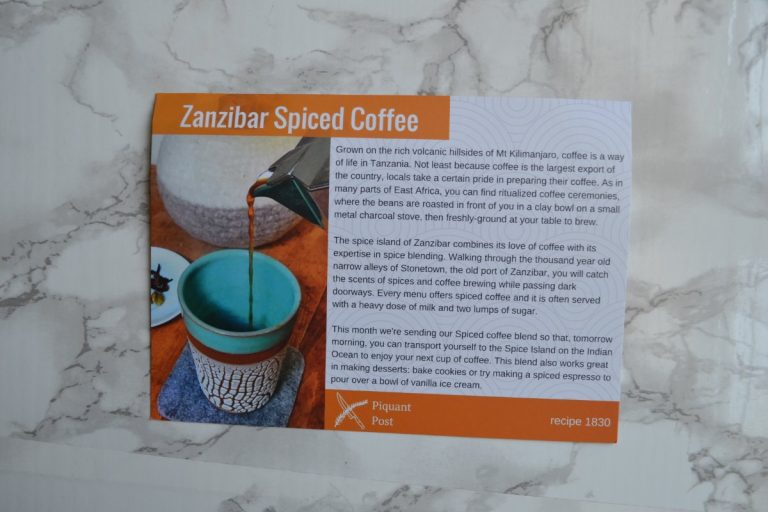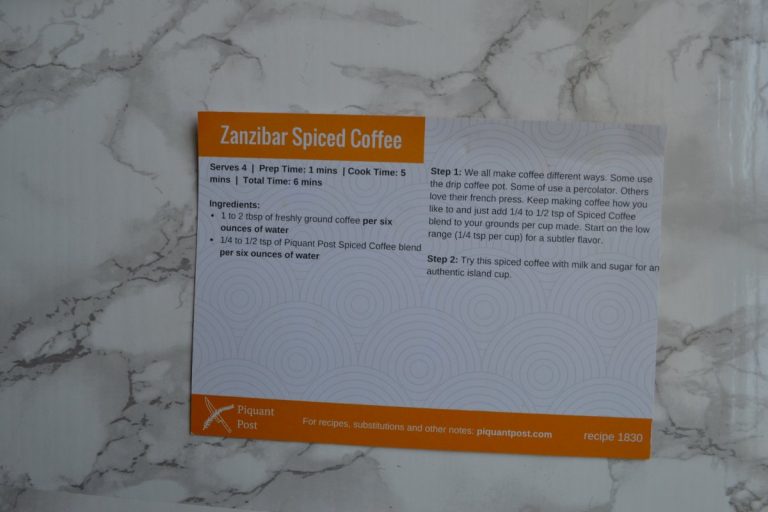 I really enjoyed the recipes in Piquant Post's June shipment, and I had fun trying out the flavors of Zanzibar. My favorite was the Pilaf Spice! This subscription is a wonderful way to try exotic spices, without scrambling to different stores and spending a ton of money.