Power Up Box is a monthly mystery geek box that delivers a surprise collection of geek gifts to feed you inner geek – from Funko Pop Vinyls to exclusive geek t-shirts. Power Up Box is available in 2 box sizes – Deluxe, which features 4-6 items, and Premium, featuring 6-9 items. With today's Power Up Box review, we're taking a closer look at the July 2015 Power Up Box.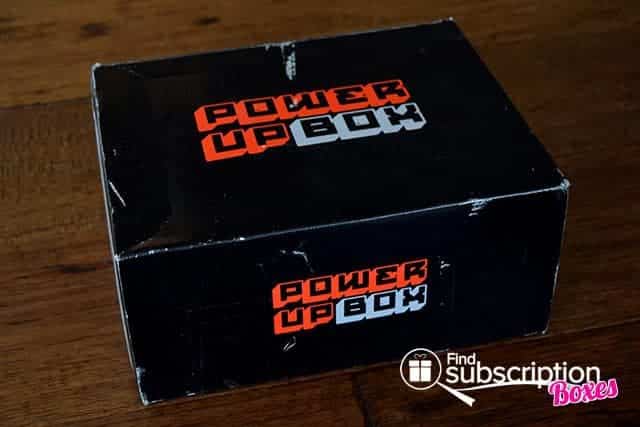 Each Power Up Box is a complete surprise – without any spoilers or sneak peeks. Here's a first look inside our Power Up Box July box.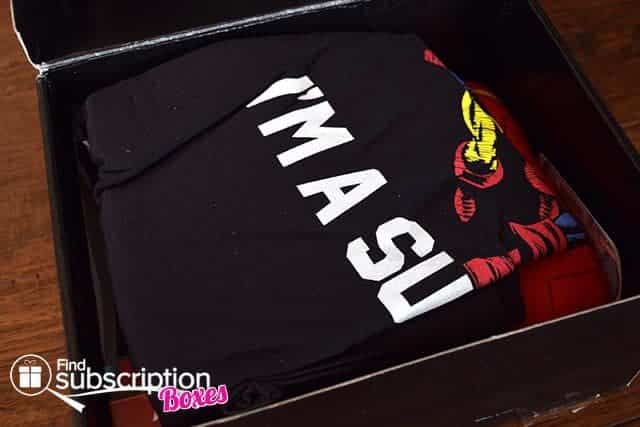 Inside the Power Up Box July 2015 Box
There were 8 geek gifts in the Premium July Power Up Box.

1. Marvel Avenger's Ironman Plush
Avengers Assemble and collect all 4 of these plush pillows.
2. Marvel's Ant-Man Wacky Wobbler Bobble-Head
Keep this bobble head on your desk and you'll have a mini super hero who always agrees with you.
3. DC Comics Justice League of America Issue #1
In this extra-sized debut issue, the League comes up against an armada of aliens heading for Earth that claims to be a peaceful religious tribe. But something sinister is lurking in their ranks…something with ties to ancient Krypton!
4. Marvel Deadpool Projector Keychain
Use this Deadpool projector keychain to show Deadpool's face on any wall or flat surface.
5. Trust Me, I'm a Super Hero T-Shirt
This licensed Marvel t-shirt feature the super heroes we love to trust – Captain America, Thor, and Ironman!
6. Candy Shot Glass – Lemon Lime Flavor
Add some sweet to any drink, or just enjoy it as a non-alcoholic sweet treat!
7. Marvel Avengers: Age of Ultron Playing Cards
Be a part of the Earth's mightiest heroes with this official deck of playing cards. Go Fish has never been so heroic.
8. DC Comics Joker Dog Tags
This pair of metal dog tags feature Joker and his notorious grin.
Power Up Box July 2015 Box Review Wrap-Up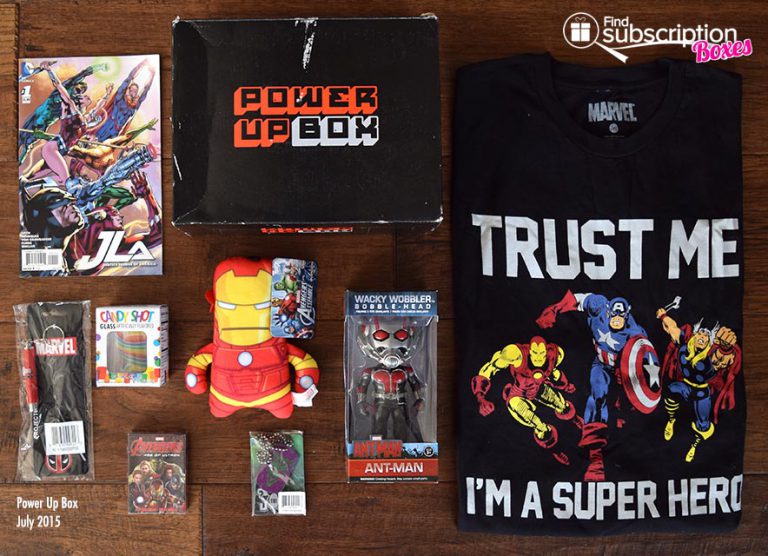 The July Power Up Box was packed with Marvel and DC Comics merchandise that featured some of our favorite super heroes. The Avengers superheroes t-shirt is a great addition to the collection and we can't wait to catch up with the Justice League story. The Ant-Man bobble head is perfect for getting a some heroic moral support. (We asked, he totally agrees.)
What was your favorite geek item from July's Power Up Box?
Want to get your own monthly Power Up Box? Save $5 off new 3, 6, and 12 month Power Up Box subscriptions when you use code FSB5 at checkout OR save 10% off your 1st month of monthly Power Up Box subscriptions with code FSB10.