Power Up Box is more than just a subscription box for geek and gamers. Vinyl figures collectors can build their collections with a Power Up Box subscription. From Funko POP figures to Mystery Mini's to the all-new Dorbz, Power Up Box Deluxe geek boxes includes a vinyl figure 3-7 months out of the year. The Power Up Box Premium box sends 7-10 vinyls each year. With today's Power Up Box review, we're unboxing the June 2015 Power Up Box.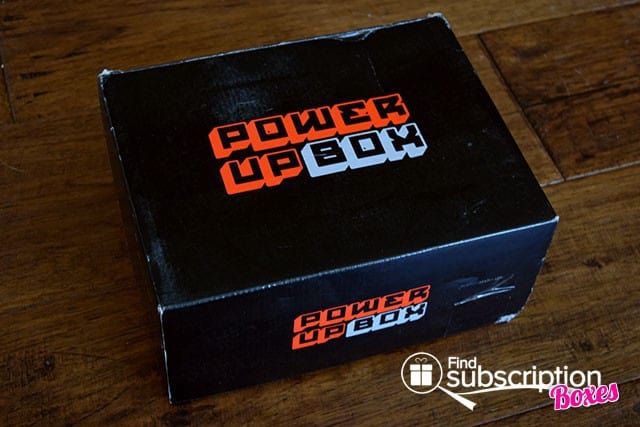 Power Up Boxes currently don't have themes, making each box a surprise mystery geek box. Here's a first look inside our Power Up Box June 2015 box.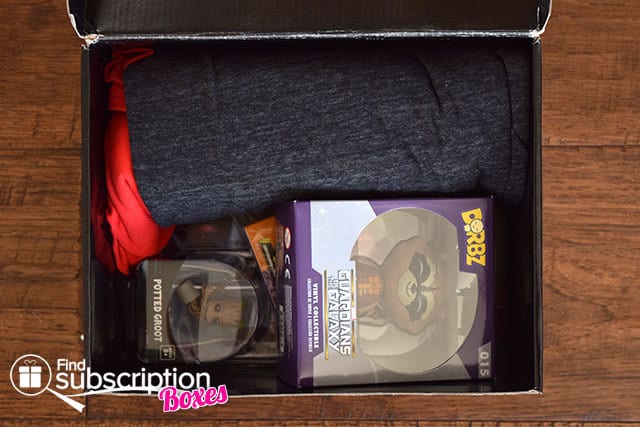 Inside the Power Up Box June 2015 Box
There were 7 geeky goodies in our June Power Up Box.

1. Monopoly Player T-Shirt
Wear this official Monopoly T-shirt to show off your Player status.
2. Monopoly Broke? T-Shirt
Wear this t-shirt as you pass Go and collect rent to make sure you never go broke!
3. Marvel Comics Groot #1
Groot and Rocket are on an intergalactic road trip to visit earth, but will they make it?
4. Dorbz Guardians of the Galaxy Rocket Racoon Vinyl
This mini vinyl Rocket will help inspire new inventions and escape routes!
5. Potted Groot NECA Scalers
Hanging this mini Potted Groot on your headphones or USB cords to take regular cables from drab to geek chic.
6. DeadWorld Orange Roamer Soda
This all natural DeadWorld soda is a limited edition release that features original artwork from the artists of the DeadWorld Comic Series.
7. Bean Boozled Jelly Belly Jelly Beans
Do you dare to try these jelly beans? Will you get Lawn Clippings or Lime flavor? Booger or Juicy Pear?
Power Up Box June 2015 Box Review Wrap-Up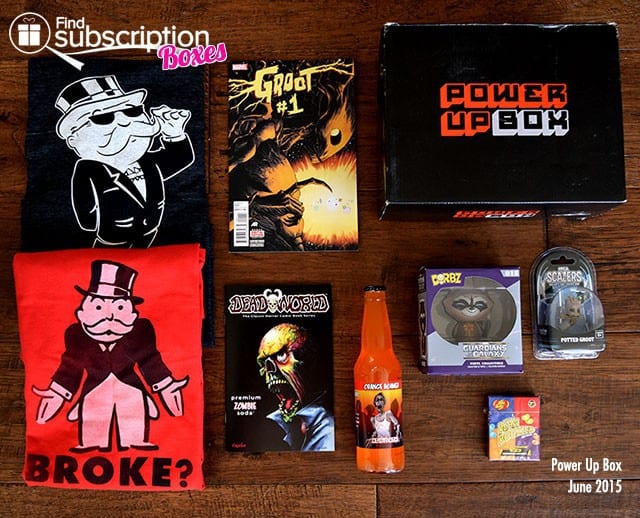 The Power Up Box June 2015 geek and gamer box was another great mix of licensed geek items. T-shirts are always a hit and the two official Hasbro Monopoly t-shirts were epic additions to our geek t-shirt collection. We loved the unique Marvel vinyl collectibles. The Scaler is a new one for our collection and is perfect for computer geeks.
What was your favorite geek goodie from your June Power Up Box?
Power Up Box Promo Codes
New Power Up Box subscribers can save $5 off new 3, 6, and 12 month Power Up Box subscriptions when you use code FSB5 at checkout OR save 10% off your 1st month of monthly Power Up Box subscriptions with code FSB10.
Want to give someone a Power Up Box of geek gifts every month? Gift them a Power Up Box geek box subscription to send them a surprise box filled with some of the most epic geek and gamer items. Our Power Up Box coupon codes work on gift subscriptions!