The Power Up Box subscription box for geeks, gamers, and nerds delivers epic gear every month. With this Power Up Box review, we're taking a closer look at the Power Up Box May 2015 Premium box, which features 6-9 items per box.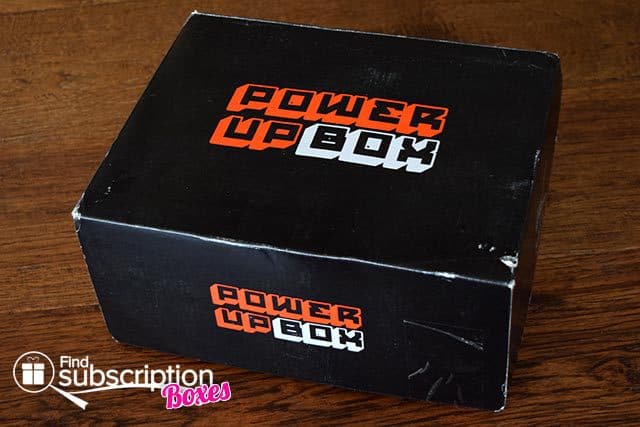 Here's a first look inside our May Power Up Box.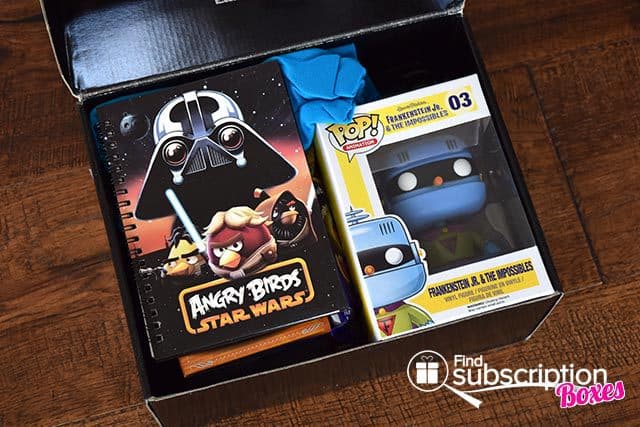 Inside the Power Up Box May 2015 Box
There were 9 items in our May 2015 Power Up Box.

1. Marvel Comics Star Wars Issue #4
Follow Luke on his quest to become a Jedi as he journey's back to Obi-Wan's hut on Tatooine.
2. Star Wars 48 Piece Puzzle
This officially licensed, 48 piece Star Wars puzzle assembles to show a picture Luke Skywalker.
3. Star Wars Return of the Jedi T-Shirt
Get ready for the next Star Wars movie with this officially licensed Return of the Jedi 100% cotton t-shirt.
4. Angry Birds Star Wars Jumbo Pen
5. Angry Birds Star Wars Notebook
Use this 50 page notebook and jumbo pen to keep track of your mission notes as you travel to galaxies far, far, away.
6. The Nightmare Before Christmas Mens Crew Socks
Christmas is in July when you wear these Jack Skellington socks.
7. Lightning Bugs Gummy Candy
These gummy candies come with special tongs to make these candy bugs glow.
8. For Fox Sake Mug
This mug will let others know you need that cup of coffee.
9. Pop! Animation Frankenstein Jr. & The Impossible Vinyl Figure
Build your Hanna-Barbera vinyl figure collection, starting with Frankenstein Jr. & The Impossibles.
Power Up Box May 2015 Box Review Wrap-Up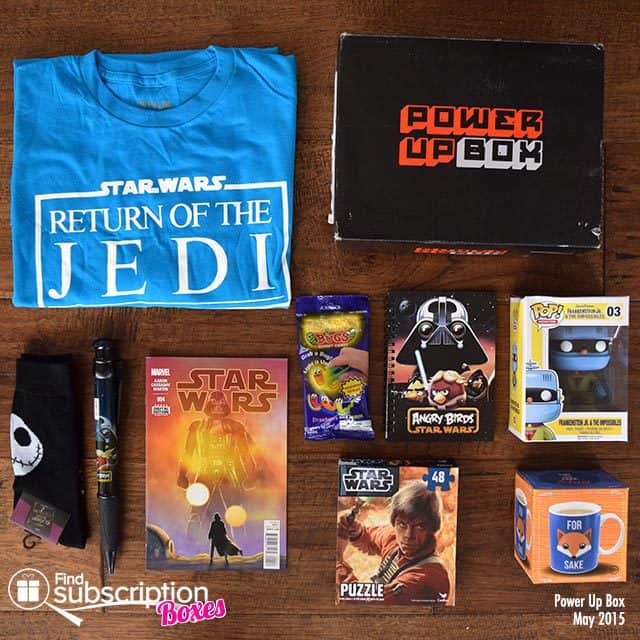 The Power Up Box May 2015 box prepped us for the upcoming Star Wars movie with a great mix of Star Wars swag. We loved that the May Power Up Box had a variety of licensed items. The pen and notebook are always useful and are fun desk accessories. The gummy candies that have light-up tongs are fun, geeky candies to enjoy while reading our new comic.
What was your favorite item from the May Power Up Box?
Power Up Box Coupon Codes
New Power Up Box subscribers can save $5 off new 3, 6, and 12 month Power Up Box subscriptions when you use code FSB5 at checkout OR save 10% off your 1st month of monthly Power Up Box subscriptions with code FSB10.