Powered Geek Box delivers monthly geek boxes of epic geeky, gamer and nerd gear right to your door step. Powered Geek box offers a Premium geek box that sends 6-9 geek items plus a monthly t-shirt and a Deluxe box which includes 4-6 items plus a monthly shirt. With today's Powered Geek Box review, we're unboxing the Powered Geek Box August 2016 geek box. The August Powered Geek Box theme was Villains.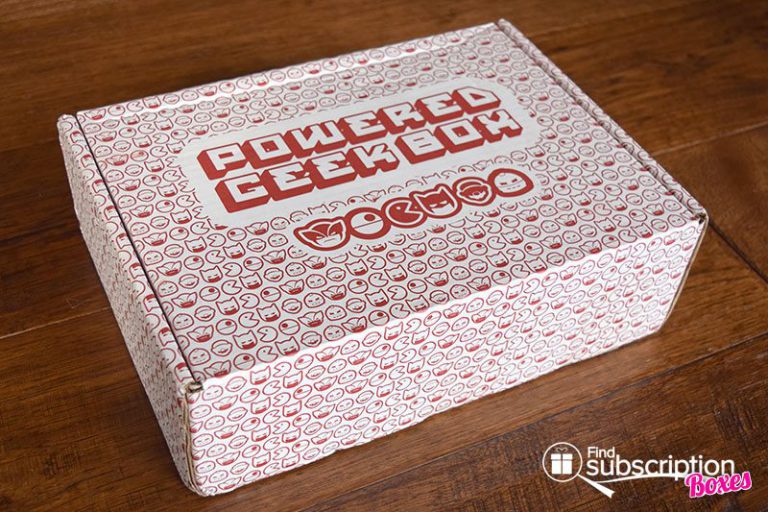 Powered Geek Box focuses on quality geek items for their monthly box, selecting the best geek t-shirts, comics and other geeky, gamer, and pop culture gear. Here's a first look inside our Powered Geek Box August box.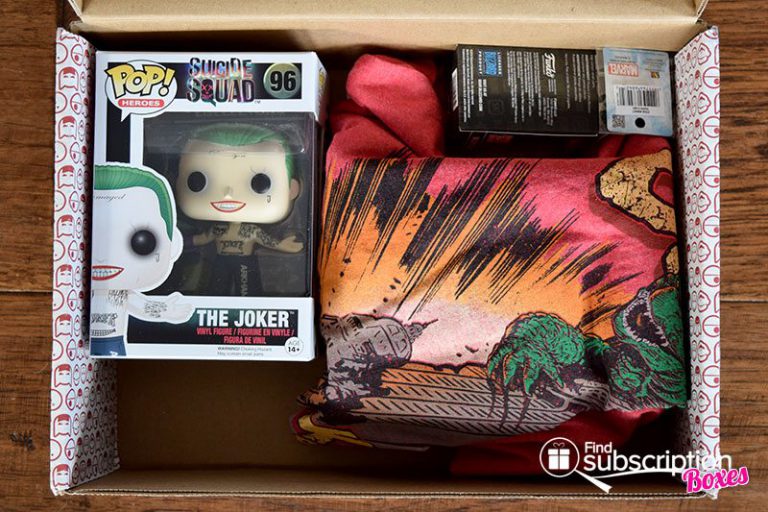 Inside the Powered Geek Box August 2016
There were 8 geek and nerd items in our August Powered Geek Box.

Godzilla King of the Monsters! T-Shirt
Funko Pop! Heroes Suicide Squad The Joker Vinyl Figure
Batman The Joker Air Freshener
Original Mini's Suicide Squad Collectible Figure
I ♥ Harley Quinn Sticker
DC Comics Batman Villains Playing Cards
Funko Pocket Pop! World of Warcraft Murloc
Marvel Hydra Pin
Powered Geek Box August 2016 Subscription Box Review Wrap-Up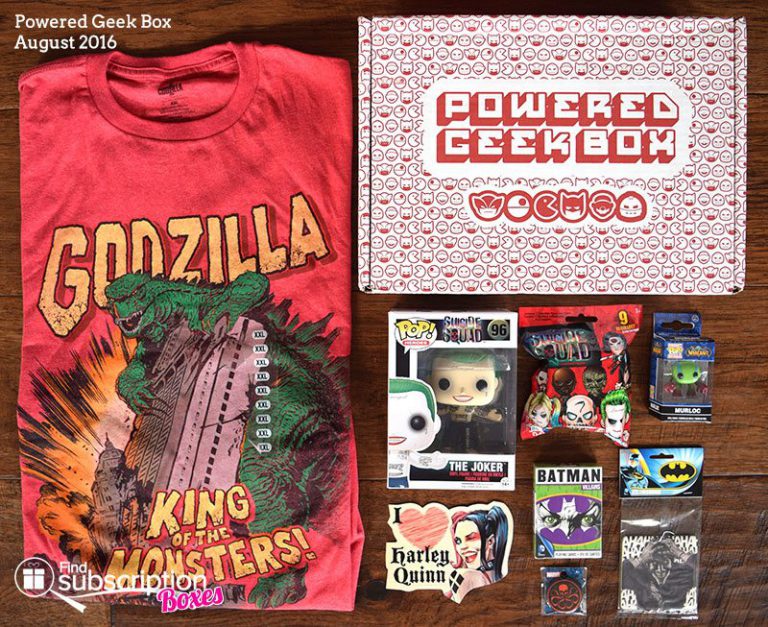 From Suicide Squad to Godzilla, the August Powered Geek Box had officially licensed collectibles from popular villains from movies and comics. Godzilla Resurgence is coming on October 11, 2016 and this Godzilla t-shirt provides a glimpse of what's in store. The heather-red shirt shows the gilled monster doing what he does best – destroying buildings and causing destruction.
Our Powered Geek Box featured several DC Comics' Suicide Squad collectibles. While The Joker only briefly appeared in the movie, he can make his presence known in your Funko collection with the Suicide Squad The Joker Funko Pop! figure. His evil grin will smile back at you, while freshening the air, with The Joker air freshener. The I ♥ Harley Quinn sticker has a colorful, illustrated design that you can use to decorate your car, binders, or walls. The last Suicide Squad item in the box was the Original Mini's mystery figure. Which of the 9 collectible figures did you get?
Also from DC Comics, Powered Geek Box included a deck of playing cards that features all of the Batman villains. This official playing card deck has 52 images from the Batman Rogues Gallery on the back of the cards. The card backs have colorful designs of The Joker, The Penguin, The Riddler, and more of Batman's (and mankind's) foes.
Although murlocs could technically be considered villains, we thought the Murloc Funko Pocket Pop! keychain was uber cute.
The last item in the box was the Marvel pin featured the logo of the villainous Hydra group. If you've been following Marvel's The Avengers, Agents of S.H.I.E.L.D. you'll know that there's more to this ominous logo than meets the eye.
What was your favorite August Powered Geek Box item?
Get a sneak peek into the September 2016 Powered Geek Box!
Powered Geek Box Coupon
For a limited time, save $3 off the Powered Geek Box Premier Box with Powered Geek Box promo code SUMMER3.