Powered Geek Box is a monthly subscription box for geeks, gamers, and nerds. Every month, they send a mystery geek box filled with epic geeky, gamer and nerd gear right to your door step. Powered Geek Box offers a Premium geek box that sends 6-9 geek items plus a monthly t-shirt and a Deluxe box which includes 4-6 items plus a monthly shirt. With today's Powered Geek Box review, we're unboxing the Powered Geek Box November 2016 geek box. The October Powered Geek Box theme was MAGIC.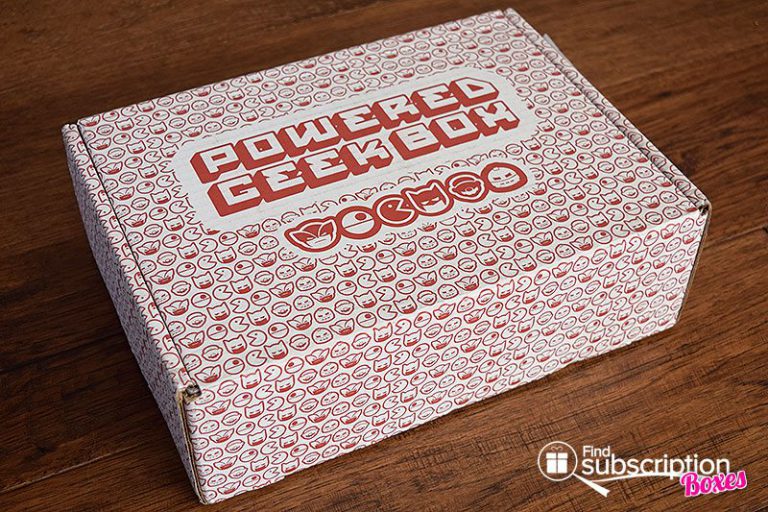 Powered Geek Box sends quality geek items in their monthly geek box, selecting the best geek t-shirts, comics and other geeky, gamer, and pop culture gear. Here's a first look inside our Powered Geek Box November Magic box.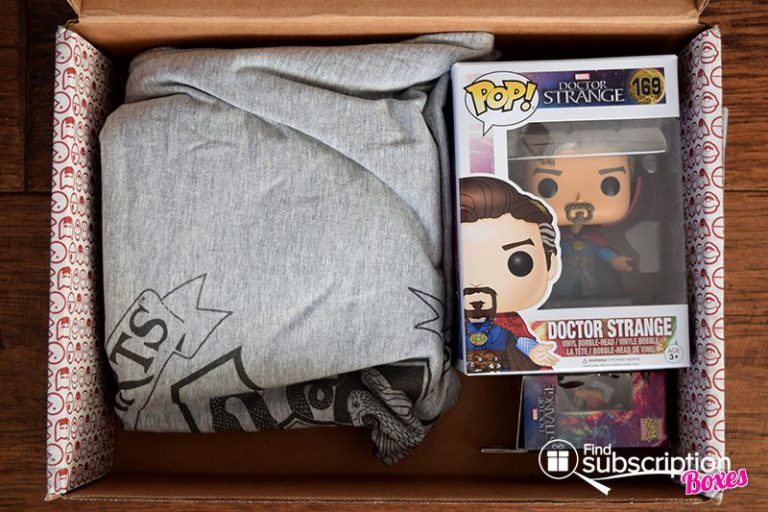 Inside the Powered Geek Box November 2016 Geek Box
There were 7 geek and nerd items in our November Powered Geek Box.

Harry Potter Hogwarts Alumni T-Shirt
Funko Pop! Marvel Doctor Strange
Marvel's Doctor Strange Original Mini's Domez Blind Bag
Marvel's Doctor Strange Funko Pocket Pop! Keychain
Fantastic Beasts and Where to Find Them Keyring
Magic Apprentice Workshop Owl Key Holder
Once Upon a Time 100 Piece Pocket Puzzle
Powered Geek Box November 2016 Box Review Wrap-Up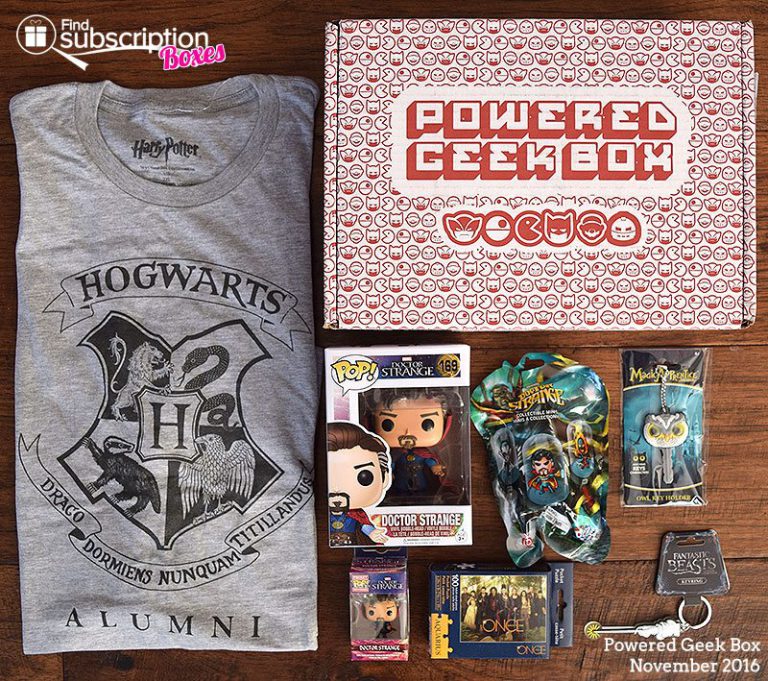 November's Magic Powered Geek Box had magical items from some of our favorite wizarding franchises. We absolutely love the Hogwards Alumni t-shirt. It has the crest of all 4 houses and the Hogwarts motto "Draco Dormiens Nunquam Titillandes", which means "Never Tickle a Sleeping Dragon." Representing the latest feature film from J.K. Rowling is the handy keyring from Fantastic Beasts and Where to Find Them. The keyring has a hand "casting" a spell with it's wand. The owl key holder can also help you keep track of your keys. The owl's eyes even move.
There were three Marvel's Doctor Strange figures in November's Powered Geek Box. The Funko Pop! and the Pocket Pop! Keychain are great additions to our Funko collection. Both figures have Doctor Strange wearing his Cloak of Levitation and the Eye of Agamoto around his neck. From Zag Toys, the new Original Minis Domez blind bag has one of 8 Doctor Strange characters in a new Domez case.
Finally, the 100 piece Once Upon a Time puzzle is a fun puzzle that everyone can enjoy. Once assembled, the picture is 8″ x 6.25″ and reveals the Once Upon a Time cast.
What was your favorite November Powered Geek Box item?
Powered Geek Box Coupon
For a limited time, save $3 off the Powered Geek Box Premier Box with Powered Geek Box promo code Starwars.