Powered Geek Box delivers a monthly subscription box of epic geeky, gamer and nerd gear right to your door step. Powered Geek box offers a Premium geek box that sends 6-9 geek items plus a monthly t-shirt and a Deluxe box which includes 4-6 items plus a monthly shirt. With today's Powered Geek Box review, we're unboxing the Powered Geek Box September 2016 geek box. The September Powered Geek Box theme was HEROES.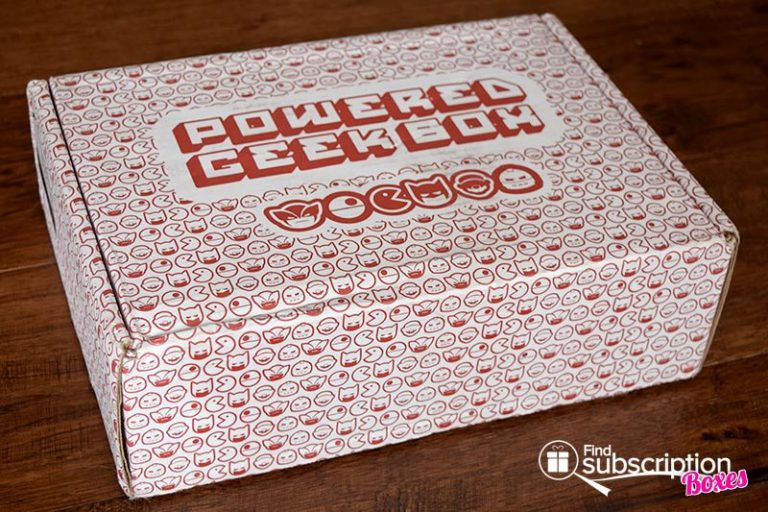 Powered Geek Box sends quality geek items in their monthly geek box, selecting the best geek t-shirts, comics and other geeky, gamer, and pop culture gear. Here's a first look inside our Powered Geek Box September Heroes box.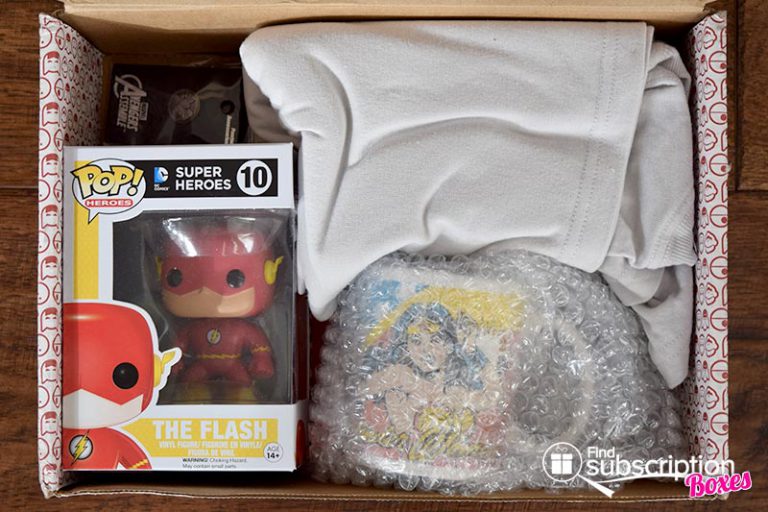 Inside the Powered Geek Box September 2016 Geek Box
There were 7 geek and nerd items in our September Powered Geek Box.

Batman T-Shirt
Marvel Comics Packable Shopper Bag
Marvel Thor Magnet
Funko Pop! Heroes Super Heroes The Flash Vinyl Figure
Wonder Woman Mug
Mega Man Backpack Hangers Blind Bag
Marvel Avengers Assemble Pewter Pin
Powered Geek Box September 2016 Box Review Wrap-Up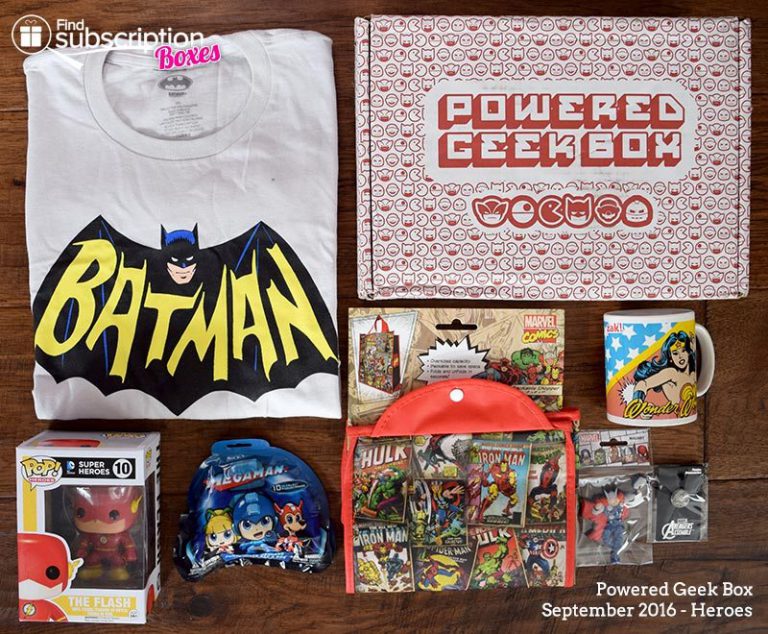 September's Powered Geek Box was packed with geek collectibles featuring some of our favorite heroes. Starting with the Batman t-shirt which is simply AWESOME. We love that it has the classic Batman logo from the Batman TV show starring Adam West and Burt Ward. Another great retro super hero item is the Wonder Woman mug. With the new Wonder Woman popping up in Batman v. Superman and the latest Justice League trailers, and the new movie release in June 2017, it's great getting a head start on our Wonder Woman Collectibles.
There were two figures in the September Powered Geek Box. First up was The Flash Funko Pop! vinyl. Standing 3 3/4″ tall, this The Flash figure has a moveable head and has Barry Allen wearing The Flash outfit first introduced in the 1956 comic books. Next is the Mega Man mystery figure. Each blind bag has one of 10 classic Mega Man characters that you can hang on your backpack or purse.
Finally, we had three items from Marvel. The Marvel Comics shopping bag is a great accessory for geeks with families or eco-friendly geeks. You can use it to conveniently carry groceries or other items. It easily folds up for storage when not in use. The Thor magnet is a great decoration for your refrigerator or other metal surfaces. The Avengers pin features S.H.I.E.L.D's logo and is a subtle way to show off your Marvel fandom.
What was your favorite September Powered Geek Box item?
Get a sneak peek into the November 2016 Powered Geek Box!
Powered Geek Box Coupon
For a limited time, save $3 off the Powered Geek Box Premier Box with Powered Geek Box promo code MAGIC.