If you love candles and home decor, the Scent From candle and home fragrance monthly subscription box by IWOOT is for you. Each month, Scent From selects a different travel destination and delivers premium candles and home decor products featuring that location. With today's Scent From review, we're unboxing the Scent From December 2016 candle subscription box. The December Scent From destination was New York.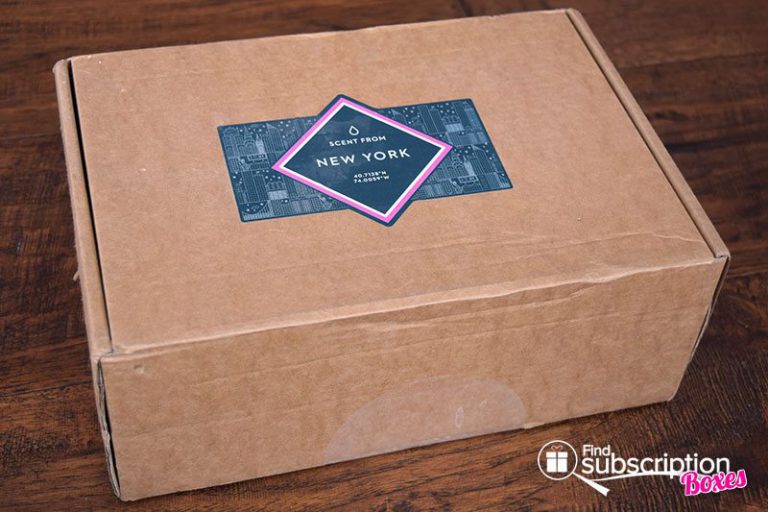 Each Scent From candle box has a card describing that month's theme. It also describes each of the candles and home decor products in the box.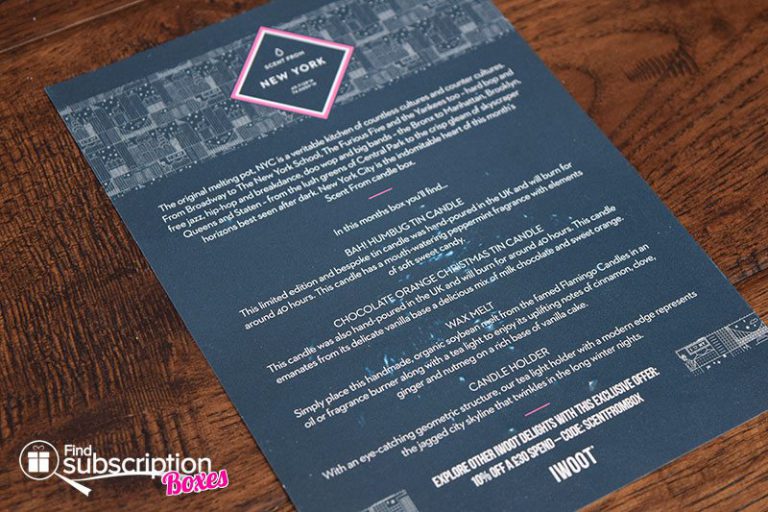 Here's a first look inside our Scent From December 2016 New York box.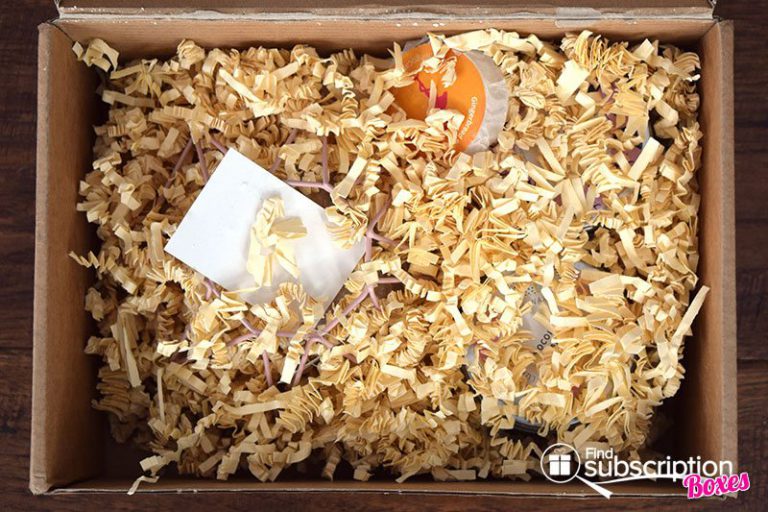 Inside the Scent From December 2016 New York Box
There were 4 candles, home fragrance and home decor items in our December 2016 New York Scent From box.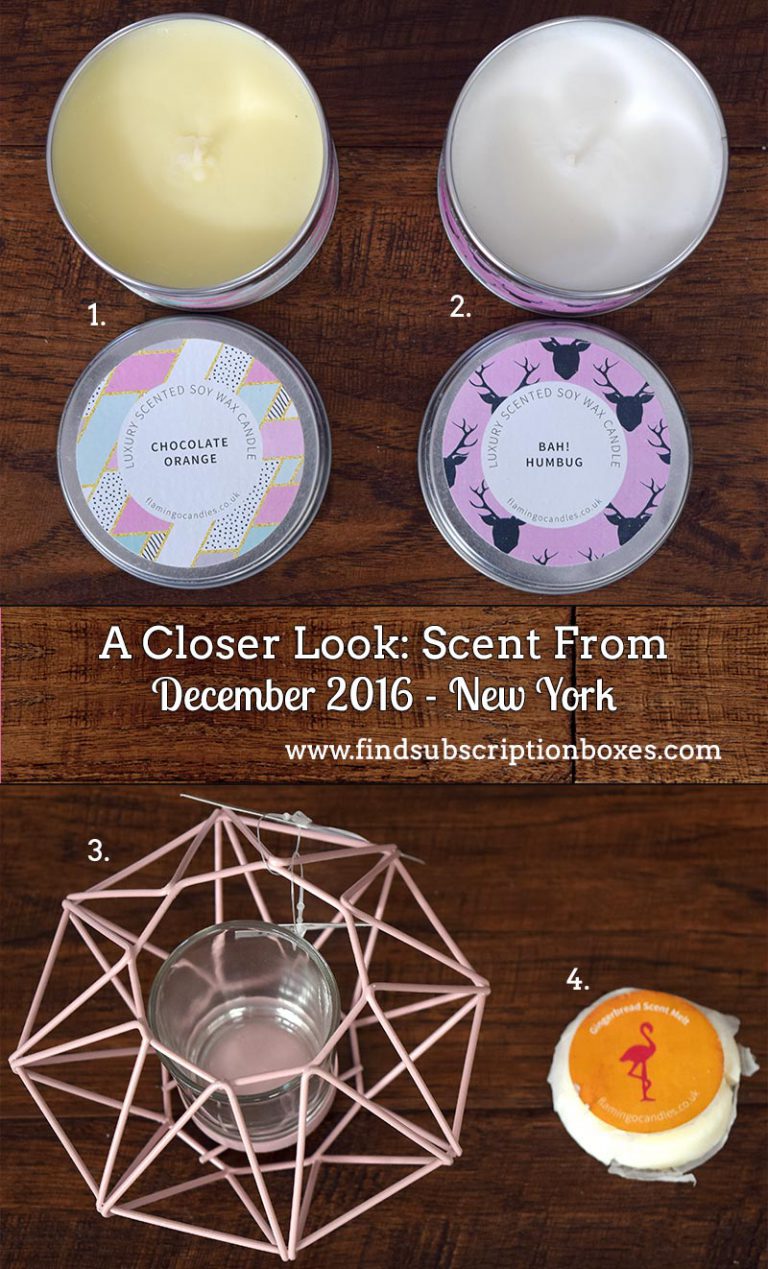 Chocolate Orange Christmas Tin Candle
Hand-poured in the UK, this candle features a delicate vanilla base with a delicious mix of milk chocolate and sweet orange.
Bah! Humbug Tin Candle
This limited edition, hand-poured candles has a mouth-watering peppermint fragrance with hints of sweet candy.
Candle Holder
Evoke the feel of the jagged city skyline with this geometric candle holder.
Flamingo Candles Wax Melt – Gingerbread
Use this handmade, organic wax melt to add notes of cinnamon clove, ginger and nutmeg to your home.
Scent From December 2016 New York Box Review Wrap-Up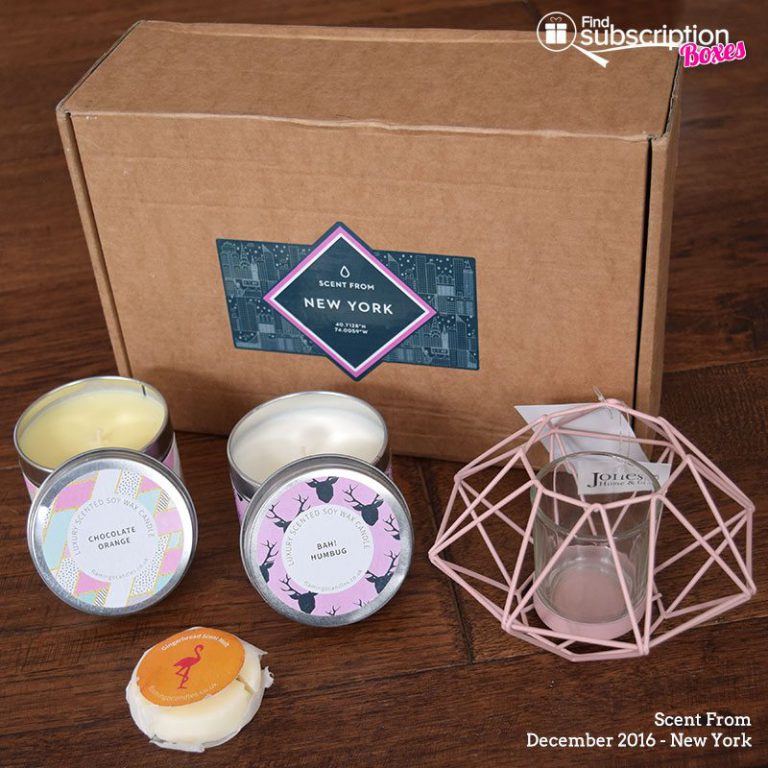 We love that Scent From delivers unique, high quality fragrances that evoke the essence of that month's travel destination. Both of the limited edition, hand-poured candles burn for around 40 hours and will fill your home with scents inspired by New York. The Bah! Humbug candle is totally festive and has a sweet, peppermint candy fragrance. For something a little cozier, the Chocolate Orange Soy Wax candle adds a warm scent that combines citrusy orange, hints vanilla and the sweetness of chocolate.
December's New York Scent From home decor item was an intricate pink metal candle holder. You can use it with a tea light or small candle to add a glow to any room. The pink color makes it a nice candle holder for Easter too!
Finally, we loved the spicy, cinnamon scent of the Gingerbread Scent Melt from Flamingo Candles. These scent wax melts can be used in oil warmers or fragrance burners. Within minutes of heating up the wax melt, the entire home smelled amazing. I love the spice from the ginger, cinnamon and clove that combines with the vanilla cake to make a scent that's both crisp and comfortable.
What was your favorite candle from the Scent From December 2016 New York Box?
Scent From Coupon Code
For a limited time, use Scent From promo code SCENT5 to save £5 off ($6.40) off your first box PLUS get free shipping to the US and Canada. Your first Scent From box is just $18.99 after savings!