Scent From is a candle and home fragrance monthly subscription box brought to you by IWOOT. Each month, Scent From selects a different travel destination and delivers premium candles and home decor products featuring that location. With today's Scent From review, we're unboxing the Scent From November 2016 candle subscription box. The November Scent From destination was Stockholm.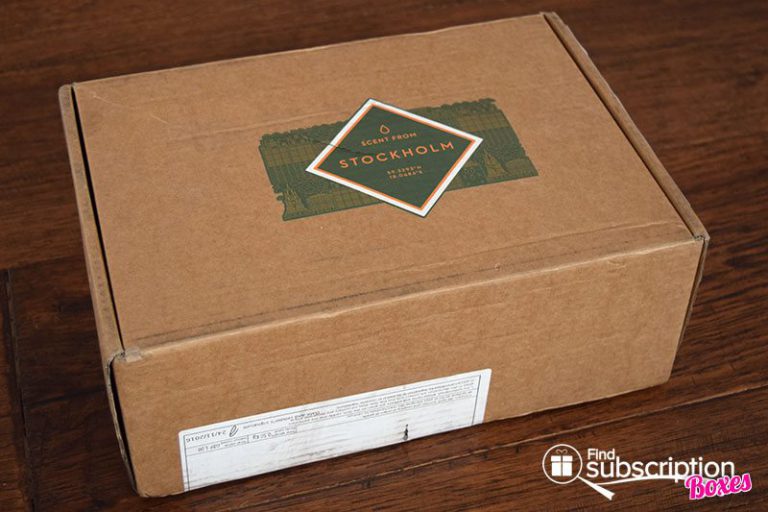 Scent From includes a card describing that month's theme and listing each of the candles and home decor products in the box.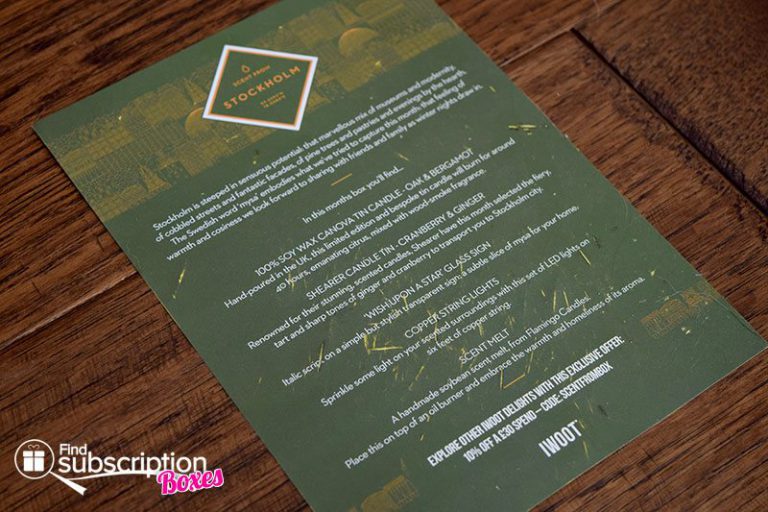 Here's a first look inside our Scent From November 2016 Stockholm box.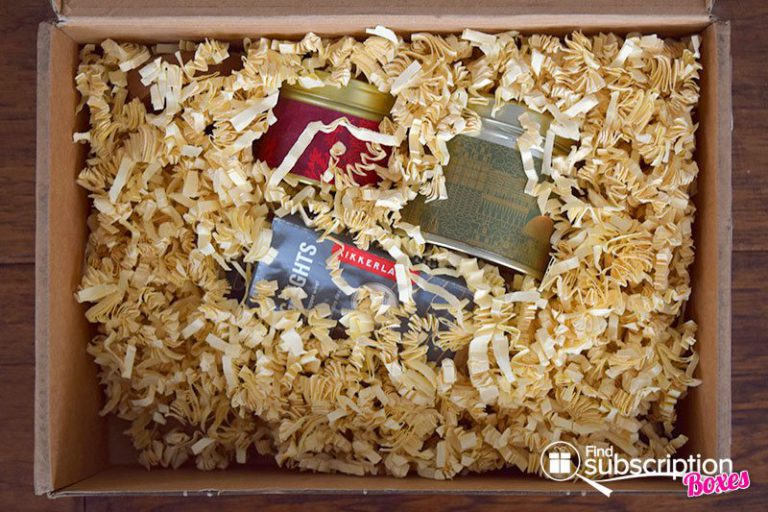 Inside the Scent From November 2016 Stockholm Box
There were 5 candles, home fragrance and home decor items in our November 2016 Stockholm Scent From box.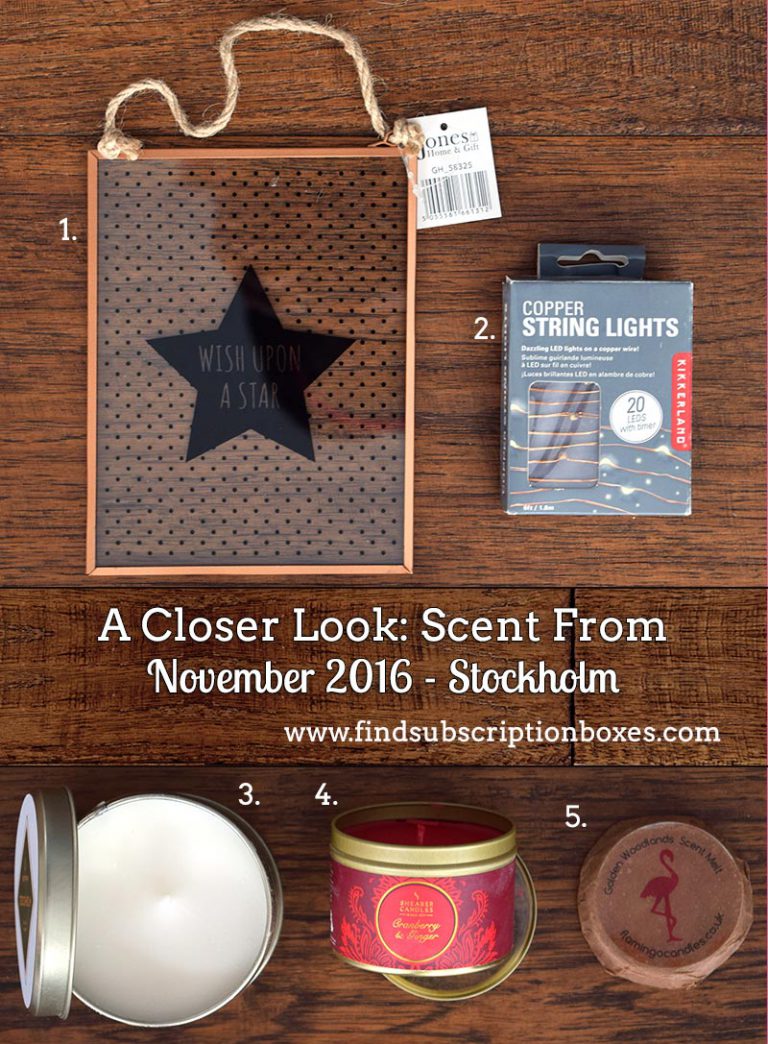 'Wish Upon a Star' Glass Sign
Add a subtle slice of "mysa" to your home with this simple but stylish sign.
Copper String Lights
Sprinkle some light into your home with this set of LED lights on a copper string.
100% Soy Wax Canova Tin Candle – Oak & Bergamot
This limited edition candle tin is hand-poured in the UK and has a citrus, mixed with wood-smoke fragrance.
Shearer Candle Tin – Cranberry & Ginger
Be transported to Stockholm city with this tart and sharp scents of ginger and cranberry.
Scent Melt
From Flamingo Candles, this handmade soybean scent melt will add warmth and homeliness to any room.
Scent From November 2016 Stockholm Box Review Wrap-Up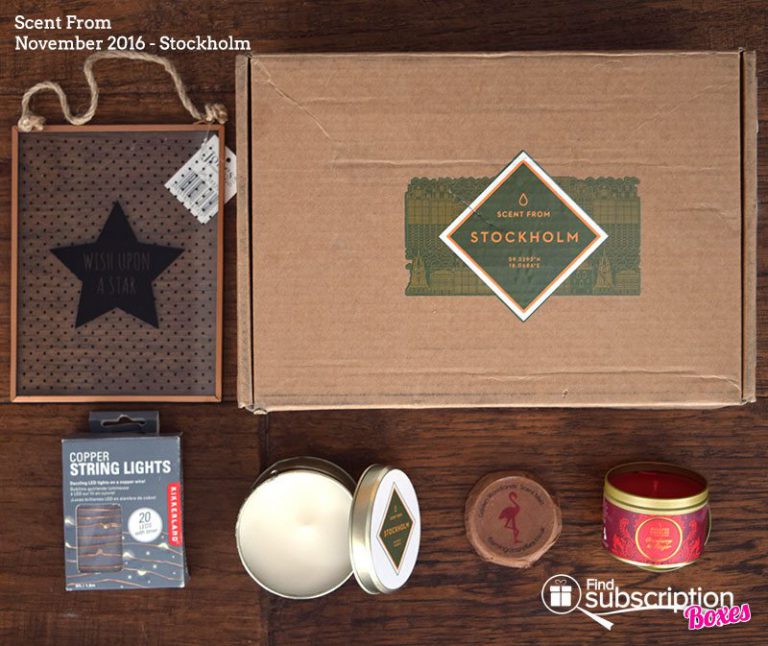 Once again, Scent From delivered some amazing smelling candles and classy home decor products in their monthly subscription box. There were two classy home decor items in the Stockholm Scent From box. We love the copper string lights. Each LED light is strung on a copper wire that you can wrap around mirrors, poles, or wherever you want to add a little light. The Wish Upon a Star Glass sign is a great decoration for front doors, bedrooms, and offices.
We used the Flamingo Candles Scent Melt with our electric oil warmer. This scent is so fresh and vibrant. It also has great throw which makes the whole house smell clean.
We first discovered Shearer Candles in October's Scent From box and their quality impressed us. Their Cranberry & Ginger candle is perfect for the holidays, with a hint of spice from the ginger and warm, soothing aromas.
Finally, the Scent From, hand-poured Stockholm candle brings the great outdoors into your home. You can definitely smell the woodsy scents with a hint of citrus mixed in. This candle burns for about 40 hours!
What was your favorite candle from the Scent From November 2016 Stockholm Box?