Sci-Fi Block is the new science fiction subscription box from the Nerd Block family. Each Sci-Fi Block is a mystery box featuring 4-6 sci-fi pop culture collectibles, toys, and an exclusive sci-fi t-shirt. With today's Sci-Fi Block review, we're unboxing the November 2015 Sci-Fi Block. The November box is the first-ever Sci-Fi Block.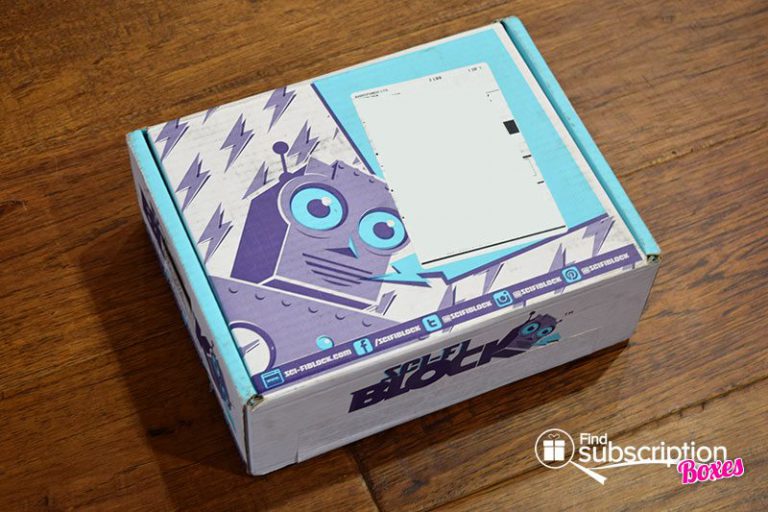 Sci-Fi Block includes a product cards describing the sci-fi collectibles in that month's sci-fi subscription box.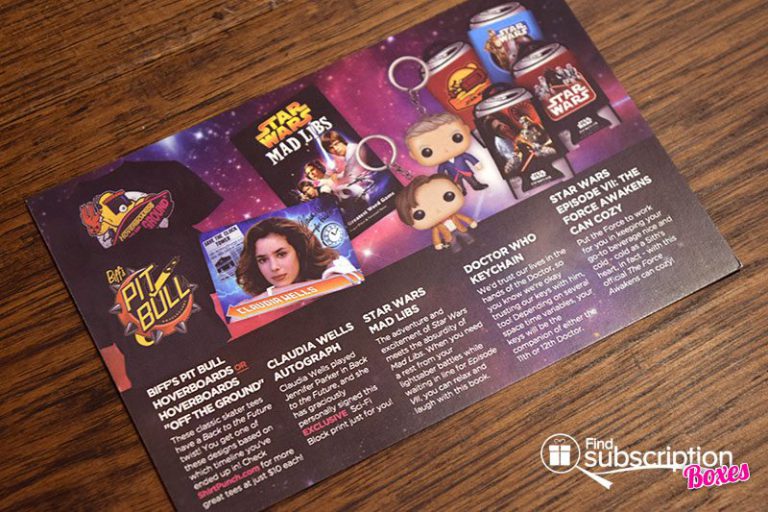 Here's a first look inside our November Sci-Fi Block.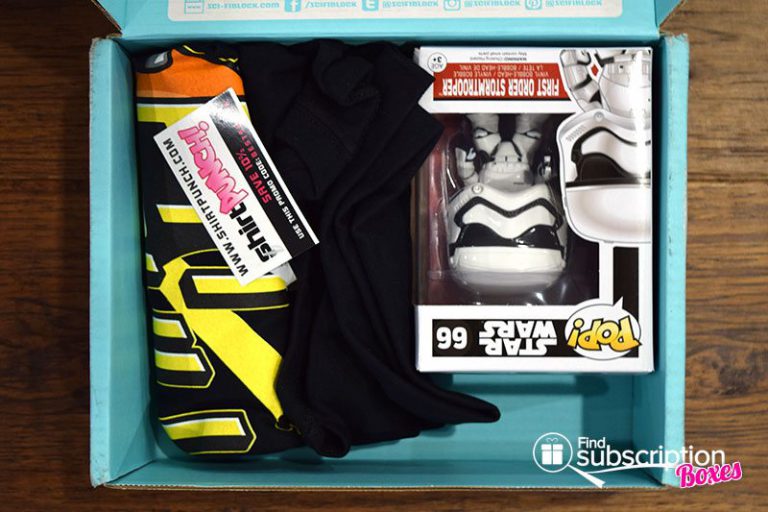 Inside the Sci-Fi Block November 2015 Box
Theres were 6 sci-fi collectibles in our November Sci-Fi Block.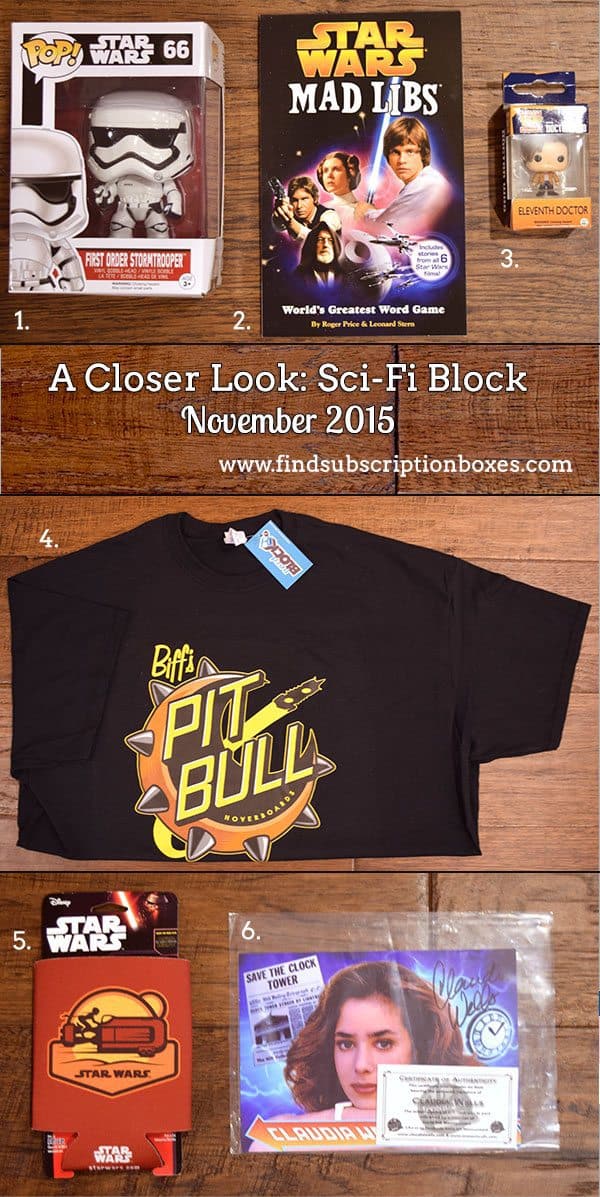 Star Wars Episode VII: The Force Awakens First Order Storm Trooper Funko Pop! Vinyl
Start your Star Wars Episode VII vinyl collection with one of these new Star Wars: The Force Awakens vinyls.
Star Wars Mad Libs
Recreate your favorite Star Wars stories and invent new adventures with this Star Wars Mad Libs book.
Doctor Who Keychain
You can trust the Doctor with your keys thanks to this 11th Doctor Funko Pocket Pop! Keychain.
EXCLUSIVE Biff's Pitt Bull Hoverboards
Sport this classic Back to the Future skater tee for your next adventure through time.
Star Wars Episode VII: The Force Awakens Can Cozy
Keep your beverages cool using the force of this official Star Wars The Force Awakens can cozy.
EXCLUSIVE Claudia Wells Autograph
Jennifer Parker has traveled Back to the Future and into this month's Sci-Fi block with an exclusive signed print.
November 2015 Sci-Fi Block Box Review Wrap-Up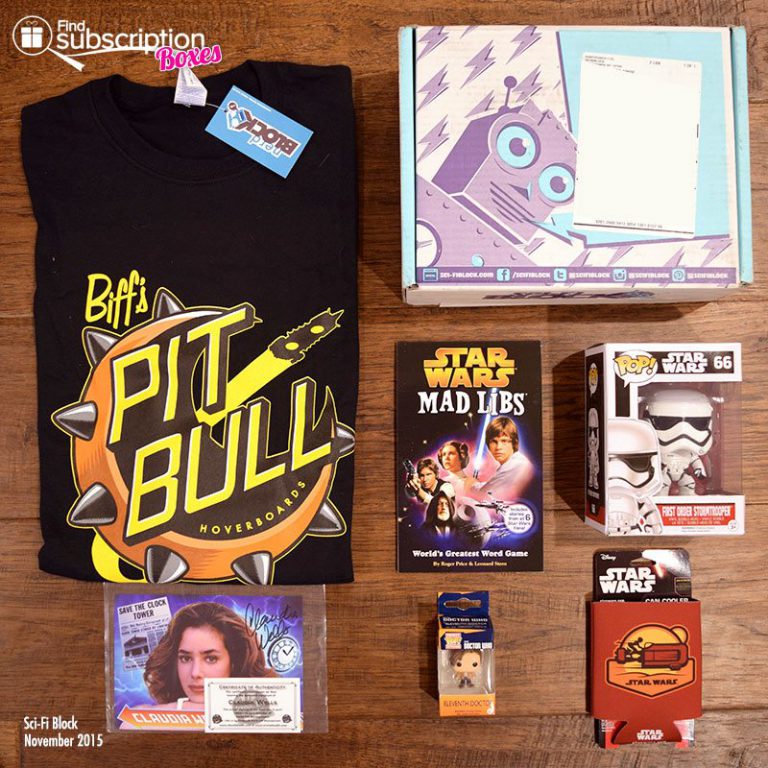 The November Sci-Fi Block featured sci-fi collectibles from Star Wars, Back to the Future, and Doctor Who! The Star Wars collectibles are perfect items for the upcoming Star Wars Episode VII: The Force Awakens movie release. Back to the Future fans will love the exclusive t-shirt and signed print. We loved that our BBC 11th Doctor Who Pocket Pop! keychain is holding a mini sonic screwdriver.
What was your favorite item from the November Sci-Fi Block?
Free Welcome Block Offer
For a limited time, through November 25, 2015. new Sci-Fi Block subscribers can get a FREE Welcome Block filled with $20 of nerd collectibles with new Sci-Fi Block subscriptions – no code required!