There are quite a few Fancy box options available, from the Fancy Box to the Tyler Florence Fancy Box and others.
This month, we're taking a look at our first Fancy Food Box, a curated collection of gourmet artisan foods and snacks.
As soon as the September 2013 Fancy Food Box arrived, I could tell this was a little different than some of the other boxes we've tried. The box was quite large and was vibrant yellow with a white Fancy logo on the side.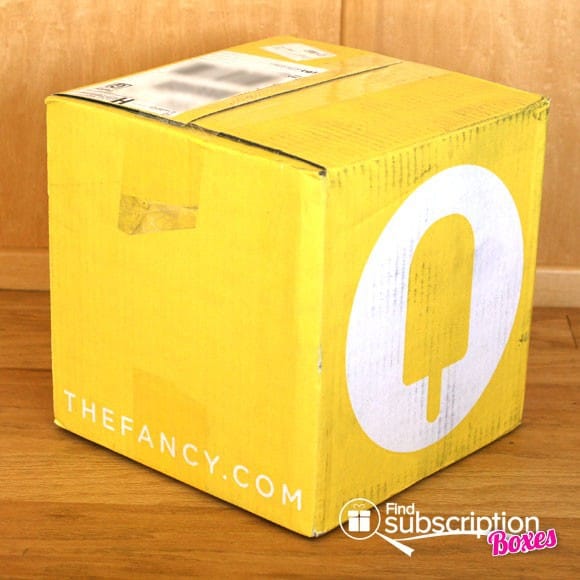 The first thing I saw was a Fancy envelope which had a thank you card and a couple of Fancy stickers. The rest of the box contents were hidden by black tissue paper.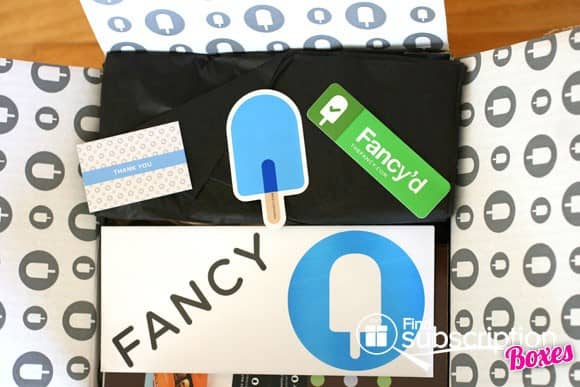 Under the envelope were some informational cards with pictures and descriptions of the items in the box.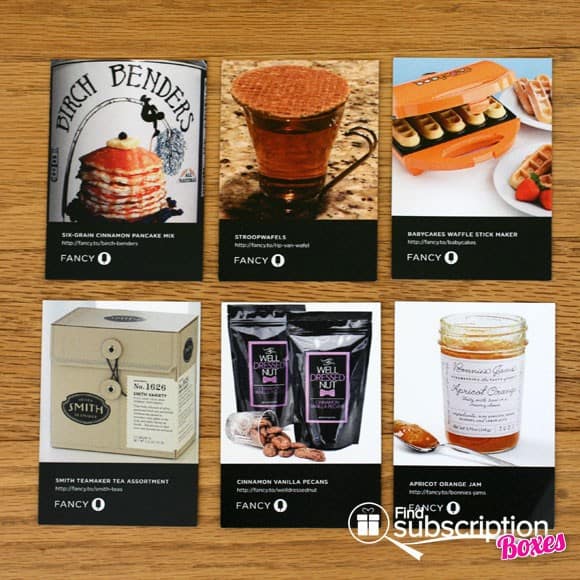 Inside the September 2013 Fancy Food Box Monthly Subscription Box
There were 6 items in the September 2013 Fancy Food Box.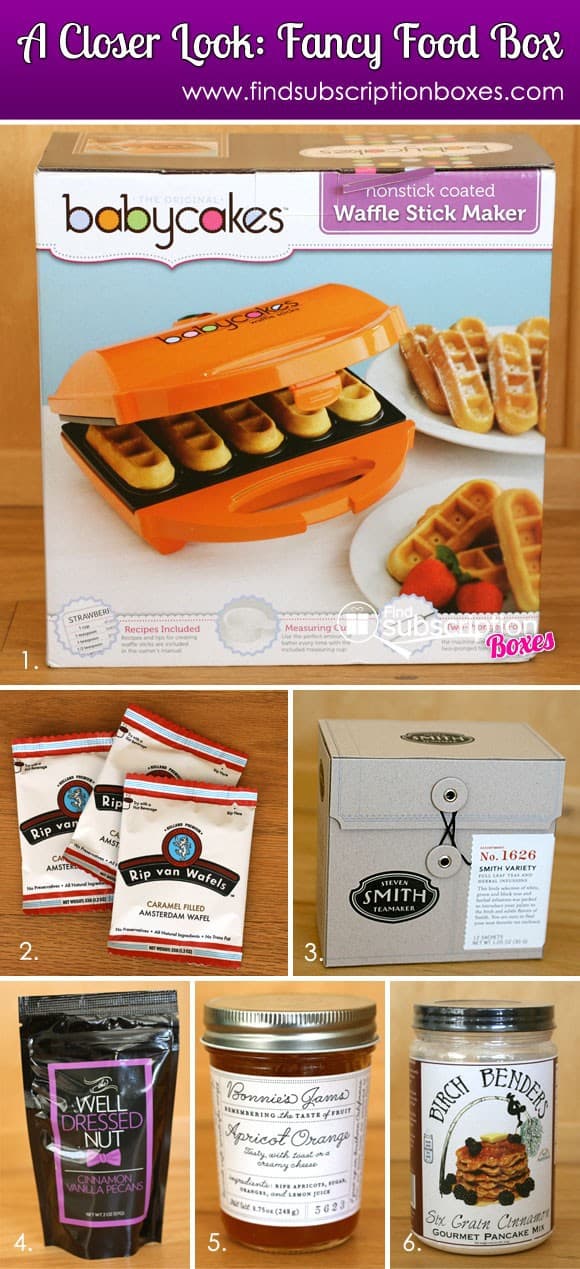 1. Babycakes Waffle Stick Maker, Retail Value: $25
Totally unexpected but was used the day we received the box. Waffles = win. Waffle Sticks = double win.
2. Rip van Wafels – 3 Waffles, Estimated Value: $3.75
These Amsterdam Waffles are filled with caramel that you melt over a hot cup of coffee.
3. Steven Smith Teamaker No. 1626 Smith Variety – 12 count – Retail Value: $14.99
Try three of full leaf teas and herbal infusions from Smith Teaworks.
4. Well Dressed Nut Cinnamon Vanilla Pecans – 2 oz, Retail Value: $6
These Well Dressed Nuts were so good, even people who weren't pecan fans enjoyed them. A great blend of cinnamon and vanilla without being overwhelming.
5. Bonnie's Jams Apricot Orange  – 8.75 oz, Retail Value: $9
Class up your toast, biscuits, or even your PB&J sandwiches with Bonnie's Jams Apricot Orange Jam.
6. Birch Benders Six Grain Cinnamon Gourmet Pancake Mix – 9.92 oz, Retail Value: $7.50
Delicious pancakes have never been easier. Just add water, shake, and cook up your pancakes
Fancy Food Box Monthly Subscription Box Wrap-Up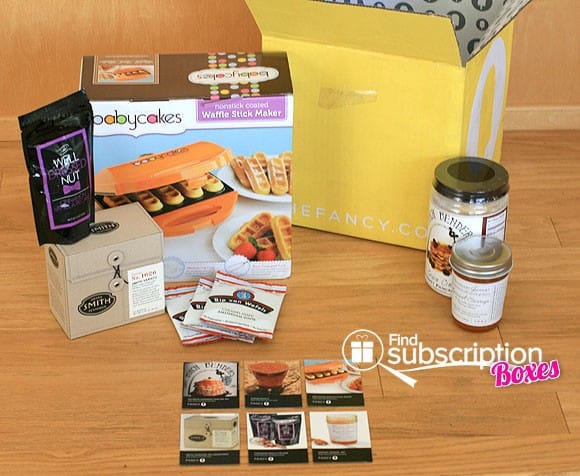 The September 2013 Fancy Food box was a surprise from the moment it was opened. There was a great variety of items and the quality was top notch. The gourmet food products and the Babycakes Waffle Stick Maker combined to make a box with an estimated $66.24 value.
Did you receive the September Fancy Food Box? Which was your favorite item?