Getting married is something that many women look forward too – the dress, the flowers, and the love of their life, all wrapped up in one big white bow. At least that's the hope. Along with weddings, there also comes planning, organizing, shopping, and other details that need to be taken care of.
StudioWedBox is a new subscription box designed just for brides (or even soon-to-be or want-to-be brides!) Every month, you'll receive the best products in the bridal industry, along with tips and other items to help with wedding planning.
Today, we're taking a look at the Setpember 2013 StudioWedBox, which arrived in a cardboard box.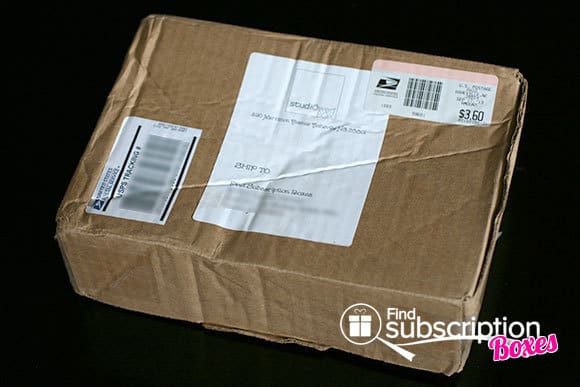 The StudioWedBox inside was in perfect condition, elegantly wrapped in a green bow.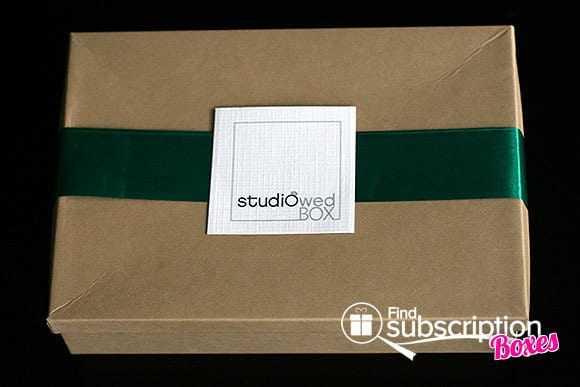 The contents of the box were wrapped in a nice black and white zigzag tissue paper…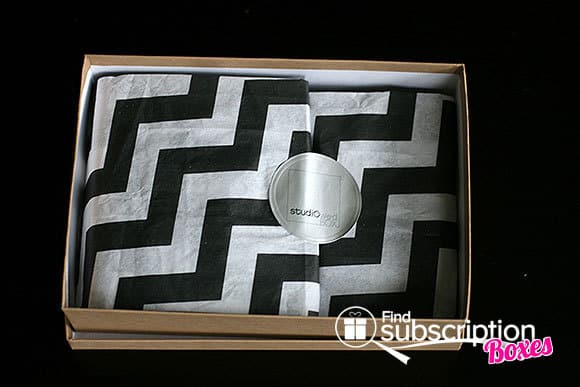 … which carefully wrapped the items inside.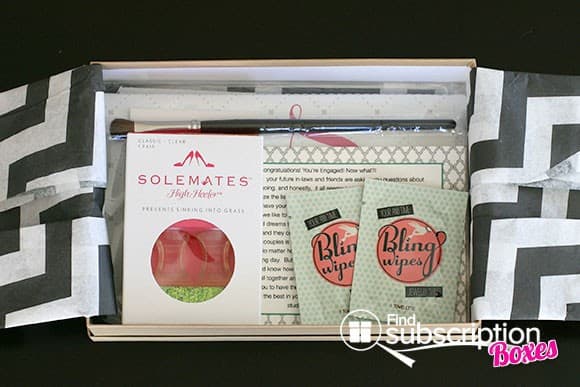 Also included in the box were two note cards that described each of the items in the StudioWedBox.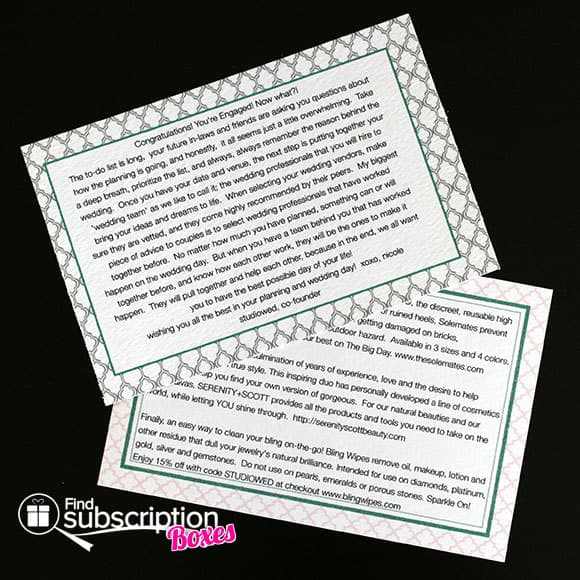 Inside the September 2013 StudioWedBox
There were 4 items in our September 2013 StudioWedBox.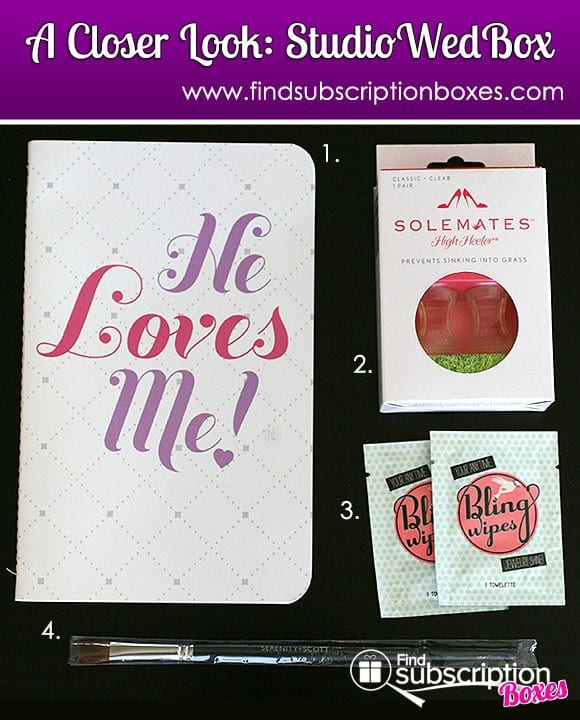 1. May Designs He Loves Me! Wedding Planner, Retail Value: $15
The He Loves Me! Wedding Planner notebook from May Designs has a calendar, and pages to help you keep track of your budget, your calendar, and all things wedding.
2. Solemates High Heeler – Classic Clear, 1 Pair, Retail Value: $9.95
If you've ever walked on grass in high heels, you know why you need these. The Solemates High Heeler will help prevent those heels from sticking in grass, in grates, between gaps on wooden decks, etc.
3. Bling Wipes – 2 Towelettes, Estimated Value: $2.40
Keep your jewelry sparkling clean with Bling Wipes. These individually wrapped towelettes are perfect for removing oil, makeup, lotion, and other dirt from your jewelry.
4. Serenity+Scott Makeup Brush, Retail Value: $14
Serenity+Scott brushes are made with a Japanese synthetic fiber and are cruelty free. Since they're synthetic, they don't harbor bacteria that can affect those with sensitive or acne prone skin. The have a line of brushes that range from eye shadow brushes to powder brushes.
StudioWedBox Bride Monthly Subscription Box Wrap-Up
The September 2013 StudioWedBox had a great mix of items for brides and brides-to-be. The contents of the StudioWedBox have an estimated value of $41.35.