Designed for young STEMists ageds 8+, Groovy Lab in a Box  delivers a monthly box of everything needed to do hands-on science, technology, engineering, and mathematics (STEM) experiments. The theme for the September 2014 Groovy Lab in a Box is Under Pressure! September's "Under Pressure" Grovvy Lab in a Box is a weather-themed box perfect for STEMists fascinated with the weather.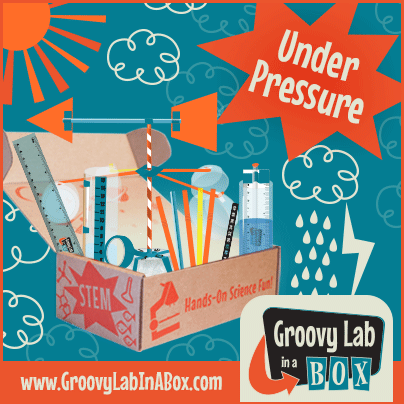 Is that a storm brewing ahead? You can find out with your "Under Pressure" Groovy Lab in a Box! Using only the materials from your box, build a working weather station that allows you to measure humidity, rainfall, wind speed and direction, and atmospheric pressure.
In addition to teaching your child about clouds, reading weather instruments, and interpreting data, your STEMist's Groovy Lab in a Box "Under Pressure" box also includes a groovy Lab Notebook where your kids can read about this month's investigations and Engineering Design Challenge. Groovy Lab in a Box subscribers also get exclusive access to the Beyond…in a Box web portal for additional learning and fun!
Is your young STEMist a weather fan?
Want to subscribe to Groovy Lab in a Box? Use our exclusive Groovy Lab in a Box coupon code to save! Through November 30, 2014 save 25% off Groovy Lab in a Box monthly subscriptions with code FSB25.