Arcade Block is a video game monthly subscription box from Nerd Block. Every Arcade Block has 4-6 video game collectibles, including an exclusive gamer t-shirt, with a total $60+ value. In addition, every Arcade Block has a free $10 credit to ShirtPunch.com! With today's Arcade Block review, we're unboxing the September 2016 Arcade Block.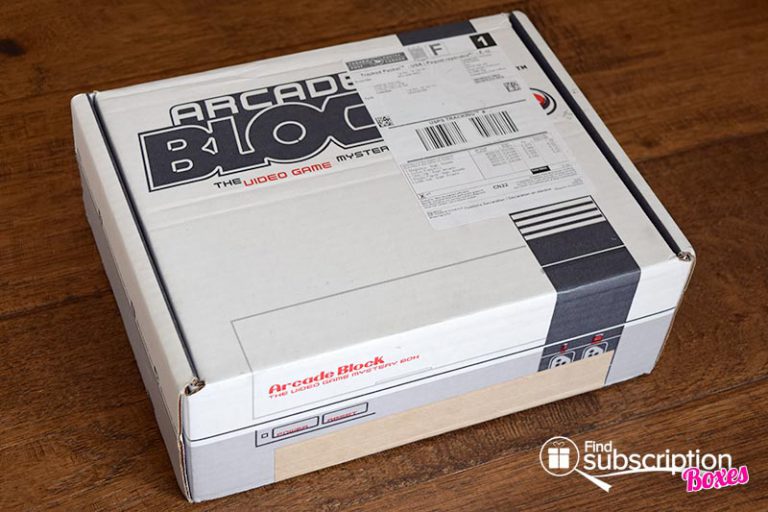 Arcade Block includes a product card that shares information about the gamer collectibles in that month's box. There was also a spoiler for the October Arcade Block.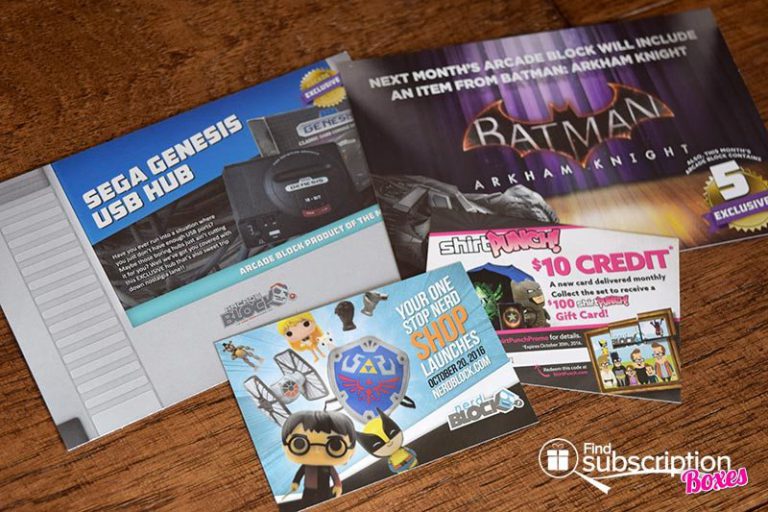 Here's a first look inside our Arcade Block September video game subscription box.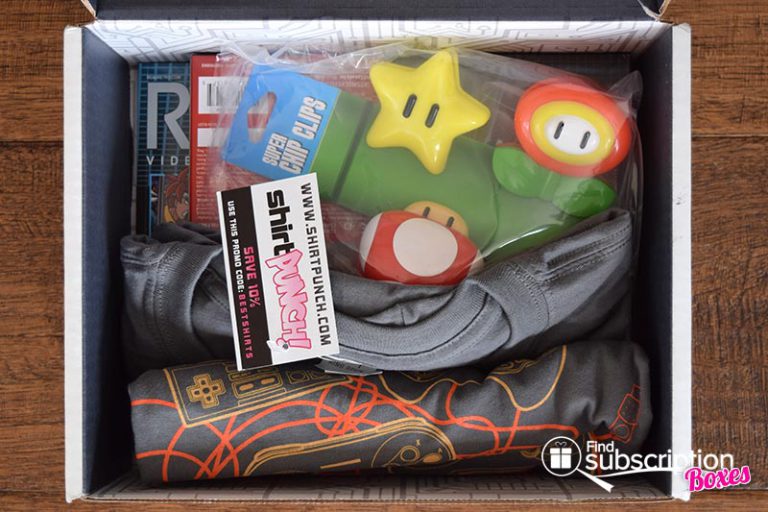 Inside the September 2016 Arcade Block
There were 5 collectibles in our September Arcade Block monthly box for gamers.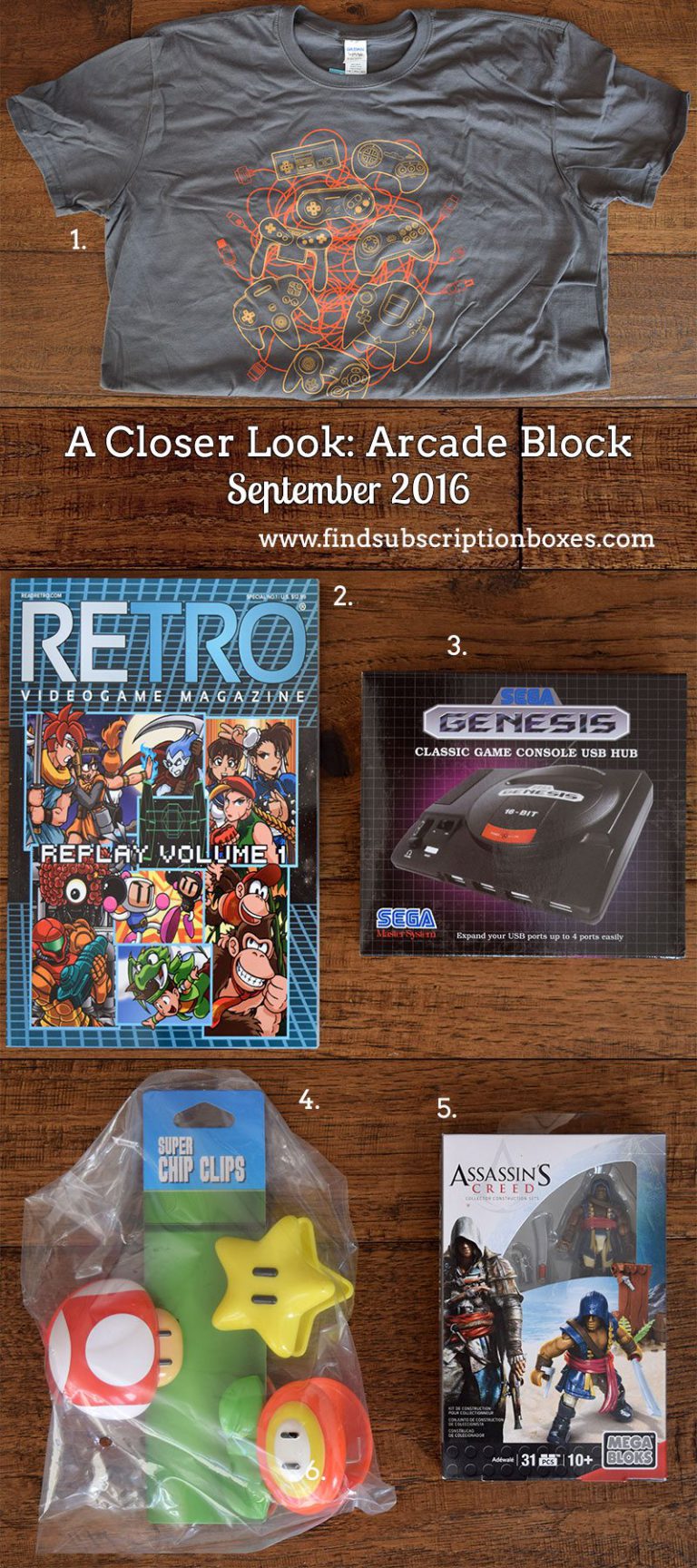 EXCLUSIVE Classic Console Controllers T-Shirt
This exclusive t-shirt depicts some of your favorite video game controllers from Nintendo and Sega.
RETRO Video Game Magazine Replay Vol 1.
Get the who, what, why and when of gaming history with this issue of Retro Videogame Magazine.
EXCLUSIVE Sega Genesis USB Hub
Never run out of USB ports again with this exclusive Sega Genesis USB hub that's also a trip down gamer nostalgia lane.
EXCLUSIVE Super Mario Bros. Chip Clips
Introduce a little horror to your desk space with one of your favorite characters from Five Nights at Freddy's. Which mini will you get?.
Assassin's Creed Collector Construction Set
Literally build up your Assassin's Creed collection with this Mega Bloks Assassin's Creed figure.
Bonus Item: $10 ShirtPunch Credit. Collect all 9 pieces and get a $100 credit to ShirtPunch. There was also a $20 credit to the new Nerd Block Store which launches on October 20, 2016.
September 2016 Arcade Block Review Wrap-Up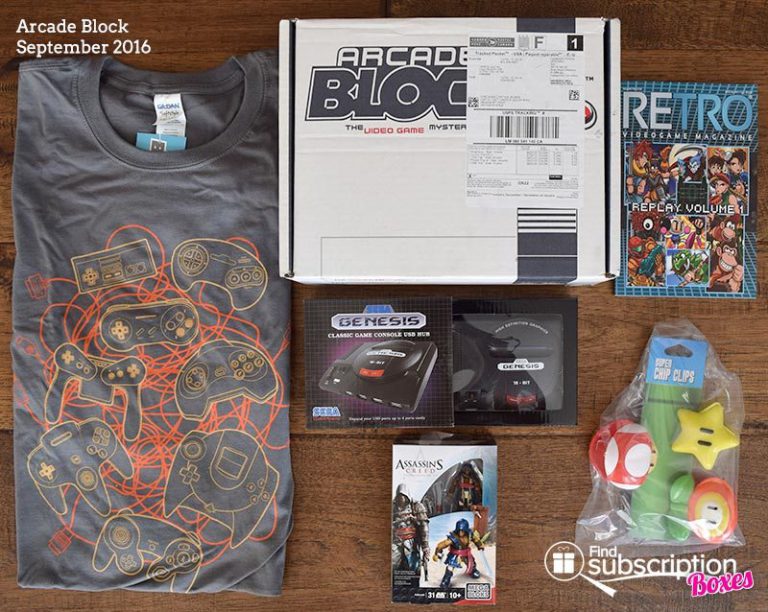 From the USB hub to uber cute chip clips, we loved the mix of video game items in our September Arcade Block. The Sega Genesis USB hub is shared as a SEGA Genesis console and has 4 USB ports. This is a handy computer gadget for gamers that have a lot of accessories.
The Classic Console Controller T-Shirt has outlined designs that give a "history" of classic video game console controllers including the original Nintendo game controller to the Sega Dreamcast controller. Speaking of Nintendo, the Super Mario Bros. Chip Clips are perfect for saving snacks while you game. The clips are shaped after the star, mushroom, and fire flower.
The Assassin's Creed Mega Bloks Collector Construction Set has 31 pieces you use to build an Adéwalé figure. The set includes an authentic assassin's hood and vest, his signature machete and a pistol.
Finally, the RETRO Videogame Magazine Replay Volume 1 is 198 pages and gives an insider look at a bunch of popular video games. Articles include Retropectives on Donkey Kong Country and Halo, as well as special features about Game Boy and Mortal Kombat.
What was your favorite September Arcade Block video game item?
Arcade Block Coupon
Join Arcade Block now and save on your first video game monthly box! Use Arcade Block coupon code FindSubBox16 to save 15% off the first month of new monthly Arcade Block subscriptions. Save more with multi-block and multi-month subscriptions!