Comic Block is a comic book monthly subscription box from Nerd Block. Every month, Comic Block sends exclusive merchandise, comic books, and other comic collectibles right to your door. Each box has $60 worth of comic collectibles, including an exclusive comic t-shirt. With today's Comic Block review, we're unboxing the September 2016 Comic Block.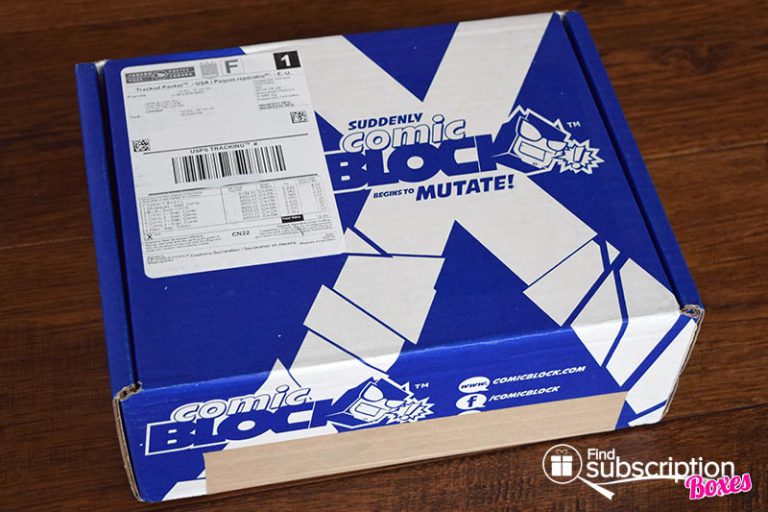 Comic Block includes a product card describing each of the comic book collectibles in the monthly comic box. There was also box spoilers for October's Comic Block – 3 EXCLUSIVE comic variants and an exclusive Doctor Strange item!
Here's a first look inside our September Comic Block.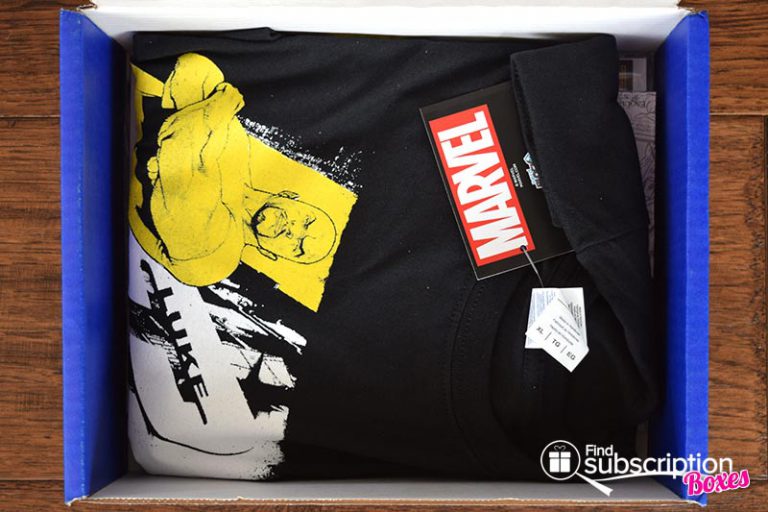 Inside the September 2016 Comic Block
There were 7 comic goodies in Comic Block's September box.

EXCLUSIVE Luke Cage T-Shirt
Sweet Christmas! Celebrate the new Luke Cage series with this exclusive t-shirt featuring this hero for hire.
EXCLUSIVE Vikings #1
Follow the adventures of Ragnar Lagertha and their legendary crew as they sail towards England, once again.
Britannia #1
Follow the story of Antonius Axia, the world's first detective, as he searches to uncover the unnatural happenings of the world and determines what is myth, mystery, and fact.
Doom Patrol #1
Follow Casey Brinke in her journey with Sam Reynolds in this re-imagining of the ultimate series of strange.
DC Comics Rebirth Supergirl #1
Supergirl struggles to balance life between being a hero and being Kara Danvers as she faces her Kryptonian past.
Marvel's The World According to Wolverine
Dig deeper into Wolverine's mind with this illustrated book about everyone's favorite three-clawed X-Man.
EXCLUSIVE Marvel 3-Pack Shoelaces
Show of your nerdiness and love for the Avengers with these 3 exclusive pairs of shoelaces that feature your favorite characters.
Bonus: A $10 Shirtpunch.Com Credit is included in every Block!
September 2016 Comic Block Review Wrap-Up
September's Comic Block was packed with comic book collectibles and Issue #1 comics. There were 3 items from Marvel comic's in the box. Our favorite item was the Luke Cage t-shirt. Netflix just released their new Luke Cage series and this t-shirt features Power Man (aka Carl Lucas) ready for action.
Another Marvel exclusives are the fun Avengers shoelaces. Measuring 42″ long, each pair has a different design featuring different Marvel characters including Spiderman, Captain America and The Hulk. Two of the pairs of shoelaces have a black and white design. The other shoelaces are colorful so you can virtually any pair of shoes.
The is the seconds "Marvel's The World According to…" book we received. These books are a lot of fun and provide back stories and other fun facts about our favorite Marvel characters. In The World According to Wolverine by Matthew K. Manning, and illustrated by Stephen Mooney, Wolverine shares his family history, his travels across the globe, and his journey to becoming an X-Man. A large Wolverine poster is included in the back of the book.
In DC Comics' DC Universe Rebirth Supergirl #1, we get a brief intro to Kara Zor-el and her childhood. It then follows Kara Danvers as she adapts to life on Earth, helping people in need, and her work with the DEO (Department of Extranormal Operations).
The other 3 Issue #1 comic books are new for us. We look forward to starting these new comic book series.
What was your favorite September Comic Block comic collectible?
Comic Block Coupon
Join Comic Block now and save on your first comic box! Use Comic Block promo code FindSubBox16 to save 15% off the first month of new monthly Comic Block subscriptions. Save up to 25% with multi-block and multi-month subscriptions!