Kitchen Table Passport is a subscription plan which enables the adventurous to "eat and explore the world" from one's own kitchen. Each box contains mementos, Discovery Cards, and a Taste Package. There are several plans from which to choose, and there's even a gift option. It's a great way to learn about a new country and taste food from the featured country you can make yourself. With today's Kitchen Table Passport review, we're unboxing the September 2016 Kitchen Table Passport box.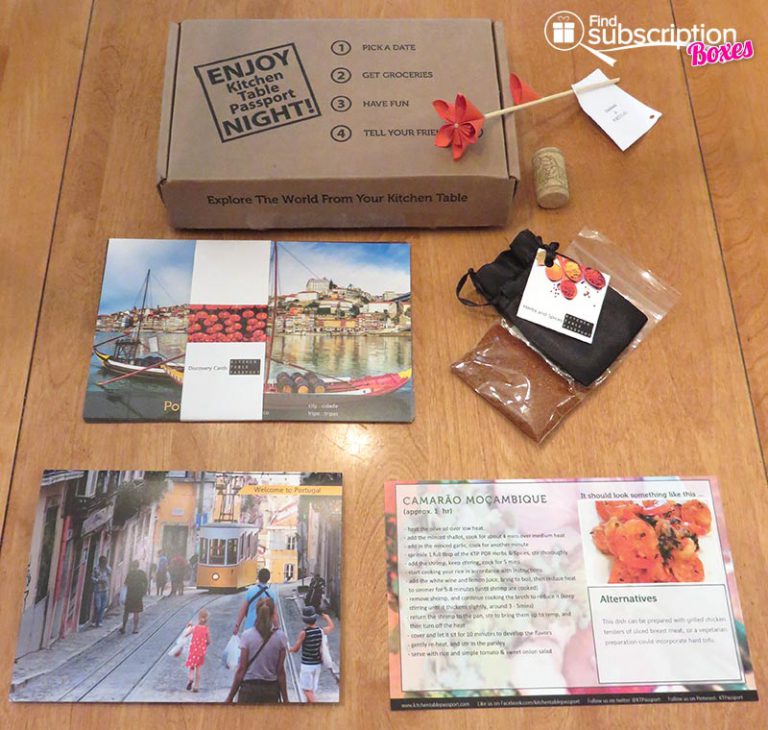 The September 2016 Kitchen Table Passport took us to Portugal. Our welcome note told us of Murray's visit to Portugal when he lived in Europe. It also contained fast facts, our dish: Camarao Mocambique, a little bit about the Portuguese cuisine. In addition, the card described this month's mementos: cork, Portugal provides about half of the world's harvest; and a beautiful handmade paper flower from the Alvalade district of Lisbon. A QR code provides access to a playlist of Portuguese music. We also received the beautiful collection of Discovery Cards which provide information on the culture, explorers, geography, industry, history, and celebrations. The Taste Package contained the recipe for Camarao Mocambique, a shrimp dish, satin bag with spices, and suggestions for sides to accompany the meal.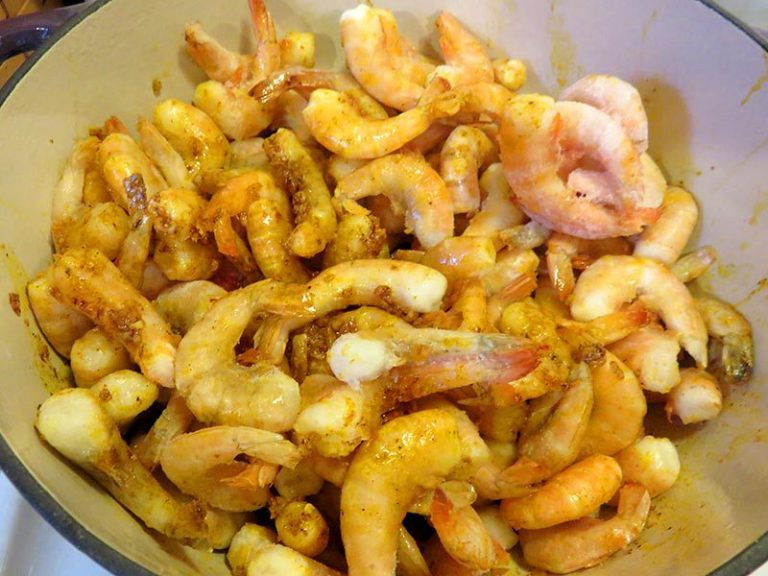 It was very easy to find all of the ingredients for making Camarao Mocambique. Since there was a generous amount of spices, I doubled the recipe for the family. If shrimp is not easily available to you, substitute chicken or tofu as alternates per the instructions. Portugal is a country known for seafood. While the name Mocambique may seem odd for a Portuguese dish, its history is derived from the spices of Mozambique when it was a colony of Portugal for hundreds of years. The Portuguese incorporated some of the flavors brought back from the colony. This spicy flavor became known as "Mozambique style." The dish does have a little kick which will intensify with leftovers.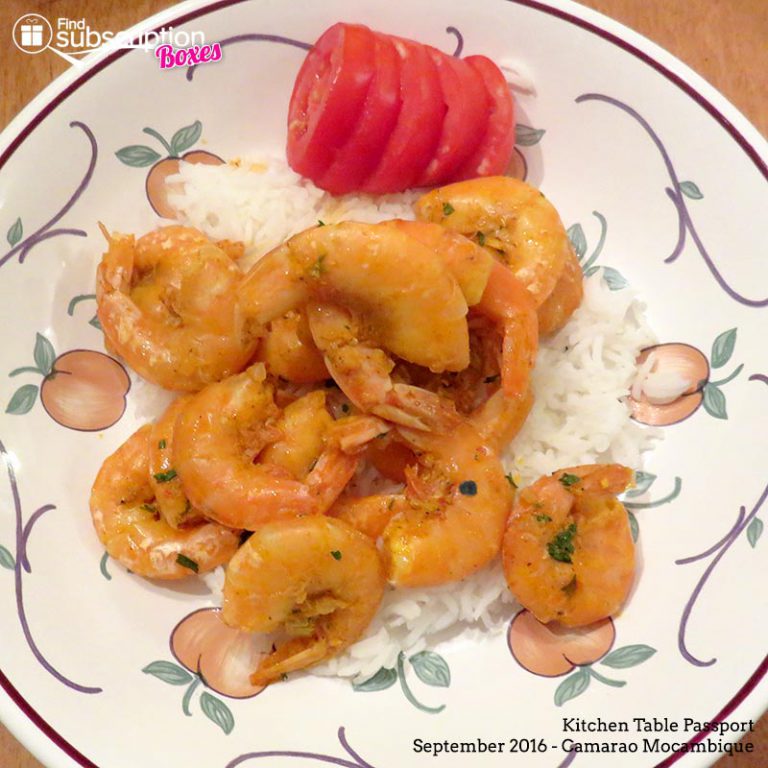 The whole family enjoyed Camarao Mocambique. We always enjoy discussing the Discovery Cards when feasting on the meals in the recipes from Kitchen Table Passport. We love "visiting" the country of the month through the cards and mementos provided in each box. Each month broadens our knowledge of different cultures through good food and family time around the dinner table.
Kitchen Table Passport $10 Free Gift Card
For a limited time, get a FREE $10 Gift Card to spend at Kitchen Table Passport. Just click here and provide your info to get your free $10 Kitchen Table Passport gift card.